header image
USEFUL INFORMATION
Mathematical Laboratory
Introduction
Introduction
Introduction
Introduction
The Mathematical Laboratory (Room Y6504, 6/F Yeung Kin Man Academic Building, near Lift 9) provides a comfortable environment for BSCM students to do assignment. It is equipped with high performance networked computers, laser printers and whiteboard. Students need to have their Student ID Cards to gain access to the laboratory.
Students are reminded that the purpose of the Mathematics Laboratory is primarily to provide a well-facilitated place for cultivating study and academic activities among students, as well as to hold formal classes occasionally. Students should be self-disciplined in proper using the laboratory.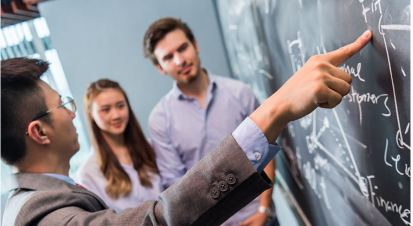 Opening Hours
Monday–Friday: 9:00am–7:00pm
Saturday, Sunday, Holiday and Semester Break: Closed
---
Security
Students should stay vigilant about the security concern as incidences of loss of valuables have at times been reported. In order to avoid theft or loss of valuables, students using the laboratory should ensure that the door is properly closed after entry.
Rules and Policies
Non-MA students are forbidden to stay in the laboratory unless prior approval has been obtained from MA. MA students are not allowed to bring non-MA students to the laboratory. In case any unauthorised people are found lingering in the laboratory, student should report to our staff in the General Office as soon as possible for our handling
No eating or drinking is allowed.
The door must always be kept closed. No disabling of the auto-lock of the door is allowed.
No message shall be written on the whiteboard or posted in the laboratory. You should use other means to communicate with your classmates.
Silence must be strictly observed in the Laboratory.

Playing games are strictly prohibited in the Laboratory.

The last student leaving the laboratory is fully responsible for turning off the PCs, switching off the lights and air-conditioning to save energy and he/she should make sure that the door is locked properly.
Cleanliness and Tidiness
There were occasions in the past when the condition of cleanliness and tidiness of the laboratory was not acceptable. Papers, newspaper and water bottles were scattered around, and the area around the printer was a mess. I had to urge the users to tidy up and throw away all rubbish. If cleanliness and tidiness are not kept at a satisfactory level, I will consider closing down the laboratory for a period of time as a penalty.
Please be reminded that violations to the proper use of the Mathematics Laboratory may lead to disciplinary actions, which disciplinary records will be kept until student leaves the University. Please treasure and make good use of the facilities provided.