KEYNOTE SPEAKERS
Prof. Katja Kwastek
Katja Kwastek is Professor of Modern and Contemporary Art History at the Vrije Universiteit Amsterdam. Prior to this, she has been teaching at the Ludwig-Maximilians-University (Munich). Her research focuses on processual, digital and post-digital art, media history, theory and aesthetics, and the digital and environmental humanities. In 2004, she curated the first international exhibition and conference project on "Art and Wireless Communication". She has lectured internationally and published many books and essays, including her most recent "Aesthetics of Interaction in Digital Art" (MIT Press, 2013). 
The title of her talk is "E-CO ART? When Electronic and Ecological Arts Meet".
Abstract: At first sight, the conjunction of ecological and electronic arts might evoke, at maximum, 'the chance meeting on a dissecting-table of a sewing-machine and an umbrella!'. However, if one digs deeper, the interrelations are striking. This lecture will explore these (contemporary, but also historic) interrelations along three lines of thought: the shared fascination of both ecological and electronic arts with processuality, the increasing impact of digital technologies on our concepts of the environment, and the biased attitude of both electronic and ecological arts towards questions of applicability versus artistic autonomy.
Prof. Dominic McIver Lopes
The philosopher Dominic McIver Lopes writes on the nature and significance of art and the aesthetic. He has traced the aesthetic and epistemic value of images to how they extend the powers of human perception. In pioneering research on interactive computer art, he reveals how technology supports new kinds of aesthetic action. Urging caution about approaches to the aesthetic that centre on art, he is developing a theory of aesthetic values as guiding agents who are engaged in a huge range of aesthetic projects. Lopes, a Fellow of the Royal Society of Canada, teaches at the University of British Columbia. He has held a Leverhulme Trust Visiting Research Professorship, a Guggenheim Fellowship, and a Canada Council Killam Research Fellowship.
The title of his talk is "Aesthetic Value in the Network Era."
Abstract: Traditional understandings of aesthetic value are inadequate: they fail to model how aesthetic values are embedded in social practices. In consequence, they also misunderstand the role of communication about aesthetic value. This talk argues that new information technologies open up new modes of communication that have a profound effect on our aesthetic practices.
Dr. Ayanna Howard
Ayanna Howard is the Linda J. and Mark C. Smith Professor and Chair of the School of Interactive Computing in the College of Computing at the Georgia Institute of Technology. She also holds a faculty appointment in the School of Electrical and Computer Engineering. Dr. Howard's career focus is on the development of intelligent technologies that can function within a human centered world. Her work encompasses advancements in artificial technologies, assistive technologies, and robotics and ranges from the development of healthcare robots in the home to AI-powered STEM apps for children with diverse learning needs. Dr. Howard received her B.S. in Engineering from Brown University, and her M.S. and Ph.D. in Electrical Engineering from the University of Southern California.
To date, her unique accomplishments have been highlighted through a number of awards and articles, including highlights in USA Today, Upscale, and TIME Magazine, as well as being recognized as one of the 23 most powerful women engineers in the world by Business Insider. In 2013, she also founded Zyrobotics, which is currently licensing technology derived from her research and has released their first suite of STEM educational products to engage children of all abilities. Prior to Georgia Tech, Dr. Howard was a senior robotics researcher at NASA's Jet Propulsion Laboratory. She has also served as the Associate Director of Research for the Institute for Robotics and Intelligent Machines, Chair of the Robotics Ph.D. program, and the Associate Chair for Faculty Development in the School of Electrical and Computer Engineering at Georgia Tech.
Prof. Ken Rinaldo
Ken Rinaldo is the Director of the Art and Technology Program in the Department of Art at Ohio State University. He is internationally recognized as a pioneer in interactive bio art and robotic installations that blurs the boundaries between the organic and the inorganic. His work interrogates these fuzzy boundaries and posts that as new machine and algorithmic species arise, we need to better understand the complex intertwined ecologies that these machinic semi-living species create.
Rinaldo's works have shown and commissioned by museums, festivals and galleries internationally such as: Hermitage Museum Russia, Nuit Blanche Canada, World Ocean Museum Russia, Ars Electronica Austria, CAFA Museum China, Lille International Arts Festival France, la Maison d'Ailleurs Switzerland, Vancouver Olympics Canada, Platform 21 Holland, Transmediale Berlin, AV Festival England, Caldas Museum of Art Colombia, Arco Arts Festival Spain, Te Papa Museum, Wellington New Zealand, The National Museum of China, Centro Andaluz de Arte Contemporaneo in Seville Spain, Kiasma Museum Finland, Museum of Contemporary Art Chicago, Pan Palazzo Delle Arti Italy, V2 DEAF Holland, Siggraph Los Angeles, Exploratorium San Francisco, Itau Museum Brazil, Biennial for Electronic Art Australia and the National Center for Contemporary Arts Russia.
Rinaldo was the recipient of an Award of Distinction in 2004 at Ars Electronica Austria for Augmented Fish Reality and first prize for Vida 3.0 an Artificial Life Competition in Madrid for his work Autopoiesis, which also won an honorable mention in Ars Electronica in 2001. Augmented Fish Reality is a trans-species artwork in which Siamese fighting fish can move their tanks under their control. In 2008 Rinaldo and Youngs were awarded a Green Leaf Award from The United Nations Environment Fund, for their Farm Fountain, an aquaponics project in which fish and bacteria feed plants, which humans then consume. Rinaldo is the recipient of three Battelle Endowment grants as well as a cultural Olympian for the Vancouver Olympics in 2009, where they commissioned three Paparazzi Robots that autonomously photographed attendees.
Rinaldo is a member of the Senior Academic Board for Antennae Magazine, and author of Interactive Electronics for Artists and Inventors and his work has been featured on radio and TV internationally including CNET, BBC, ORF, CNN, CBC & the Discovery Channel. Select publications; Art and Electronic Media by Edward Shanken, Evolution Haute Couture Art and Science in the Post Biological Age edited by Dmitry Bulatov, Art and Science Steve Wilson, Inside Art E Sciencia edited by Leonel Moura, Politics of the Impure V2 Publishing, Digital Art by Christiane Paul, NY Times, Information Arts, Contemporary Italy, NY Arts Magazine, Art Press Paris, Tema Celeste Italy and Wired Magazine.
Rinaldo is artist and Professor teaching contemporary art practices & technology within the College of Arts & Sciences specializing in robotics, 3D modeling, rapid prototyping/fabrication and 3D animation at The Ohio State University.
PLENARISTS
Mr. Gene Kogan
Gene Kogan is an internationally renowned American artist and a programmer who is interested in generative systems, computer science, and software for creativity and self-expression. He is a collaborator within numerous open-source software projects, and gives workshops and lectures on topics at the intersection of code and art. Gene initiated ML4A, a free book about machine learning for artists, activists, and citizen scientists, and regularly publishes video lectures, writings, and tutorials to facilitate a greater public understanding of the subject. He has recently offered courses on the subject of machine learning for artists at NYU, Tisch School of the Arts, Interactive Telecommunications Program. He also offered a Machine Learning Workshop at the School of Creative Media, City University of Hong Kong in May 2018.
Mr. Memo Akten
Memo Akten is an artist working with computation as a medium, exploring the collisions between nature, science, technology, ethics, ritual, tradition and religion. Combining critical and conceptual approaches with investigations into form, movement and sound, he creates data dramatizations of natural and anthropogenic processes. Alongside his practice, he is currently working towards a PhD at Goldsmiths University of London in artificial intelligence and expressive human-machine interaction. His work has been shown and performed internationally, featured in books and academic papers; and in 2013 Akten received the Prix Ars Electronica Golden Nica for his collaboration with Quayola, 'Forms'.

Mr. Philippe Pasquier
Philippe Pasquier is an Associate Professor in the School for Interactive Arts and Technology and an Adjunct Professor in Cognitive Science at Simon Fraser University. He is both a scientist specialized in artificial intelligence and generative systems, a multidisciplinary artist, an educator, and a community builder. His contributions range from theoretical research in multi-agent systems, computational creativity and machine learning to applied artistic research and practice in digital art, computer music, and generative art. 
Ms. Jennifer Gradecki
Jennifer Gradecki is an artist and theorist who aims to facilitate a practice-based understanding of socio-technical systems that typically evade public scrutiny. Using methods from institutional critique, tactical media, and information activism, she investigates information as a source of power and resistance. Her work has focused on Institutional Review Boards, social science techniques, financial instruments and, most recently, intelligence agencies and technologies of mass surveillance. She has published in Leonardo and Big Data & Society and has participated in numerous international exhibitions and conferences. Her work has been commissioned by Science Gallery Dublin and funded by the Puffin Foundation and she is currently Visiting Assistant Professor at Northeastern University.
Dr. Derek Curry 
Derek Curry is an Assistant Professor in the College of Arts, Media and Design at Northeastern University. His interdisciplinary practice combines artistic production with research techniques from the humanities, science and technology studies, natural language processing, artificial intelligence, and machine learning. He uses a practice-based research approach to create artworks and games that provide an experiential understanding of topics where information may be limited, such as automated decision-making systems used by algorithmic stock trading systems and Open Source Intelligence (OSINT) gathering practices. He has been published in Big Data & Society and his artwork has been widely exhibited at venues and festivals.
Prof. Ernest Edmonds
Ernest Edmonds is a pioneer computer artist and HCI innovator for whom combing creative arts practice with creative technologies has been a life-long pursuit. In 2017 he won both the ACM SIGCHI Lifetime Achievement Award for Practice in Human-Computer Interaction and the ACM SIGGRAPH Distinguished Artist Award for Lifetime Achievement in Digital Art. He is Professor of Computational Art at De Montfort University, Leicester UK, and Chairman of the Board of ISEA International. His most recent book is "The Art of Interaction: what HCI can learn from Interactive Art" (Morgan & Claypool, 2018). He is an Honorary Editor of Leonardo and Editor-in-Chief of Springer's Cultural Computing book series. His work was recently described in the book by Francesca Franco, "Generative Systems Art: The Work of Ernest Edmonds" (Routledge, 2017).
Ms. Anna Ridler
Anna Ridler is an artist and researcher whose practice brings together technology, literature and drawing to create both art and critical writing. She works with abstract collections of information or data, particularly self-generated data sets, to create new and unusual narratives in a variety of mediums, and how new technologies, such as machine learning, can be used to translate them clearly to an audience and to talk about other things - memory, love, decay. She has degrees from the Royal College of Art, Oxford University, University of Arts London and has shown at a variety of cultural institutions and galleries including Ars Electronica, Sheffield Documentary Festival, Leverhulme Centre for Future Intelligence, Tate Modern, Centre Pompidou and the V&A.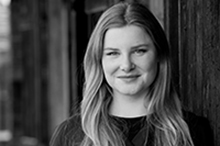 Ms. Theresa Reimann-Dubbers
Theresa Reimann-Dubbers is a German artist whose work concerns the environment created by technologies. She is interested in tracing genealogies of emerging technologies in order to study their societal and environmental impact. She conducts theoretical investigations that lead to speculations upon alternative technological realities in the form of objects and installations. 
She previously studied at the Royal College of Art and is currently working towards an MA at the Berlin University of the Arts. Her artworks have been shown internationally at Ars Electronica, Science Gallery Dublin and NIPS.


Dr. Jing Liao

Jing Liao received dual Ph.D. degrees from Zhejiang University and Hong Kong University of Science and Technology in 2014 and 2015. She was a researcher in the Visual Computing Group, Microsoft Research Asia (MSRA), from 2015 to 2018. She is now an Assistant Professor in the Department of Computer Science, City University of Hong Kong. Her research interests span Computer Graphics, Computer Vision and Deep learning, with a current focus on applying Deep Learning to digital arts and media.  Her research results have been published in several top conferences and journals (SIGGRAPH, TOG, TVCG, CVPR, ICCV), and some technologies she developed have been transferred to Microsoft products, including Xiao Ice, Pix, Skype etc.
 
Prof. De Kai Wu
De Kai's cross-disciplinary work in language, music, artificial intelligence and cognition centers on enabling cultures to interrelate in creative ways. As an AI professor, he is among only 17 scientists worldwide named by the Association for Computational Linguistics as a Founding ACL Fellow, for his pioneering contributions to machine translation that established cross-lingual machine learning foundations of systems like the Google/Yahoo/Microsoft translators. As a musician, he created the transcultural soul/pop collective ReOrientate, whose signature use of cross-cultural cognitive musical illusions draws from the Asian diaspora of Chinese, Indian, middle eastern, southeast Asian, and flamenco music and dance, blending them through electronica and virtual reality. His computational creativity research led to award winning AI models that learn flamenco, blues, and hip hop. De Kai's PhD thesis at the University of California at Berkeley was one of the first to construct probabilistic machines that learn to understand human languages. Recruited directly from Berkeley as founding faculty of the now world-ranked Hong Kong University of Science and Technology, he co-founded HKUST's internationally funded Human Language Technology Center which has been shaping new language and music AI paradigms ever since launching the world's first web translator over twenty years ago. In 2015, Debrett's HK 100 recognized him as one of the 100 most influential figures of Hong Kong.
 
Prof. Huamin Qu
Huamin Qu is a full professor in the Department of Computer Science and Engineering (CSE) at the Hong Kong University of Science and Technology (HKUST) and also the coordinator of the Human-Computer Interaction (HCI) group at the CSE department. His main research interests are in data visualization and human-computer interaction, with focuses on urban informatics, social network analysis, e-learning, text visualization, and explainable artificial intelligence. His research has been recognized by many awards including 8 best paper/honorable mention awards, IBM Faculty Award, Higher Education Scientific and Technological Progress Award (Second Class) from the Ministry of Education of China,  HKICT Best Innovation (Innovative Technology) Silver Award from the Hong Kong Institution of Engineers, and Distinguished Collaborator Award from Huawei Noah's Ark Lab.  He is also an instructor of Design Thinking, a joint course between HKUST and China Academy of Art (CAA), which has run for six years.  The course projects have been exhibited every year and covered by medias.