Dr. Rebecca PARKES
---
BSc (Hons) BVetMed (Hons) PhD Cert AVP PG Cert (Vet Ed) FHEA MRCVS
Assistant Professor
Office:
Room 312, 3/F, Block 1B, To Yuen Building
Tel. no.:
+852 3442-9161
Email:
reparkes@cityu.edu.hk
Web:
CityU Scholars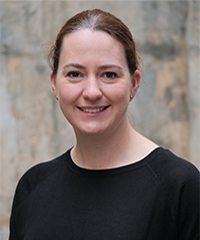 ---
Biography
Dr. Rebecca Parkes is an Assistant Professor in the Department of Veterinary Clinical Sciences and Deputy BVM Program Lead. She leads the Clinical Skills Laboratory and the Veterinary Practice and Professional Studies courses within the BVM program.

Rebecca graduated from the Royal Veterinary College with a Bachelor of Veterinary Medicine with Honours in 2010. Following a period of time in clinical practice, she returned to the RVC to undertake a PhD in equine locomotor biomechanics, supported by a scholarship from the Horserace Betting Levy Board. Rebecca moved to Hong Kong to work as an Equestrian Veterinary Surgeon at the Hong Kong Jockey club in 2015 where she was involved in the rehabilitation of retired racehorses and providing veterinary care for the 600 horses engaged in equestrian sport in Hong Kong. During this time Rebecca also joined the Training and Selection Subcommittee for the Hong Kong Equestrian Federation.

Rebecca moved to City University of Hong Kong in 2019 to pursue her passion for research and teaching. She has since gained a Postgraduate Certificate in Veterinary Education and has been awarded Fellowship of the Higher Education Academy by Advance HE, UK.
Research Interest
Rebecca's research interests lie in equine locomotor biomechanics, equine welfare and the development of evidence based clinical teaching tools. She is particularly interested in contributing to research on donkeys, a highly under-studied species.

She has studied epidemiological factors associated with foot disease in the horse and the donkey, and during her PhD investigated the effects of training and the external environment on limb loading and gait adaptations in the Thoroughbred racehorse. Previous teaching related projects include the development of a mixed-reality feline abdominal palpation simulator and assessing the limitations of human detection of asymmetry as it relates to lameness in the horse.

Rebecca's current research projects include the development of novel technologies for teaching clinical skills to veterinary students, biomechanical and physiological assessment of the load carrying capacity of the working donkey and various projects assessing farriery in working donkeys.

Rebecca has recently been awarded a grant by the AVMA's Council on International Veterinary Medical Education for the project "Identifying and sharing innovations in clinical skills teaching developed globally in response to COVID-19" and an Early Career Scheme grant from the University Grants Committee in Hong Kong for the project "Hoof Ground Interactions in the Donkey".
Selected Publication
Bukhari, S. S. U. H, Rosanowski, S. M., McElligott, A. G., Parkes, R.S.V.
(2022) Welfare concerns for mounted load carrying by working donkeys in Pakistan.
Front. Vet. Sci. 9:886020. doi: : 10.3389/fvets.2022.886020.


Khan RZU, Rosanowski SM, Saleem W, Parkes, R.S.V.
Cross-Sectional Questionnaire of Donkey Owners and Farriers Regarding Farriery Practices in the Faisalabad Region of Pakistan.
Animals. doi: 2022; 12(6):709.


Mao A, Huang E, Gan H, Parkes, R.S.V., Xu W, Liu K.
Cross-Modality Interaction Network for Equine Activity Recognition Using Imbalanced Multi-Modal Data.
Sensors. doi: 2021; 21(17):5818.


Bukhari, S.S.U.H.; McElligott, A.G.; Parkes, R.S.V.
Quantifying the Impact of Mounted Load Carrying on Equids: A Review.
Animals 2021, 11, 1333. https://doi.org/10.3390/ani11051333


Parkes RSV, Barrs VRD.
Interaction Identified as both a Challenge and a Benefit in a Rapid Switch to Online Teaching during the COVID-19 Pandemic.
J Vet Med Educ. 2021 Jan 25:e20200063. doi: 10.3138/jvme-2020-0063. Epub ahead of print.


Parkes, R. S. V., Pfau T, Weller R, Witte TH (2020)
The effect of curve running on distal limb kinematics in the Thoroughbred racehorse.
PLoS ONE 15(12): e0244105.https://doi.org/10.1371/journal.pone.0244105


Parkes, R. S. V., Weller, R., Pfau, T., Witte, T. H.L
The effect of training on stride duration in a cohort of two-year-old and three-year-old Thoroughbred racehorses.
Animals, 2019, 9, 7. doi: https://doi.org/10.3390/ani9070466


Pfau, T., Parkes, R. S. V., Burden, E. R., Bell, N., Fairhurst, H., Witte, T. H.
Movement asymmetry in working polo horses.
Equine Vet J, 48: 517-522. doi: 10.1111/evj.12467


Parkes, R. S. V., Witte, T. H.
The foot-surface interaction and its impact on musculoskeletal adaptation and injury risk in the horse.
Vet J. 2018 Jun;236:111-112. doi: 10.1111/evj.12420


Parkes, R. S., Dyson, S. J. and Newton, J. R.
Is there an association between clinical features, response to diagnostic analgesia and radiological findings in horses with a magnetic resonance imaging diagnosis of navicular disease or other injuries of the podotrochlear apparatus?
The Veterinary Journal, Volume 204, Issue 1, 2015, Pages 40-46. doi:10.1016/j.tvjl.2014.12.038


Parkes, R. S., Newton, J. R., Dyson, S. J.
An investigation of risk factors for foot-related lameness in a United Kingdom referral population of horses.
The Veterinary Journal, Volume 196, Issue 2, 2013. doi: 10.1016/j.tvjl.2012.09.006


Parkes, R.S.V., Weller, R., Groth, A., May, S. and Pfau, T.
Evidence of 'domain- restricted' expertise in the recognition of asymmetric motion characteristics of hindlimb lameness in the horse.
Equine Veterinary Journal, 41: 112-117, doi:10.2746/042516408X343000


Parkes, R., Forrest, N., Baillie, S.
A mixed reality simulator for feline abdominal palpation training in veterinary medicine.
Stud Health Technol Inform. 2009;142:244-6. doi:10.3233/978-1-58603-964-6-244