Outstanding Final Year Project Award (2022/23)
The School of Energy and Environment (SEE) is absolutely delighted to announce that the following students have been chosen as the recipients of the Outstanding Final Year Project Award of the year.  The Award is given to students who have achieved exceptional performance in their final year projects in terms of (i) technical or scholarly quality, (ii) originality, creativity, and innovation, and (iii) impact.
| | | | |
| --- | --- | --- | --- |
| Award | Student | Project Title | Project Supervisor |
| Winner | CHAN Yee Wan | Ethylamine Oxidation Mediated by Nitrate Photolysis in Atmospheric Particles | Professor Chak K. CHAN |
| 1st runner-up | FUNG Kwun Hin | Improve the Bio-degradation of the Refractory Substrate in Wastewater via Electrochemical Treatment | Dr. Jason LAM |
| 2nd runner-up | AU Wing Chi | Performance Evaluation of Hybrid Forward and Reverse Osmosis (HFRO) System: Prevention of Membrane Fouling Through Unrejected Ammonia | Dr. Alicia AN |

On 19 May 2023, a judging panel consisting of Professor Guohua Chen (Panel Chair), Professor Michael Leung, and members of the School Advisory Committee reviewed ten shortlisted projects.  The panel was greatly impressed by the high-quality work of the students, as well as their excellent articulation and presentation skills.  The projects that were conducted with a practical and relevant approach to Hong Kong's environment have enormous potential to be scaled up and applied in the real world.  Overall, the judging panel was thoroughly impressed with the quality of the submissions and the potential impact they could have on the community.
Please join us in congratulating the awardees for their outstanding work.  We would also like to express our sincere gratitude to the panel for their efforts in the selection process.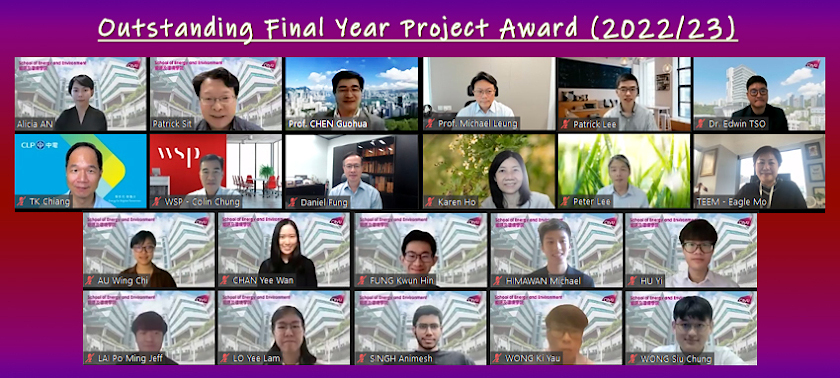 The judging panel, SEE faculty members and students on Zoom on 19 May 2023.