Library Seminar: The Reception of the Junk Keying in the West, 1848 – 1855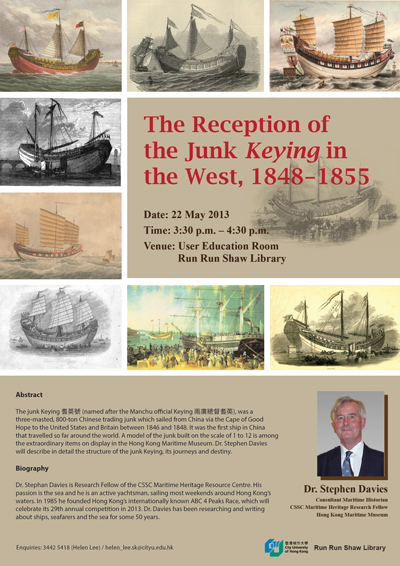 Dr Stephen Davies, Consultant Maritime Historian and CSSC Maritime Heritage Research Fellow of the Hong Kong Maritime Museum, was invited to deliver a presentation at the Library on 22 May 2013. In his talk, Dr Davies shared his findings on the traveling history of a Chinese trading junk Keying which was the first ship of its kind from China to sail from Hong Kong to the US and Britain from 1846 to 1848.
Dr Davies gave a vivid account about the myths of the junk and how it was perceived in the West at the time through a rich source of images and illustrations. From his study, it shows that critical thinking and details analysis of the primary sources are necessary for accurate finding of the historical facts. Digital information archives, e.g. Internet Archive and the A2A digital archive from the U.K., are also regarded as crucial research tool for the historians and researchers to access to the old documents hence to enhance their research outcomes.
From Dr Davies' presentation, not only can we know about the maritime and trade history of China in the 19th Century, he is a good model for our students to learn from him to be open-minded and be critical in analyzing the primary sources when conducting research.
Details
Date: 22 May 2013
Time: 3:30 p.m. - 4:30 p.m.
Venue: User Education Room, Run Run Shaw Library
Photo Gallery