The new CityU Anthem embodies our institutional identity and encourages a greater sense of belonging within our community. The music and lyrics serve to bring us together in a spirit of collegiality and demonstrate to the world who we are and what we stand for. It encompasses our aspirations to be a world-class academic institution with a dual focus on professional education and research that advances knowledge and privileges innovation. Through the anthem, we present CityU's ideals, values and plans for future success.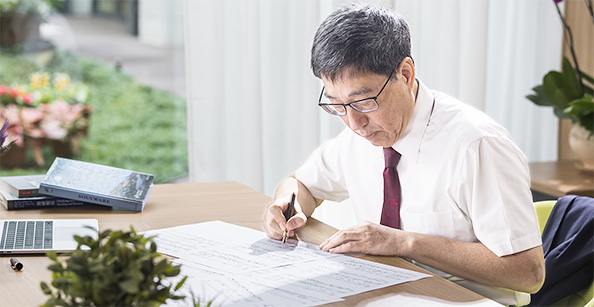 The message

Additional Details
"Beyond Boundaries" is chosen as the theme for the anthem because it signifies our desire to reach out and invite the rest of the world to experience the CityU story. As one of the most rapidly rising universities in the world, and one that is highly internationalised, CityU wants to showcase its multicultural environment, where different perspectives are respected and where creativity and intellectual development are prioritised.

The lyrics, written by President Way Kuo, are rendered more significant by the inspirational score composed by Mr Joe Lei. Together, the anthem conveys CityU's belief in "integrating teaching and research" and at the same time outlines the core ideas embedded in the University's vision and mission.

The anthem is infused with wisdom from classical Chinese literature against a backdrop of images and music that reflect the dynamic CityU character. For example, "in harmony, not conformity", a maxim found in The Analects of Confucius, emphasises CityU's dedication to embracing different views. Members of the CityU community respect one another while pooling ideas to sharpen the mind and plough fresh pastures for unexplored knowledge. Note

Adding to the theme of "cultural diversity in harmony, not conformity", members of the CityU community, including CityU senior management, alumni and students from Croatia, Hong Kong, Indonesia, mainland China and Norway, have taken part in the production of a music video.

Note: After repeated checking, the statement "'lofty mountains and vast seas' comes from the title of The Classic of Mountains and Seas" has not been intended in the original lyrics, and is hereby removed to avoid misunderstanding. We apologise for the above misprint.
Lyrics

Additional Details
Lyrics by President Way Kuo Composed by Mr Joe Lei
大問於市 學研出塵
師生能爾 惟心是用
多元文化 和而不同
巍巍山海 正道致中

體認科研實證
博學審問古今
吾校鍾靈昂揚奮進
遠矚高瞻以恆

引領世界 你我先行
吾校鍾靈 昂揚奮進
多元文化 和而不同
巍巍山海 正道致中
Videos

Additional Details
Download Lyrics

Additional Details
Applications and Guidelines

Additional Details
The CityU Anthem will be broadcast or performed at CityU events and functions as a way to enhance the University's image and spotlight our mission and values. For more about the applications and guidelines, you are welcome to visit this webpage.