Imagine how a Londoner during WWII would have felt when hearing the alarm signaling an incoming airstrike.

Turn that down a couple of notches and you'll probably be where the new students are when they check into the Student Residence. For quite a number of them, living in a student residence is a completely new experience. As if the prospect of living without the care of their family wasn't scary enough as it is, the 338 exchange students, 207 foundation year students and 33 new international students have to deal with a new city, new language and new culture all together. Having travelled for hours, in some cases days, to a place where you don't even speak the local language, it is normal to feel as frightened and nervous as someone waiting for an airstrike. Speaking from my personal experience, the wait to check in at Multi- function Hall A may not be long, but every minute may be unbearable when you are dying to find out what kind of person your roommate is and what your residence hall is like, etc.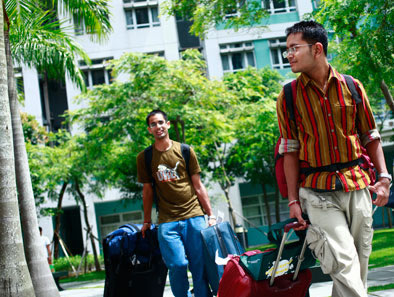 But underneath all that chaos, there's a silver lining.
Living in the student halls will give students a chance to live independently, away from their family. Students will be given the opportunity to figure out whether or not the freedom they have been longing for is really what they want. The student residence is essentially a real life hotpot, where you have people from all around the world and you never know what you'll be able to pick out from that huge crowd. It is the perfect place for mingling and exposing yourself to different cultures. But the prospect of having to live with someone you have never met before, in an environment you have never been in before, can be a scary thought. That is why both SRO and the individual halls organise activities to help ease the situation. Activities like orientation activities, floor meetings and floor dinners etc. will not just give exchange and international students a better understanding of the hall and Hong Kong culture, but will also let local students know more about the overseas students' home countries. This year SRO organised a series of welcome activities which cheered up the residents.

No matter how chaotic things may seem at first, bear with it for a little while, just long enough for you to see that silver lining underneath. It may come in the form of a helpful roommate, a floormate, your floor tutor, an orientation camp, or perhaps even the best friend you first met in Homey Kitchen. It'll come, eventually.