GE Series Book Talk: Welcome to the World of Graffiti and Film
「精進教育系列」講座︰帶你走進塗鴉X 電影的世界
City University of Hong Kong Press (CityU Press) and the Run Run Shaw Library co-organized a GE Series Book Talk about graffiti and Hong Kong's independent documentary industry at the Multi-purpose Lobby of Library on 17 Nov 2015. Professor Chang Tsan-kuo of the Department of Media and Communication discussed the topic Should Graffiti be Illegal?, while Dr Louisa Wei Shiyu, Associate Professor of the School of Creative Media, presented the topic Hong Kong Independent Documentary and Social Activism. Professor Zhu Guobin, Director of CityU Press, and Professor Christian Wagner, Acting University Librarian, gave the welcoming remarks. The book talk was followed by a Q&A session.
Poster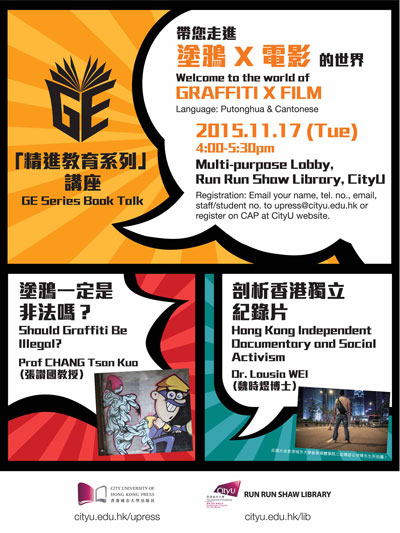 Photo Gallery