Women in Science, Dialogue with Professor Ching-chih CHEN
During her visit to CityU Library, Prof. Ching-chih Chen, a world-renowned information scientist in cultural heritage, delivered a talk on 22 June 2015. The Library also took this opportunity to invite Prof. Chen to share her story of success and discuss on some of the challenges and opportunities faced by women in the science profession on 24 June 2015.
With the participation of students, faculty members and librarians, and facilitated by Chair Professor of Electronic Engineering Prof. Stella Pang, Prof. Chen have vivid interaction with the audiences and talked about her career, her observation about women scientists in today's society, and her thoughts on work-life balance, etc.
Poster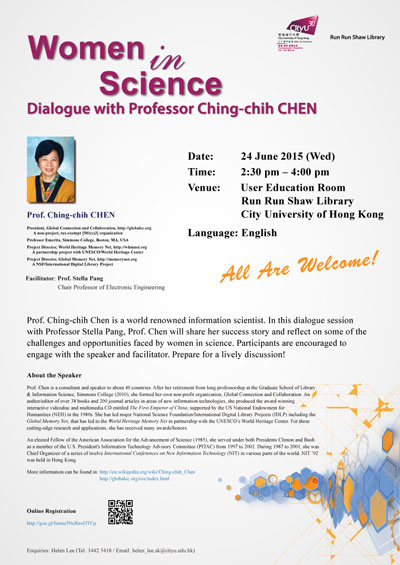 Photo Gallery