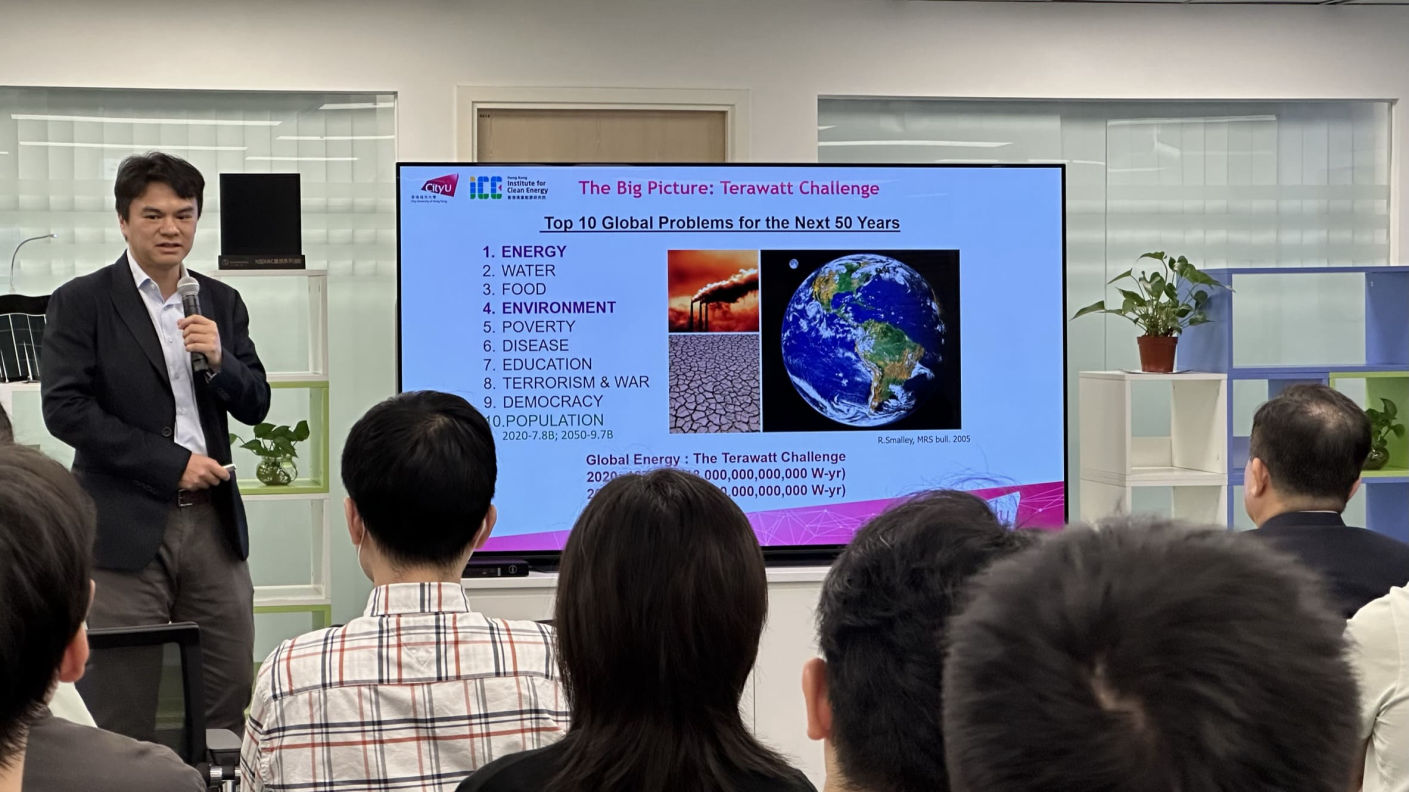 Boosting Urban Renewable Energy Access through Innovative Photovoltaic Technologies:
Current Developments and Future
Hin-Lap YIP
Department of Materials Science and Engineering, CityU
School of Energy and Environment, CityU
Hong Kong Institute of Clean Energy, CityU
The global push towards carbon neutrality has led governments worldwide, including Hong Kong, to prioritize deploying renewable solar energy as a central component of their climate action plans. This talk will provide an overview of the current state of solar energy development, followed by a focused exploration of cutting-edge photovoltaic technologies that promise to revolutionize renewable energy access in urban environments.

In this talk, I will provide an overview of the progress in solar energy, highlighting the improvements in efficiency and affordability of conventional silicon-based solar panels, as well as the emergence of cutting-edge technologies such as perovskite and organic solar cells. We will discuss the potential of these next-generation solar cells-characterized by their printability, flexibility, transparency, and color-tunability-for widespread adoption in densely populated urban cities like Hong Kong.

These next-generation solar cells offer unique advantages over conventional solar PV technologies, particularly their ability to seamlessly integrate into the built environment as tinted solar windows, façades, or curtains. This enables them to generate substantial solar electricity in urban areas with limited land and rooftop space for conventional solar panel installations. Furthermore, I will address the challenges and opportunities in scaling up the deployment of these technologies, as well as the implications for policy and industry stakeholders in achieving a sustainable, low-carbon future.
About the Speaker: Angus YIP, Hin-Lap joined the Department of Materials Science and Engineering (MSE) and School of Energy and Environment (SEE) at the City University of Hong Kong as Professor in 2021, and he also serves as the associate director for Hong Kong Institute for Clean Energy (HKICE). He is a fellow of the Hong Kong Young Academy of Sciences. From 2013-2020, he was a Professor at the State Key Laboratory of Luminescent Materials and Devices (SKLLMD) and the School of MSE at the South China University of Technology (SCUT). His research combines materials, interface, and device engineering to improve polymer and perovskite optoelectronic devices. He has published over 270 scientific papers with citations over 37000 and an H-index of 99. He was also honored as ESI "Highly Cited Researcher" consecutively from 2014-2022.