The 8th Hong Kong Secondary School Distinguished Artwork Exhibition 2023
第八屆香港中學生傑出作品展2023
Introduction
Let us connect with people again.
City University of Hong Kong (CityU) strives to promote art and culture and nurture talents by organising diversified activities to showcase the students' 'Six Arts' outside the classroom. 'The Hong Kong Secondary School Distinguished Artwork Exhibition', organised by the Student Development Services and supported by the Cultural and Sports Committee, is held physically again this year, aiming to foster the inter-school cultural exchange and showcase the outstanding talents of young artists.
The Exhibition encourages students to care about the surroundings with their paint brushes and express their heartfelt gratitude to teachers who always support their growth in the critical epidemic period under the designated theme 'City Story' and 'My Teacher' this year. Receiving staunch support from 127 secondary schools, over 1,000 artworks were nominated, which broke the participation record. What an encouraging news for us! 66 distinguished artworks are selected and exhibited at the CityU campus. We would like to express our gratitude for the active support of Principals and teachers and believe the young artists will shine in the Hong Kong cultural and creative arena soon.
簡介
讓我們重新拉近人與人的距離。
香港城市大學(城大)多年來致力推廣藝術文化及培育後起之秀,舉辦各類型藝文活動,為學生提供多元平台,展現課堂外的「六藝」精神。由城大學生發展處主辦、文康委員會贊助的「香港中學生傑出作品展」,今年終於再以實體形式舉行,繼續促進本港學界文化交流,讓青年藝術家展現潛能。
「第八屆香港中學生傑出作品展2023」特設「城市故事」及「我的老師」兩大主題,藉以鼓勵參賽同學一筆一劃記錄所見所聞,以畫作呈現出一個個動人故事,表達對世界、周遭的人與事的關心,亦鼓勵同學關心師長,感激老師在疫情艱難時期默默的扶持,讓莘莘學子得以茁壯成長。是次作品展承蒙127間學校鼎力支持,一共接獲超過1,000幅作品,突破歷年參與人數,盛況甚為鼓舞!評審團從中精選66幅傑出作品並於城大校園內展出。在此衷心感謝各位師生們對藝術創作的支持,相信同學定將在香港的文化創意領域中發光發亮。
The 8th Hong Kong Secondary School Distinguished Artwork Exhibition 2023
| | |
| --- | --- |
| Date: | 6 to 14 April 2023 (Thursday to Friday) |
| Venue: | Purple Zone, 4/F, Yeung Kin Man Academic Building, City University of Hong Kong |
| Time: | 10 a.m. to 7 p.m. daily [*Please register in advance] |
| Enquiry: | (Tel) 3442-6484 |
| | (Email) cultural.sports@cityu.edu.hk |
第八屆香港中學生傑出作品展2023
作品集 Artwork Collection
Click here
Click to enlarge. ↓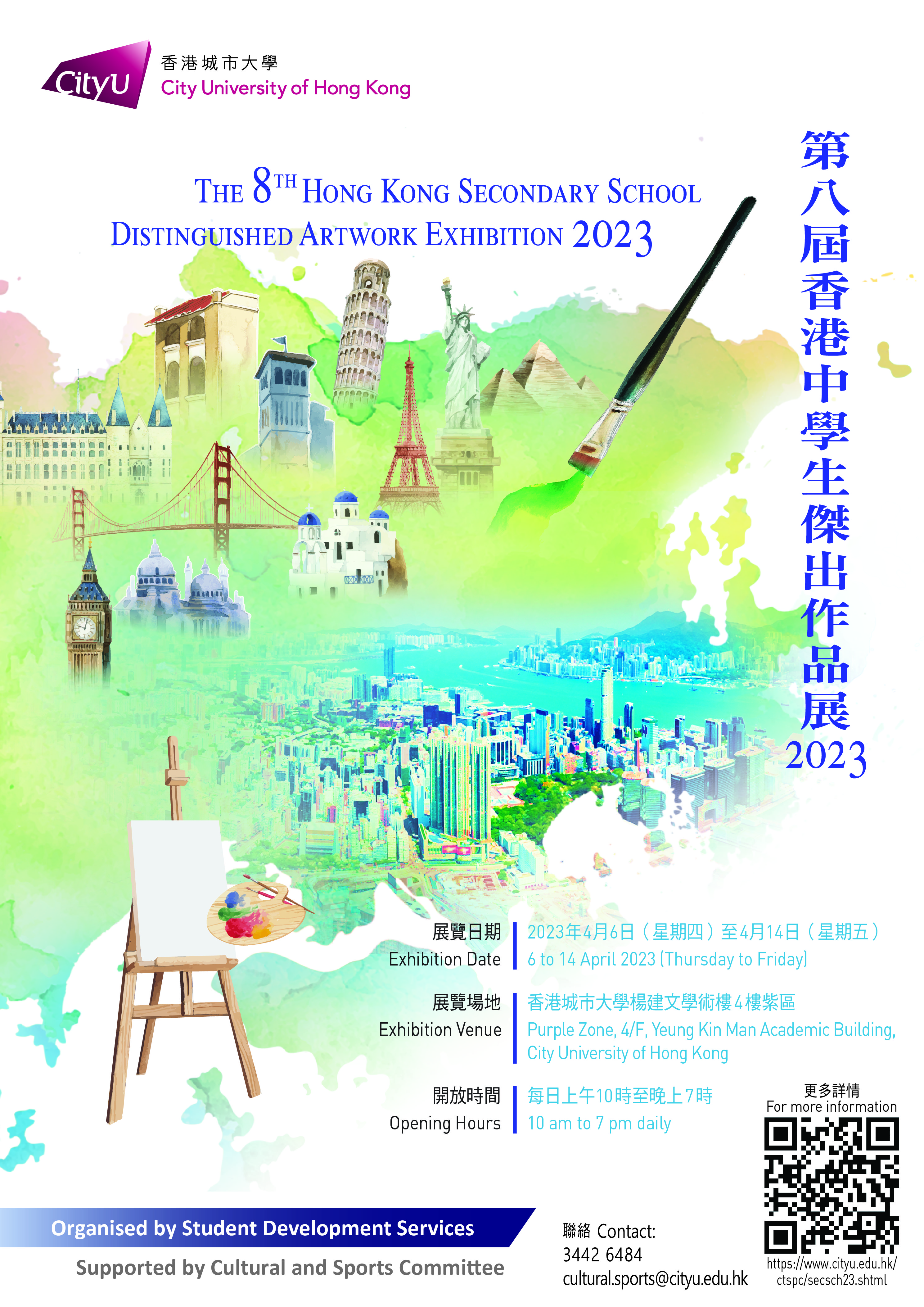 Past Artwork Booklets 歷年作品展畫冊
Secondary School Distinguished Artwork Exhibition 2022
Secondary School Distinguished Artwork Exhibition 2021
Secondary School Distinguished Artwork Exhibition 2019
Secondary School Distinguished Artwork Exhibition 2018
Secondary School Distinguished Artwork Exhibition 2017
Secondary School Distinguished Artwork Exhibition 2016