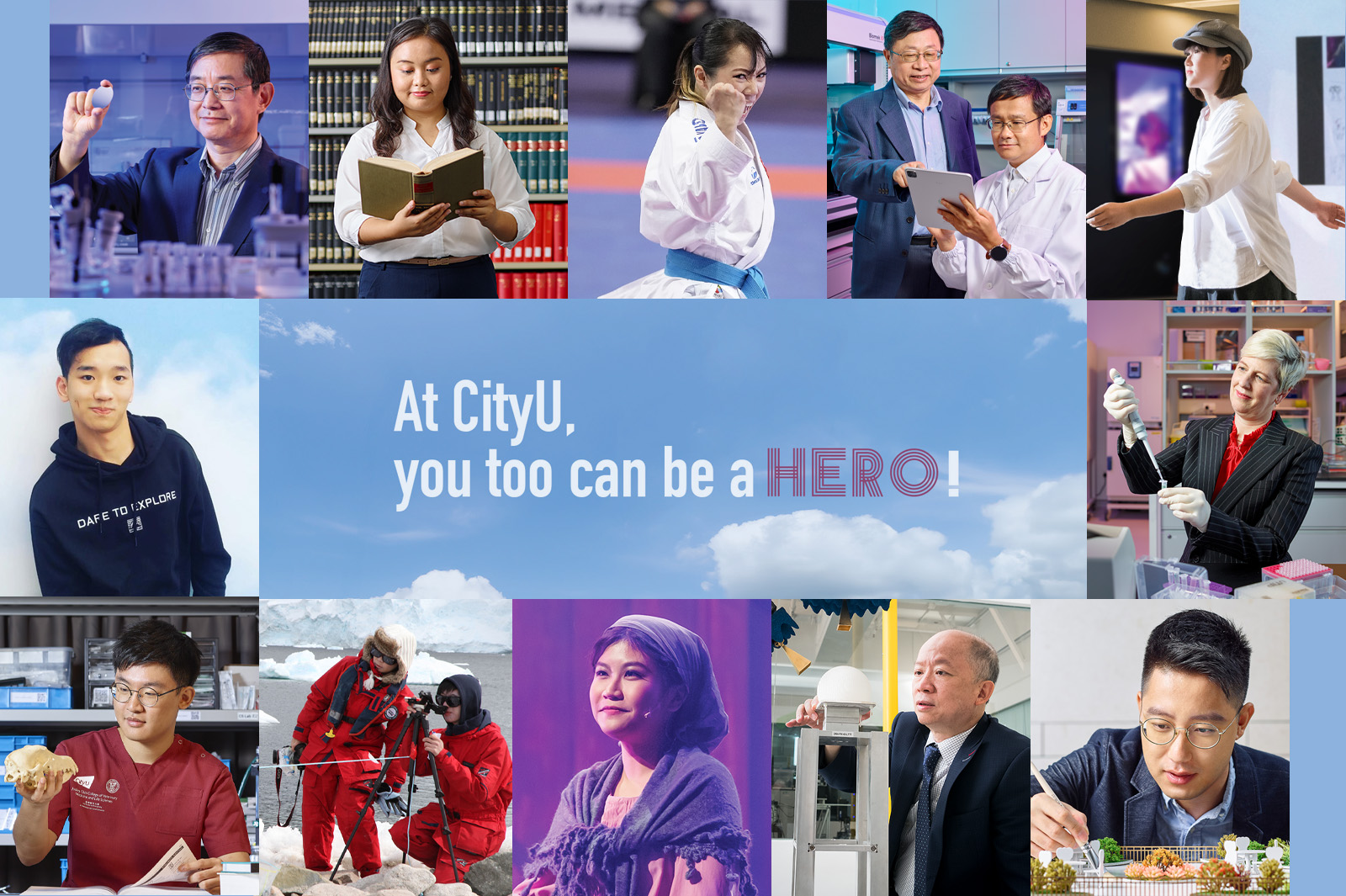 To welcome the start of the new academic year, City University of Hong Kong (CityU) has launched CityU Heroes, stories about our outstanding alumni, students and faculty that demonstrate our determination to pursue academic excellence and illustrate how to realise their dreams and give back to society through learning-centric pedagogy.
The tunnel connecting the CityU campus to Festival Walk proudly champions the stories of the CityU Heroes. Visitors passing through the new-look thoroughfare can access QR codes to learn more about the 12 featured CityU Heroes.
"With the right passion and drive, any student, faculty or researcher joining CityU can be a 'hero', someone who will positively impact the world around us," said Professor Freddy Boey Yin Chiang, CityU President. "We nurture that passion at CityU through inspirational, interactive and innovative ways of learning."
Lau Pak-hei, a Year 4 Psychology student with dystonic cerebral palsy, is one of the CityU heroes. He described life at CityU as colourful and encouraged freshmen to take the initiative to meet new friends. "Receiving love and care from those around me has made me more empathetic. As a senior or a friend, I encourage freshmen to break through their limitations, explore their interests and pursue their dreams," he said.
Keith Ling Long-hei from the Jockey Club College of Veterinary Medicine and Life Sciences aspires to be a veterinarian who speaks up for animals. Keith enthuses about his eye-opening experiences at CityU. "Winning the Innovation and Technology Scholarship in 2023 has allowed me to visit the mainland and go overseas to learn about the latest technologies in my field," he said.  
Ida Chan Tsoi-yi from the College of Liberal Arts and Social Sciences is another hero. She expressed her gratitude to CityU for changing her life by learning here. She said, "There have been many opportunities at CityU for me to learn outside the classroom; for example, I created a joyful Mother's Day event for residents at a Care and Attention Home for the Aged Blind. That experience has inspired me to acquire greater compassion in caring."  
To cultivate our faculty and students to be heroes, a whole roster of initiatives at CityU, such as the CityU Tiger programme, enables high-flying students to pursue intellectual excellence and develop their potential through our re-energised approach to learning.
In addition, our flagship innovation and entrepreneurship programme, HK Tech 300, ignites the entrepreneurship journey of aspiring members of the CityU community and the general public, translating CityU research results and intellectual property into practical applications to start their own company.
CityU will continue to launch various programmes and activities that maximise the potential of CityUers and broadcast the message that anyone at CityU can be a hero.
To learn more about CityU Heroes series, please click here.