New Book Announcement: Dispute Resolution in China, Europe and World (Springer, 2020)
10.02.2020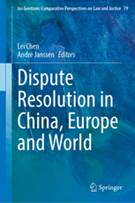 The Centre for Chinese and Comparative Law (RCCL) is pleased to announce the publication of Dispute Resolution in China, Europe and World, edited by Dr. Chen Lei, a core member of RCCL, with Professor André Janssen. This book, published by Springer, brings together articles from leading experts in the field of international dispute resolution. The main focus is on the situation in China and Asia, though the European perspective also plays an important part. Accordingly, the focus on the Asian dispute resolution market with a distinctly American and European "touch" is one of the book's most unique features.
The dispute resolution market is rapidly transforming. This book highlights recent advances and outlines future trends in this area. Emphasis is especially placed on International Commercial Arbitration Law on the one hand; and on International Investment Arbitration Law on the other. Two dedicated sections address these two topics, while another is dedicated to a quite new phenomenon in the field of international dispute resolution, the emergence of International Commercial Courts not only in Asia, but also in other regions of the world (e.g. in the Netherlands). The book's final section investigates general trends in dispute resolution (e.g. the rising cost problem in arbitration in general).
The book is the research output of a conference under the auspice of RCCL, City University of Hong Kong, held in 2018.
For details, please visit the publisher's website:
https://www.springer.com/gp/book/9783030429737#aboutBook.
Congratulations to Dr. Chen Lei and Professor Janssen.