Computer Courses for Staff in January 2019
The Computing Services Centre (CSC) is pleased to present herewith a list of computer training courses for the month of January 2019.
| Course Date | Course Title | Suggested Lynda.com Online Course |
| --- | --- | --- |
| 02 January 2019 | Analyze Your Site Performance Using Google Analytics | Google Analytics Essential Training |
| 04 January 2019 | Adobe Illustrator CS6 - Introduction | Illustrator CS6 One-on-One: Fundamentals |
| 07 January 2019 | Mastering Excel Pivot Tables | Excel 2016: Pivot Tables in Depth |
| 08 January 2019 | Adobe Acrobat | Acrobat DC Essential Training |
| 09 January 2019 | Microsoft PowerPoint 2016 - Advanced | PowerPoint 2016 Essential Training |
| 10 January 2019 | Adobe Dreamweaver CS6 - Introduction | Dreamweaver CS6 Essential Training |
| 11 January 2019 | Chinese Input Method - Chang Jie | None |
| 11 January 2019 | Data Collection & Sharing Made Easy Using SharePoint | SharePoint Online Essential Training |
| 16 January 2019 | Adobe Dreamweaver CS6 - Advanced | Dreamweaver CS6 Essential Training |
| 23 January 2019 | What-if Analysis in Microsoft Excel 2016 | Learning Excel What-if Analysis |
| 30 January 2019 | Adobe Photoshop CS6 - Introduction | Photoshop CS6 Essential Training |
Should you be interested, please register through AIMS. For details of the application procedures and admission guidelines, please visit the CSC Web. Alternatively, you may access similar Lynda.com online courses anytime and anywhere by logging into your CityU Lynda.com account.
Beware of Scam Email
The Information Security Unit of Office of the Chief Information Officer reminds you to be on the alert when responding to suspicious emails.
Keep in mind that most online scams are well documented and can easily be recognized via an Internet search.  If in doubt, verify!
You may also visit 'Fight Scams Together' - an integrated platform of the Hong Kong Police for more information:
https://www.police.gov.hk/ppp_en/04_crime_matters/ccb/fst.php
Report Suspicious Malicious Software AT ONCE to Help Stop the Spread
Malicious software (including computer viruses and ransomware), like a chameleon, is good at disguise. Hidden behind a harmless looking email or webpage, it will attack your PC or mobile device once you fall prey to it. Unfortunately, users sometimes hesitate to seek help when they suspect their PCs to be compromised. And while they consider what to do next, their PCs may already infect others, or open up a "backdoor" for hackers to target other computers on the network. The result can be disastrous. Hence, if you suspect your PC to be hacked or infected, please report the incident AT ONCE to the CSC Help Desk at 3442 7658 or to reportspam@cityu.edu.hk (with full email header). You can help yourself, keep the University safe, and possibly even allow us to catch a hacker in the act.

Please refer to "Safe IT at CityU" on best practice for staying on-line.
Projection of mobile device in Lecture Theatres and Classrooms
We are pleased to inform you that effective from Semester A 2018, you can wirelessly project and share the screen of your mobile devices (e.g. smart phone, tablet PC, etc.) in lecture theatres and classrooms via Mirroring360, a software that enables screen mirroring and screen sharing. You may refer to the FAQs at https://www.cityu.edu.hk/csc/deptweb/support/faq/faq_mirroring360.htm for setup instructions.
Should you have any suggestions or require any assistance, please email to helpdesk.csc@cityu.edu.hk or call the CSC Classroom Support at ext. 8341.
MATLAB Licenses for Campus-wide Use
The University has subscribed to the MathWorks Total Academic Headcount (TAH) license for MATLAB, Simulink, and add-on products.  The TAH license allows installation of these products on University-owned or personally-owned computers for teaching, research, and learning.  The license is valid until 31 October 2021 with details as follows.
The full suite includes MATLAB, Simulink, and 88 toolboxes.
The license includes access to MATLAB Academy Online Training Suite (MAOTS) TAH. This includes over 60 hours of online training courses for different levels and across different subject categories.
The license allows access to MATLAB from a web browser using MATLAB Online.
The campus-wide license options are for academic use only.
You may visit CSC webpage (https://www.cityu.edu.hk/csc/deptweb/facilities/central-sw-tah.htm) for more information.
Tightened Security for Machines and Applications Accessing Microsoft Office 365 on 31 October 2018
The City University of Hong Kong (CityU) currently uses Microsoft Office 365 platform for email and associated Microsoft services.  Effective from 31 October 2018, Microsoft will enforce the use of a more secured standard for users to connect to their Office 365 services (such as email, SharePoint Online, etc.).   Devices that do not comply with the new standard will fail to connect to the Office 365, and a warning message "Can't connect securely to this page" may be shown when they try to access the Office 365.
Technically speaking, Microsoft will stop supporting the old versions of the Transport Layer Security (TLS 1.0 and 1.1) and require all computing devices (e.g. PCs, Macs, and mobile devices etc.) and applications to use TLS 1.2 or later versions to connect to the Office 365.
The Computing Services Centre (CSC) has worked to ensure machines in CityU-managed domain (Staff/Student LAN) are compliant with the new standard.  For non- CityU domain and personal devices, users may perform an update for their devices as the latest versions of TLS usually come with patches for their devices.
For further enquiries, please contact our Help Desk at 3442 7658 or write to csc@cityu.edu.hk.
Urgent: Beware of New Phishing Email Come with Heading "Your mailbox is almost full"
Phishing email with the heading "Your mailbox is almost full" was reported this morning (13 December 2018) asking recipients to "CLICK HERE" by clicking a link in the mail content, which points to unknown external sites. The sample of the phishing email is enclosed below for your reference.
Please note that this kind of email in fact is typical fraudulent or phishing email (also called email scams).  In such email, usually you are asked to provide your account information by either replying to the email, or clicking a link in the email to access a web page where you are asked to fill in your account name and password, or open a file which may contain a computer virus or spyware.  Before you respond to these or alike prompts, always double check the sender's email address (email header) and link provided.  If the sender or link looks suspicious, e.g. not from the sender's organization domain, you should not reply to the email, should not open any attached file, nor click on any link in the message.  Please report such email at once to the CityU Postmaster (postmaster@cityu.edu.hk).  Then delete it.
If unfortunately you have responded to the email and disclosed your account or password information, please change your password immediately.  The password change option is available within the University Portal and in the Email Service home page. You are also strongly advised to perform a full virus-scanning on your computer if you have clicked on the link or opened the attachment in the phishing email.

For more details on avoiding phishing mail, please visit http://www.cityu.edu.hk/csc/deptweb/support/faq/email/phishing/phishing.htm.

Should you need any assistance, please don't hesitate to email to csc@cityu.edu.hk.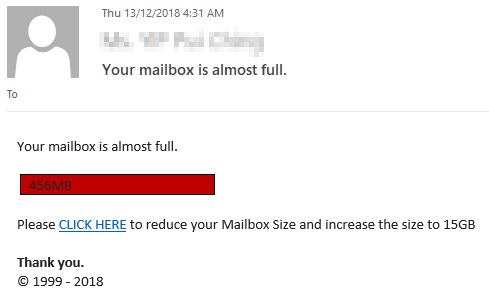 Switch of Login Service for Qualtrics
To unify the passwords for web services, at 9:00 am on 29 November 2018, the login service of Qualtrics will be switched to the CityU Web Login Service, the one which is currently used for Canvas.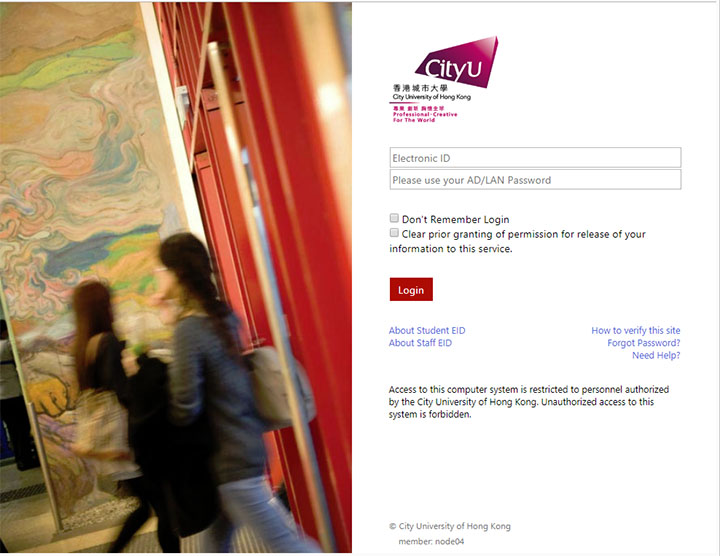 Please be reminded to use your AD/LAN password (the one you use for logging into the PCs in the CSC Teaching Studios or your office PC) for this CityU Web Login Service.  
If you anticipate any problems, please write to csc@cityu.edu.hk.