New Login Mechanism for Linkedin Learning
Further to the CAP messages posted on 9 June 2021 (links included below), please be informed that starting from 17 June 2021, you will see this new login screen for the Linkedin Learning.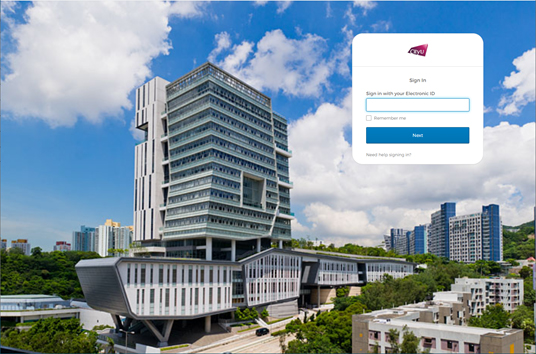 The URL of the new authentication system will begin with: https://auth.cityu.edu.hk/, and the login ID and password will be the same as the ones you use to login the Linkedin Learning before.
If you encounter any difficulties, please contact the IT Service Desk at 3442 8340, or via email to IT.ServiceDesk@cityu.edu.hk.

---
CAP messages on "New CityU Authentication System with a New Look"
For staff
https://www.cityu.edu.hk/its/announcements/2021/06/new-cityu-authentication-system-new-look-0
For students
https://www.cityu.edu.hk/csc/temp/20210608_Stud_New_Authentication_Look.aspx
IT/AV Equipment to Support Flipped Classroom and Mixed Teaching Mode
To support the mixed mode of teaching and learning on campus, the Computing Services Centre (CSC) has planned to install additional IT and AV facilities in the central teaching venues. The tentative and planned completion dates for the new equipment are summarized below:
Equipment

By 31 Oct 2020

By Mid-Nov 2020

In Nov 2020

USB Document camera for Online Teaching*

All central teaching venues

Tracking camera**

Lecture Theatres in YEUNG
(LT1-LT18)

- All 32 Lecture Theatres
- All Classrooms & Teaching Studios

Dual monitors

All Lecture Theatres, Classrooms, and Teaching Studios
* A video capture device connected to the lectern PC that allows paper handouts or hand-drawing to be shared via Zoom.
** A camera that enables tracking of speakers (teacher) while he/she moves in the teaching venue.
Should you have any questions, please contact the CSC Service Desk at 3442 8340, via email to IT.ServiceDesk@cityu.edu.hk, or through message to Microsoft Teams.
Centralized High Performance Computing (HPC)
To better utilize university resources, the University management has decided to set up a centralized HPC cluster under CSC's management.  The centralized HPC is available for all departments, supporting teaching, learning and research needs. 
Along the line of this direction, some HPC facilities previously acquired by departments (with around 1,600 CPU cores, 12 double-precision and 8 single-precision GPU cards) are now managed by the CSC.  On top of this, new HPC facilities will be put in place in July 2020 which will increase the computational power to around 500 teraflops for CPU and 400 teraflops for GPU. 
Interested parties may contact the CSC at IT.ServiceDesk@cityu.edu.hk to indicate their needs and provide the list of desired applications.  The CSC will help evaluate if the applications can be run on the HPC environment.
Report Suspicious Malicious Software AT ONCE to Help Stop the Spread
Malicious software (including computer viruses and ransomware), like a chameleon, is good at disguise.  Hidden behind a harmless looking email or webpage, it will attack your PC or mobile device once you fall prey to it.  Unfortunately, users sometimes hesitate to seek help when they suspect their PCs to be compromised.  And while they consider what to do next, their PCs may already infect others, or open up a "backdoor" for hackers to target other computers on the network.  The result can be disastrous.  Hence, if you suspect your PC to be hacked or infected, please report the incident AT ONCE to the IT Service Desk at 3442 8340, via email to IT.ServiceDesk@cityu.edu.hk, or through message to Microsoft Teamsor to reportspam@cityu.edu.hk (with full email header).   You can help yourself, keep the University safe, and possibly even allow us to catch a hacker in the act.
Please refer to "Safe IT at CityU" on best practice for staying on-line.
Best Practices to Lower Your Personal IT Security Risks
Use of computer hardware and software carries inherent risks related to data privacy and security, data theft, and malicious changes to hardware or software.   To minimize personal risks, users are reminded to update their computer operating systems and applications, as well as mobile apps, to the latest compatible version so as to minimize vulnerabilities and achieve the highest level of protection.
You are advised to:
Update your software, web browsers and operating systems to the latest available compatible version;

Remove software that you no longer use in your computing devices;

Apply security patches to your software once they become available;

Avoid clicking on pop-ups, unknown emails, and dubious links;

Use strong passwords;

Enable firewall protection and install anti-virus software at work and at home;

Connect to trusted networks and secure Wi-Fi only;

Protect your data and backup your files;

Keep abreast of new IT developments by seeking education and training, and

Encrypt sensitive data when placing it on removable storage (e.g. USB sticks).
If you are conducting online meetings, you are also reminded to:
Password protect the meetings, and provide meeting passwords only to authorized users;

Require participants to login;

Reject anonymous users or require them to first stand-by in a "waiting room";

Manage access to shared meeting content;

Chat mindfully and never share sensitive information in meetings until you are certain who is in attendance;

Avoid sharing files or clicking links in chat rooms;

Disable unnecessary features;

Lock your meeting (as host), if feasible, once all attendees have joined.
If you require any advice or assistance in updating your system, please contact the CSC Service Desk at 3442 8340 or email at IT.ServiceDesk@cityu.edu.hk.