Alumni In Conversation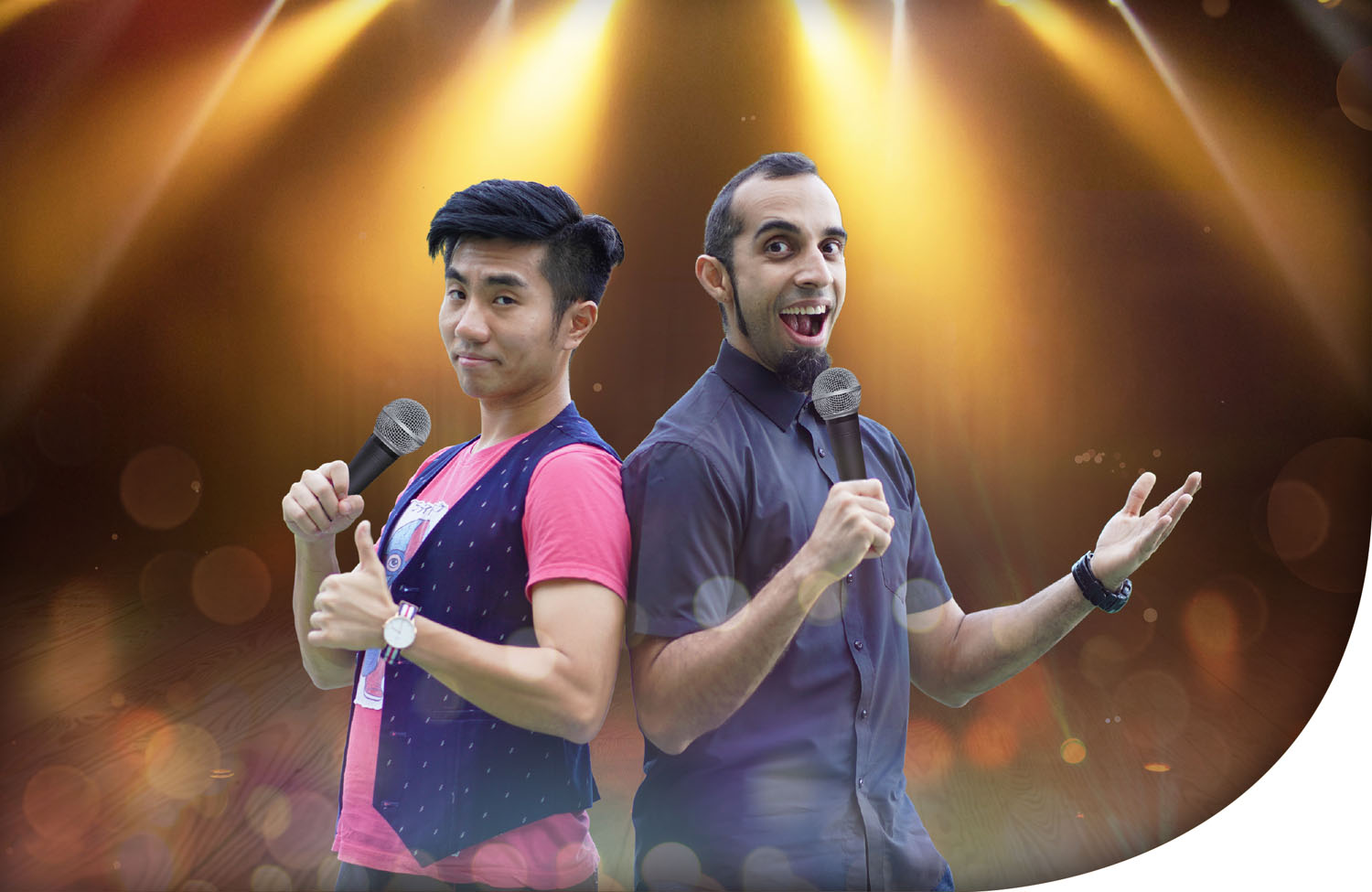 Comedy to the rescue 棟篤笑闖天下
Two comics team up to bring a lighter touch to life
爆笑二人拍檔 妙語連珠帶來正能量
Tim Chan Lok-tim
(left)
陳樂添
(左)
BEng (Hons) Electronic and Communication Engineering
電子及通訊工程學榮譽工學士
Stand-up Comedian
棟篤笑表演者
Vivek Mahbubani
(right)
(右)
BA (Hons) Creative Media
創意媒體榮譽文學士
Stand-up Comedian


棟篤笑表演者
To Vivek Mahbubani, it was the need to be in control of his own working hours that set him off on his career as a comedian. "I used to dream about not needing to wake up before 9am every morning to get ready for work!" he said. Those dreams included not just flexible working hours, but also a job where he could fully utilise his unconventionality and imagination. The answer? Stand-up comedy.

Initially, Vivek went into website design following his graduation from CityU, and only performed stand-up shows in his free time. Eventually, he decided the latter was actually his dream vocation. In 2017, he quit his job to become the only bilingual stand-up local comedian proficient in both Cantonese and English.

Like Vivek, CityU graduate Tim Chan Lok-tim felt something was missing from his life as an IT professional. In 2018, he decided to follow his passion and became a stand-up comedian.

While a drastic change, the move was not completely unexpected given that Tim had taken part in his first stand-up comedy competition in his second year at CityU. The competition also had the great benefit of bringing him together with Vivek, the guest performer at the event. The encounter proved to be the start of their working partnership. In 2011, they formed Viveknfriends with Matina, another well-known stand-up comedian. In 2017, they renamed themselves Hall of Laughs.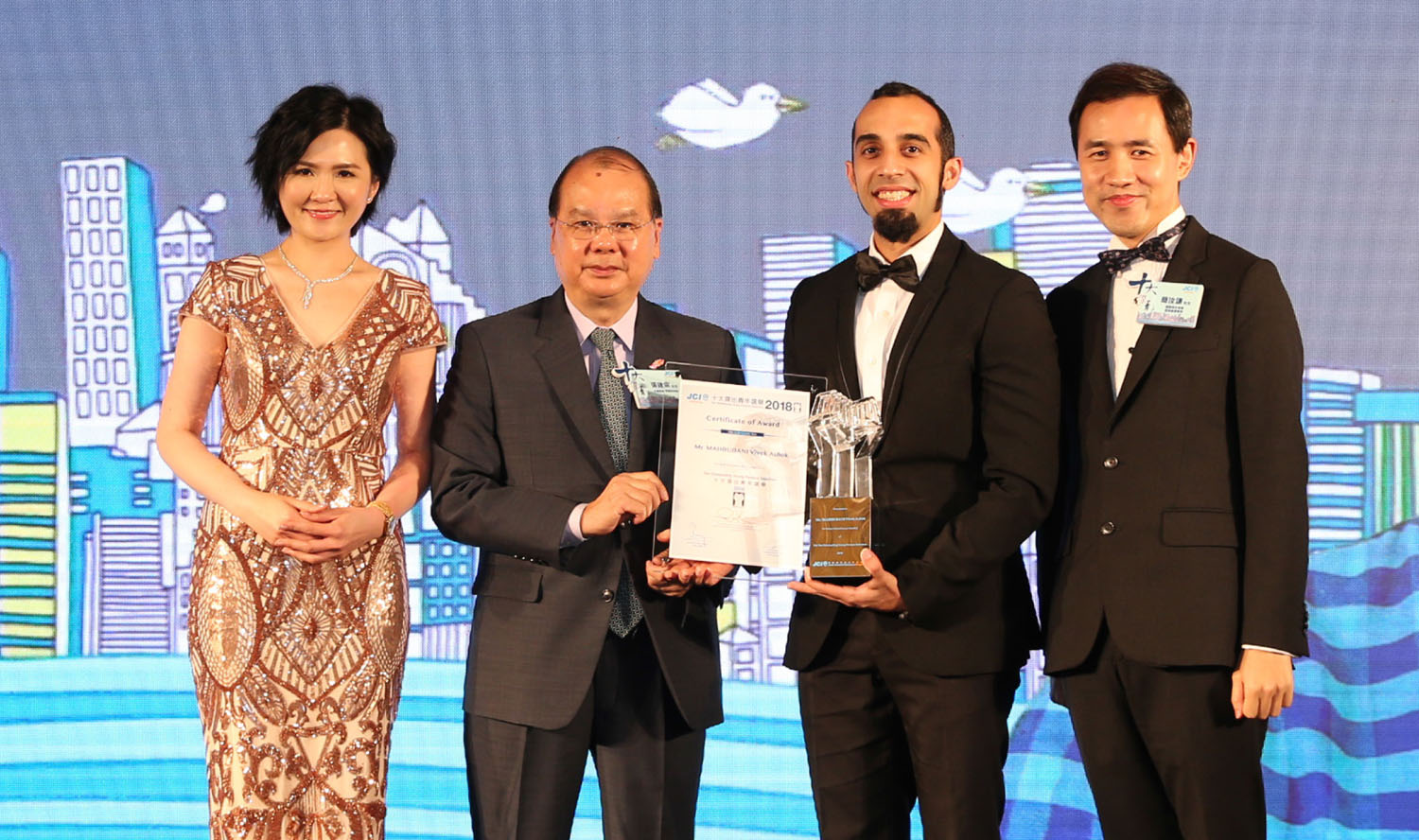 Vivek's positive attitude earned him a Hong Kong Spirit Ambassador Prize in 2013 and an Outstanding Young Person Award in 2018, being recognised as a great role model for the next generation. His goal is to bring hope to Hong Kong through stand-up comedy.
Vivek憑著積極樂觀的生活態度,於2013年獲選為年度「香港精神大使」,2018年更獲頒發「⼗大傑出青年」,成為年輕人的模範。他為自己訂下目標,要透過棟篤笑演出,為香港⼈帶來希望。
Overcoming not-so-funny moments
Their journey from amateur artistes to full-time stand-up comedians was not all fun and laughter.
Asked if they have had audiences who did not react well to them, the pair answered in unison: "Of course!" While stand-up comedy is simple in its performance style, they explained, that is also what makes it so difficult to engage the audience and get them to laugh.
The reaction of those watching the show gives them real-time feedback as to whether they have pulled off a routine successfully or not
.
A show's outcome also usually depends on several other external factors, for example, venue, lighting, audio equipment, social situation, and the audience's mood, among others. That's why, if circumstances permit, the duo always go to the performance venue beforehand to assess the surroundings to come up with "preventive measures". For, if something suddenly happens during the show, the duo need to be able to control the situation by reassuring the audience, and keeping their attention focused on the comedians and the punchlines.
Some people say comedy is actually a combination of tragedy and the passage of time. Years ago, my mother passed away, and that gave me better insight into the significance of stand-up comedy. I understood that no matter how hard today may be, one should always brave the storm with anticipation and enthusiasm

Tim
Trick of the trade
The two comics often perform together overseas, including at the Melbourne International Comedy Festival – considered one of the top three comedy events in the world – every year since 2017. The Melbourne Festival lasts for four weeks, attracting tens of thousands of comedy lovers from around the world. Performers' reputation, skill, and the audience's reaction are all reflected in ticket sales, making it a major test of a comedian's appeal.
In the first year that both Vivek and Tim took part, they did so with trepidation because all expenses for the trip had to be paid by the performers themselves, including airfare, hotel rooms, venue bookings, and even accident insurance for the audience. To make ends meet, they calculated they needed to sell at least 330 tickets. Yet a week before the performance, only 50 had been bought.

But fear turned to good fortune once they started their shows. "The audience loved us so much that ticket sales towards the end of our run picked up and, in total, an average of 80% of our seats were sold. We did not suffer any loss, gained a lot of experience, broadened our horizons, and raised the standard of our performance," Tim said.
Vivek added: "Every time we go to a new country, I observe in minute detail how the people there go about their lives to understand their temperament and habits, and then adjust our performance for a better reaction. For example, in multicultural Malaysia, audiences are very receptive to jokes about different races. As an ethnic Indian born and bred in Hong Kong, I have an affinity for cross-cultural subjects. This makes it easier for me to find relevant material to use. Australian audiences, on the other hand, prefer jokes that are more thought-provoking and subtle. This means we have to spend more time planning how to express ourselves and working out the finer points of our jokes."
Everyone can be a comedian
What about Hong Kong audiences? "As with most locations with majority ethnic Chinese audiences, Hong Kong show-goers are generally more reserved and can take a while to become fully engaged," Tim said. "At the same time, they may have the impression that only celebrity entertainers can perform stand-up comedy. We are determined to overturn that notion!
Vivek and I both believe everyone has a sense of humour and potential to perform
. The only thing to worry about is whether you have the guts to go on stage. In light of this, we have added an 'open mic' session to our monthly performances that encourages those wanting to test their skills to come on stage, speak for a few minutes, and gain courage and experience."
Aren't they afraid of cultivating competitors who may affect their bottom line in doing this? "We are too good to worry about things like that!" Vivek said, with a laugh. In fact,
the pair are firm believers that competition acts as a driving force that helps them improve
.
I was diagnosed with cancer the year after my graduation, but I underwent treatment and managed to beat the disease. This close brush with death taught me the truth of the saying, 'time and tide wait for no man'. Never hesitate in pursuit of your dreams

Vivek
Bringing joy to the world
When talking about future goals, the pair said that after creating a stand-up comedy platform that gathers like-minded individuals together,
their next step will be to attract larger audiences and turn stand-up comedy into a popular form of entertainment in Hong Kong
, much like going to the cinema or karaoke. "Life in Hong Kong is busier compared with other cities, and people here don't know how to relax properly," Vivek said. "
We hope more Hong Kong people can appreciate stand-up comedy skits and, as a result, bring more joy and laughter to their lives
."
Vivek以既似開玩笑又帶點認真地說:「我曾經夢想不用每天早上九時前起床上班,後來我才意識到,其實我真正想要的,是自己能作主的工作時間。」

許多朝九晚七的上班族每天應付刻板工作,而Vivek的「春秋大夢」,當然不止渴望彈性上班,還希望善加利用自己從小到大,孕育出來的滿腦子天馬行空古怪構思和創意。有甚麼職業能讓這項個人專長發揮得淋漓盡緻?

他的答案是:棟篤笑表演者。

大學畢業後,Vivek曾從事網頁設計,空餘時間則以玩票性質表演棟篤笑,逐漸發覺原來這正是自己多年來的夢想職業。2017年,他決定辭去工作,全職投身棟篤笑行業,他現在是本地絕無僅有精通粵語和英語的雙語棟篤笑表演者。

無獨有偶,同樣畢業於城大、修讀電子及通訊工程學的陳樂添,一直不甘每天過著沉悶的IT人生活。2018年,他選擇忠於自己興趣,義無反顧地毅然轉行投入棟篤笑的行列。他大學二年級時參加了人生第一場棟篤笑比賽,這次校內比賽讓他認識了擔任表演嘉賓的學兄Vivek,為這對拍檔日後的緊密合作寫下了序幕。兩人與另一知名棟篤笑好手Matina於2011年成立Viveknfriends,及至2017年改名為「爆笑館」,由最初只屬業餘玩票性質,到今天成為獨當一面的全職棟篤笑表演者,過程則笑中有淚。
歷盡失敗才走到今天
當我們問及二人有沒有遇過於表演期間,觀眾毫無反應時。他們異口同聲說:「當然有!
我們確是經歷過無數次挫折而存活下來再成長的
!」
他們解釋,棟篤笑的特別之處,在於它的表演方式非常簡單,但要成功帶動觀眾投入,並且讓他們開懷地大笑,絕對是極高難度的挑戰。
觀眾的即場反應,會直截了當地讓表演者知道他們的演出是否成功
。當然,表演效果還受制於許多外在因素,例如場地的燈光和音響器材,以至當日的社會動態和觀眾入場前的情緒等,都有機會對表演帶來影響。因此,若果情況許可,在正式演出前,他們都會事先視察場地,做足預防措施,萬一臨場出現突發狀況,都要讓觀眾覺得一切盡在表演者的掌握之中,繼續專心欣賞演出,不讓他們分神而錯過精彩的對白。
有人說,喜劇實際上是悲劇與時間的結合。許多笑話實際上都是悲傷的故事,只不過隨著時間沖洗過傷痕後,我們能再一次以坦然的胸懷,換個輕鬆的心情看待這些曾經令我們傷心難過的處境。數年前經歷母親意外離世後,更令我對楝篤笑表演的意義有另一番領悟,明白到即使今天的情況有多壞,都應該抱著盼望和熱情,勇敢迎接未來每一天

陳樂添
Tim performing a new local show on "Laughter and Reality" at the Hong Kong International Laugh Festival.
陳樂添早前在香港國際爆笑節舉辦了第三次本地全新個人騷《笑話與現實》,為觀眾帶來輕鬆愉快的晚上。
難忘參與世界級喜劇界盛事
兩人經常到海外演出,包括自2017年起連續三年參加世界三大喜劇節之一的「墨爾本國際喜劇節」。此活動為期長達四周,每年均吸引全球各地數以萬計的喜劇愛好者前來觀賞。由於觀眾需要明碼實價地付錢買票入場,表演者的知名度、搞笑功力和演出迴響,均直接反映在售票情況之上。

陳樂添和Vivek第一年參加演出,是帶著戰戰兢兢的心情上飛機,因為表演者不單要自費機票和住宿,還要支付演出場租,甚至要替入場觀眾購買意外保險。他們籌備時曾計算過,12晚的演出,需要售出330張門票才能不虧本,但直至公演前一周,只售出了50張。

那豈不是時間和金錢雙重損失和打擊?陳樂添說:「不是啊!由於觀眾反應熱烈,往後場次的門票銷售很理想,加起來平均錄得八成入座率,結果不但沒有虧本,還在這次演出大開眼界,將我們的演出水平帶到更高層次。」
Vivek並提到:「
每次去到一個新地方,我都會嘗試觀察當地人的日常生活,從細微之處了解他們的態度和習慣,調校更佳的表演效果
。例如在多元文化的馬來西亞,觀眾就對涉及不同種族的笑話相當受落。由於我是在香港土生土長的印度人,自小對跨文化議題具有第一身了解,因此較易找到相關題材。至於澳洲的觀眾則喜歡一些需要加以思考、耐心細味的笑話,故在構思表達形式和起承轉合的細節等方面都會較花心思。」
新手平台鼓勵放膽嘗試
那麼香港的觀眾又如何?陳樂添稱:「跟大部分華人社區一樣,香港人普遍較為含蓄內斂,觀眾較為慢熱,同時覺得只有知名藝人才有資格表演棟篤笑。所以我們決心以實際行動作出反證!
我和Vivek都相信,每個人都有幽默感和表演潛質
,只看你有沒有膽色上台演出而已!有見及此,我們在每月指定演出場次加設了一個名為『open mic』的環節,鼓勵有興趣一試身手的朋友上台試棟篤笑幾分鐘,挑戰他們的膽量和累積演出經驗。」
不怕「教識徒弟無師父」,培育出更多行業競爭者嗎?Vivek笑說:「我們太強了,不擔心這個!」這當然是說笑而已,因為
在兩人眼中,良性競爭永遠是進步的動力來源
。
我曾於大學畢業後翌年確診患上癌症,接受治療後最終擊退癌魔,這段與死神擦身而過的經歷,讓我深切體會到時間不留人,追尋夢想必須坐言起行

Vivek
為世界帶來歡樂

談到未來目標,兩人異口同聲地說:「成功建立一個楝篤笑表演平台,並且聚集一班志同道合的朋友後,下一步就是吸引更多觀眾,最終令楝篤笑變成一種普及化的娛樂,就好像平日到戲院看電影和唱Karaoke一樣,成為普羅大眾日常消閒的一部分。相比其他城市,香港人的生活的確較為忙碌,不太懂得適當地放鬆自己。希望更多香港人能在棟篤笑表演中獲得正能量,為生活添上歡樂和笑聲。」

Vivek first attended the Melbourne International Comedy Festival in 2015 as a spectator to see how it worked and was greatly impressed. The following year, he participated as an English-speaking performer, receiving enthusiastic audience support. In 2017, he performed in Cantonese with his comic partner Tim at the world-class festival for the first time.
2015年Vivek首次以觀眾身份到澳洲,出席「墨爾本國際喜劇節」,觀摩一番。他深深被活動的魅力打動,翌年決定加入成為表演者,並以英語演出,觀眾反應相當熱烈。2017年更夥拍陳樂添,首次在這個世界級的喜劇節中以粵語表演。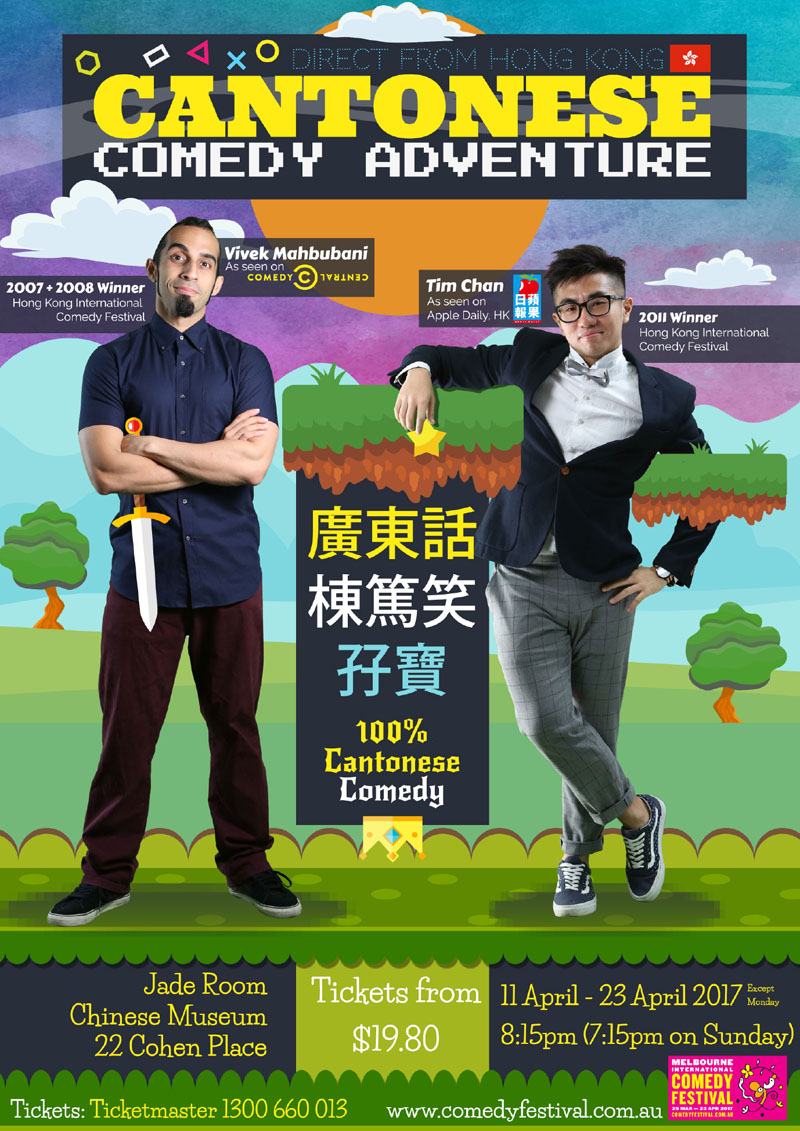 Vivek first attended the Melbourne International Comedy Festival in 2015 as a spectator to see how it worked and was greatly impressed. The following year, he participated as an English-speaking performer, receiving enthusiastic audience support. In 2017, he performed in Cantonese with his comic partner Tim at the world-class festival for the first time.
2015年Vivek首次以觀眾身份到澳洲,出席「墨爾本國際喜劇節」,觀摩一番。他深深被活動的魅力打動,翌年決定加入成為表演者,並以英語演出,觀眾反應相當熱烈。2017年更夥拍陳樂添,首次在這個世界級的喜劇節中以粵語表演。
為世界帶來歡樂
談到未來目標,兩人異口同聲地說:「成功建立一個楝篤笑表演平台,並且聚集一班志同道合的朋友後,
下一步就是吸引更多觀眾,最終令楝篤笑變成一種普及化的娛樂
,就好像平日到戲院看電影和唱Karaoke一樣,成為普羅大眾日常消閒的一部分。相比其他城市,香港人的生活的確較為忙碌,不太懂得適當地放鬆自己。
希望更多香港人能在棟篤笑表演中獲得正能量,為生活添上歡樂和笑聲
。」