By Jack YU Cher Chan (Alumni Civility Hall)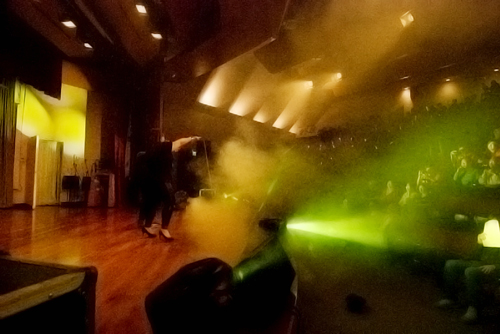 "Is it okay if I don't sing in a singing contest?" That was my roommate Sam Lee's biggest concern when we decided to enter our hall singing contest after an impromptu vocal jam session in our room, even after his mother laughed at him hysterically over one of their Skype sessions. When we qualified for the Inter-hall Singing Contest held on 1 April 2011 by winning Alumni Civility Hall's singing contest, we were more than certain we had something good going. Although "Shaaadyy" (our group) came in second to Jockey Club Humanity Hall's "German 德敏", we had a lot of fun practicing and preparing for the contest.
That night was truly an eye-opener, not just because of the level of competitiveness of the contestants, but more because of the level of support each hall showed towards their representatives as well as other contestants, especially HSBC Prosperity Hall and Jockey Club Academy Hall, the two halls who tied for the "Best Cheering Hall" award. For the contestants, with that level of support going for you, it's hard not to feel like you are competing not only for yourself, but mainly for your hallmates. Like JC Academy Hall solo representative Josy Lai said, "When you are not just singing for yourself, the pressure and nervousness you feel is on a completely different level."

Ultimately, the biggest winner of the night was JC Humanity Hall, when their contestants "German 德敏" and Cheung Yuen Tung became champions of the group and solo categories as well as taking home the awards for "Best Team" and "Best Style" respectively. Although our group got the "Most Creative" award with our beat box rendition of "Beautiful Girls", it was not enough to tip the scale as AC Hall tied with JC Academy Hall for first-runner up, while JC Humanity Hall became the overall champion of the Inter-hall Singing Contest. Their victory in the singing contest also gave them the lead they needed to take home, for the 3rd consecutive year, the Professor Edmond Ko Champion Cup.
The expression of overwhelming joy on 德敏's Man Law face kind of said it all. The cheering of the halls and the level of involvement of all the people at the contest and the award ceremony was so high it gave me, and I believe many others as well, so strong a sense of belonging that I felt really touched when they were on stage cheering and celebrating their wins. It was a feeling that I haven't felt since my high school Sports Day, and a feeling that I've been looking for in my hall life here in City University.

In the words of Esther Lee from SRO, "the event showcased diversity and creativity in the singing event, as well as the cohesion and unity of the residents from different halls, when the halls cheered for their hallmates and when the prize presentations for the big Cup took place."
ResLink Issue No.35
May 2011