By Gaargi SHARMA (Alumni Civility Hall)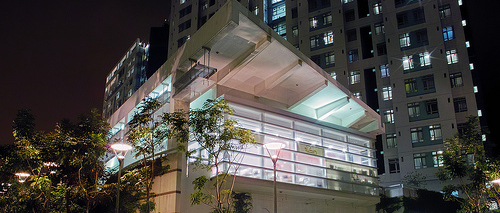 image from http://www.flickr.com/photos/waihok/2822772740/
"Oh, I wish this canteen was a bit bigger. I don't like waiting," this thought has certainly crossed your mind at some point or other while queuing up to order food at Homey Kitchen. You have also thought how a bigger canteen would help shortening the waiting time and finding empty seats, especially during the peak catering times. Now reader, the University has read your mind,  because they have planned to expand our very own Homey Kitchen for everyone's benefit.
According to the statistics, the number of students ordering food has shot up to 160 and 120 students per hour during the lunch and dinner times respectively. Considering that Homey Kitchen has a maximum capacity of 80, it isn't surprising that the students have to wait! Moreover, the completion of Phase 4 of the Student Residence will bring in more students, and so will the operation of the Run Run Shaw Creative Media Centre. In light of this, the existing cafeteria in the Student Residence will be expanded to meet the increasing seating demand and growing demand for food variety. After all, variety is the spice of life! A bigger canteen will also facilitate social interaction and intellectual discussion amongst the residents.

Now you must be wondering how the Student Residence will do that? To give you a brief idea, it is proposed that some of the existing car park will be converted into kitchen space. This will give the dining area a capacity to accommodate nearly four times as many as the existing dining area, rising from 80 to 220 persons. Not only this, but another add-on value is that the separation of the kitchen from the dining area will provide better hygiene. Sounds exciting, right?

This proposal, after consultation with student groups and endorsed by the Student Affairs Committee, has now been put forward to the University for implementation. Hopefully, by the end of 2012, all of you will have a chance to enjoy more from the catering services, which will provide you with better food and a better ambience for dining and interaction!
ResLink Issue No.35
May 2011