** NEWS **UPDATED on 11 Dec 2015**
ICOBAN2015 Conference Photo Gallery is ready.
ICOBAN2015 Conference - Best Poster Awards
Prizes for Best Poster Awards (Photos)
1st Prize Winner: Dr. LIU Chunyan, Institute of Chemistry, CAS, China
Prize: iPad Mini 4 (64GB, WiFi)
2nd Prize Winner: Miss ZHANG Jinfeng, City University of Hong Kong, Hong Kong
Prize: iPad Mini 4 (16GB, WiFi)
3rd Prize Winner: Dr. LIN Yu-Jung, National Tsing Hua University, Taiwan
Awardee: HKD1000 Cash Coupon
ICOBAN2015 Conference Group Photo is ready to DOWNLOAD.
GROUP PHOTO (Original Size Download Here)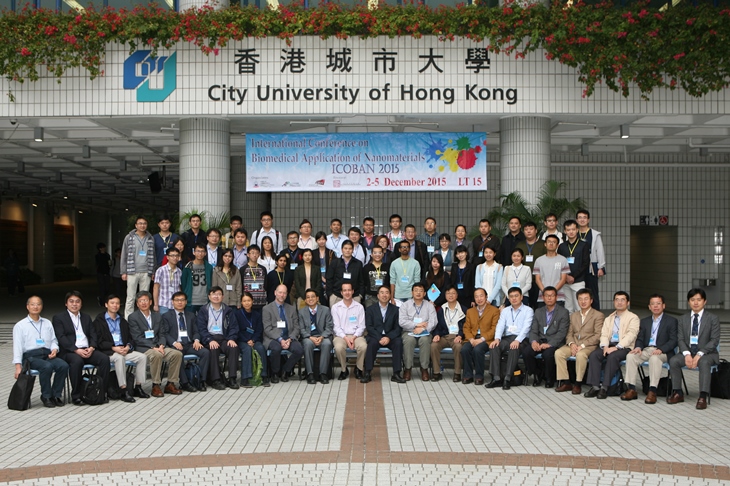 ICOBAN2015 Conference Banquet Map are ready.
http://www.cityu.edu.hk/cosdaf/ICOBAN2015/Location.html
ICOBAN2015 Full Program & Program Summary are ready.
http://www.cityu.edu.hk/cosdaf/ICOBAN2015/Programme.html
Welcome to ICOBAN2015!!!
Topics include:-
Nanomaterials for the delivery of drugs, genes, vaccines and proteins.
(Including a wide range of materials developed as stimuli-responsive or targeting nanomaterials; including transdermal drug delivery or transepithelial/oral drug delivery)
Functional nanomaterials for phototherapies
(Including PDT, PTT and photoacoustic therapy)
Nanomaterials for biomedical diagnostic and imaging applications
(Including fluorescent imaging, MRI, PAI, CT, PET, SERS, ultrasound imaging and multimodal-imaging)
Nanosensors for biological detection.
(Including biothiols, thioamide, carbohydrates, cellular oxygen, hydrogen peroxide, hypochlorite ions, hydrogen sulfide, singlet oxygen, various ions, cell apoptosis, and cancer cell detection)
Uptake, distribution, excretion and toxicity of nanomaterials.
(Including surface functionalization, roughness, size, shape, surface charge, and aspect ratio)
Nanomaterials for tissue engineering and regenerative medicine.
Nanomaterials for other cancer therapeutic modalities.
(Such as stem cell therapy and radiation therapy)
ENQUIRIES:
Official Email: ICOBAN2015@cityu.edu.hk