Latest Story
ISA - RC43: Housing and the Built Environment Conference (Call for Abstract)

23 Dec 2016

Unreal Estate? Rethinking Housing, Class and Identity 18 - 21 June 2017, 
City University of Hong Kong, Hong Kong Organiser: Urban Research Group, Department of Public Policy, City University of Hong Kong **Deadline for submission of abstract 31 March 2017 ** **Registration starts now - You can register here Submission of Abstracts | Conference themes and Panels | Conference Fee | Important dates | Field Visits | Registration | Travel and accommodation Conference Themes Financialisation and the built environment Land tenure, housing and urban conflicts Housing inequality and social stratification Housing and comparative urbanism Migration, mobility and identity Gentrification, displacement and the right to the city Affordability and the future of home ownership Smart housing, smart cities and social justice Panels *Housing Urban Singles Organisers: Richard Ronald, University of Amsterdam (r.ronald@uva.nl) and Ray Forrest, City University of Hong Kong (safray@cityu.edu.hk) *Foreign Real Estate Investments: Agents, Networks and Strategies Organisers: Sin Yee Koh, Universiti Brunei Darussalam (sinyee.koh@ubd.edu.bn) and Dallas Rogers, The University of Sydney. (dallas.rogers@sydney.edu.au) *Reconstructing the real estate-finance link: Housing financialization after the crisis Organiser: Desiree Fields, University of Sheffield (d.fields@sheffield.ac.uk) *A House Dividing: Housing Inequalities, Welfare, and Diverging Class Identities Organiser: Lindsay Flynn, Wheaton College, Norton, MA (lbe3f@virginia.edu) *High Density Living Organisers: Bill Randolph, University of New South Wales (b.randolph@unsw.edu.au) and Yip Ngai Ming, City University of Hong Kong (sayip@cityu.edu.hk) *Housing and Comparative Urbanism Organiser: Rebecca L.H. Chiu, The University of Hong Kong (rlhchiu@hku.hk) *The rise of multiple ownership and property wealth concentration across the globe Organisers: Christian Lennartz, University of Amsterdam (C.Lennartz@uva.nl), Cody Hochstenbach, University of Amsterdam, and Justin Kadi, Bauhaus University Weimar *Green housing and sustainable urbanism: Theories and practices revisited Organisers: Xiaoling ZHANG, City University of Hong Kong, xiaoling.zhang@cityu.edu.hk *Formal and informal dynamics of affordable housing development Organisers:Shenjing He, The University of Hong Kong, sjhe@hku.hk and Youqin Huang, State University of New York (SUNY), Albany, yhuang@albany.edu Keynote speakers Sapana Doshi, School of Geography and Development, University of Arizona Desiree Fields, Department of Geography, University of Sheffield Steve Graham, Global Urban Research Unit, University of Newcastle You-tien Hsing, Department of Geography, Berkeley Keith Jacobs, School of Social Sciences, University of Tasmania Brenda Yeoh, Department of Geography, National University of Singapore go to top Important Dates Deadline for Abstract Submission – 31 March 2017 Deadline for Early Bird Registration: 30 April 2017 Registration Registration will start on 4 March 2017 1000 GMT [Registration form] go to top Conference Fee Conference Fee Early Bird (before 30 April 2017 23:59 HKT) Regular (After 1 May 00:00 HKT) Member Non- Member Member Non- Member Category A countries USD 305 USD 505 USD 370 USD 605 Category B, C countries and students USD 184 USD 199 USD 220 USD 240 Local Participants HK$1500 (Fee, meals and conference dinner) HK$500 per day (Fee only) HKT =GMT+8 | Category A countries | Category B & C countries | USD 1=HKD 7.8 ISA RC43 Membership (**Join ISA RC43) DUES 4 YEARS Regular US$ 40 Category B countries US$ 30 Category C countries & students US$ 20 go to top Travel and Accomodation Accommodation [booking can be done in the registration form] Harbour Plaza Metropolis (Info)[Booking Form] The hotel is 2 stops on the East Rail Line from City University (Takes 15 minutes) Option 1 - Superior Room on Standard Floor (26 square meter, cityview) HK$1,000 net* room only HK$1,110 net* with daily buffet breakfast for one person Option 2 - Deluxe Room on Standard Floor (28 square meter, cityview) HK$1,200 net* room only HK$1,310 net* with daily buffet breakfast for one person Extra daily buffet breakfast at HK$110 net per person per meal Royal Park (info)[Booking Form] The hotel is in Shatin and 2 stops from City University on the East Rail Line (Takes 20 min) - HK$ 880 plus 10% service charge per room per night (room only) The Cityview (info)[Booking Form] The hotel is in Yaumatei and 4 stops along the Kwun Tong Line from City University (takes 15 min) - HK$ 650 plus 10% service charge per room per night (room only)(info) (booking form – will be available later) On-campus accommodation (very limited supply) Alice Cheng Hall - HK$650 per night (room only and includes service charge) (more information) Wong Fung Ling Hall - HK$880 per night (room only and includes service charge)(more information)*room rates in the information have been updated) go to top Field Trips New Choi Yuen Village Choi Yuen Village was at the heart of the one of the biggest social movement in recent decade in Hong Kong, anti-high-speed-rail movement of Hong Kong (other links) in 2009 to 2010. The residents and their supporters continue their action by sustaining their activities in the relocated new Choi Yuen Village which includes guided tours to reveal their actions as well as their way of life. The tour would help you to have a more indepth understanding of recent social movements in Hong Kong as well as the rural faces of this densely-developed city. The tour will take place on-site of new Choi Yuen Village at the North West New Territories which is about 25 km from the city centre. Villagers will offer their narration of the anti-HSR movement and to show their daily activities in "rural" Hong Kong. Authentic village dim-sum will be served. Date – morning of 21 June 2017 Fee – USD15 (HKD120) Place is limited to 20. [map] Shamshuipo Shamshuipo (SSP) is one of the oldest district in Hong Kong. Like the inner city of many developed cities, SSP is also rapidly decaying. It now has the highest concentration of poor households, the marginalised ethnic minority groups as well as homeless people. Yet it is also one of the areas with intensive gentrification. The tour will be a street walk guided by local residents who will show you the history, changing landscape as well as the newly emerged contestation created by changing demography, ethnic diversity as well as the competition for space. [General information on SSP][Other things to see][Street artists' transformation of SSP) Date – morning of 21 June 2017 Fee – USD10 (HKD80) Place is limited to 25. [map] go to top Panel Sections Panel Session: Housing Urban Singles Organizers: Richard Ronald, Universiteit van Amsterdam, R.Ronald@uva.nl Ray Forrest, Hong Kong City University, safray@cityu.edu.hk The proportion of people living alone as a one-person household, or non-married/non-partnered adults living long-term with parents, relatives or other non-family members has grown dramatically in recent decades in most developed societies. While this kind of household splintering has become common in western economies, it has also become increasingly evident in more diversified contexts including East Asia and even the Middle East. Eric Klinenberg's 2012 book, Going Solo, has generated particular interest in this phenomenon, asking why so many people are 'choosing' to follow a life of singlehood. Few studies, however, have seriously addressed the social spatial contexts and drivers of being or remaining single, even though urban conditions are associated with higher rates of one-person households and people living life without a romantic partner. Indeed, cities have been particularly affected by the rise of singles, with conjugal couple and family households becoming more marginal. Papers in this session will present state of the art empirical research and theories on one-person households and long-term singles from and in a variety of urban contexts-with particular attention being given to the housing dimensions of this rise in single living. Cities provide particular constraints on relationship development and frame family formation and dissolution, among other critical life-course transitions. Urban conditions are also shaping alternative domestic arrangements and life-course progressions that are emerging as a result of nuclear family household decline. This session particularly welcomes papers that... Examine the influence of cities on singles and the formation of one-person households, as well as the impact of the proliferation of household atomization in (and on) cities. Reflect on differentiation between different urban contexts in the manifestation of single lifestyles, as well as the role and impact of local/indigenous factors Consider new types of household (shared living etc.) and life-courses that provide a more or less meaningful alternatives to forming a family household Explore differences in urban single experiences and practices shaped by gender and sexuality Address the socioeconomic implications on cities constituted of mostly one-person households and unaffiliated individuals as well as the housing policy chall ​go to top Panel Session: Foreign Real Estate Investments: Agents, Networks and Strategies Panel organisers: Sin Yee Koh, Universiti Brunei Darussalam (sinyee.koh@ubd.edu.bn) and Dallas Rogers, University of Western Sydney, (D.Rogers@westernsydney.edu.au) The phenomenon of real estate investments by foreign investor-buyers in major global cities has been well reported in mainstream mass media. In London, there is increasing academic and policy attention on the impacts of absentee super-rich and middle-class foreign real estate investments on housing inequality and urban social life. In New York, prominent luxury real estate developments have been linked to illicit foreign capital flows. In Sydney, the influx of Mainland Chinese real estate investor-migrants, especially from China, has sparked local (racist) protests and contestations – a reminder of similar discussions in Vancouver two decades earlier. On the other hand, real estate is widely recognised as a sound investment product in an increasingly neoliberal world where individuals shoulder the burden of their own financial wellbeing. Clearly, foreign real estate investments is an issue of individual and collective concern. In this context, investor-buyers have been at the receiving end of local discontent about housing, class and identity. However, this tendency to blame foreign real estate investor-buyers – whether they are super-rich or middle-class – diverts attention away from the task of engaging with broader forces at play. What, for example, are the roles of structural forces constituting urban political economies that enable and facilitate foreign real estate investments? Who are the other agents who are equally complicit in this process? What are the networks and strategies that assist foreign real estate investments? This panel addresses these questions by examining the agents, networks and strategies constituting the global and local landscapes of foreign real estate investments. This proposed panel will consist of 4-5 papers. Papers would possibly examine themes such as: ​ * Discourse: Racism, neoliberalism * Policies: Housing, foreign investments, immigration * Agents: State and non-state institutions, intermediaries, mass media * Networks: Investment clubs, social media groups * Strategies: Knowledge production and dissemination, investment product and tools * Consequences: Inequalities, access to housing * Solutions: Alternatives, contestations go to top Panel Session: A House Dividing: Housing Inequalities, Welfare, and Diverging Class Identities Panel organiser: Lindsay Flynn, Department of Political Science, Wheaton College, lbe3f@virginia.edu Panel Chair and Discussant: Jane M. Jacobs How have new and possibly enduring inequalities stemming from housing market dynamics affected class identity and people's ability to move through typical life stages? These four papers examine this question from a variety of complementary perspectives. The Anderson/Kurzer and Helbrecht/Weber-Newth papers emphasize inputs – _the policies and dynamics that have generated unequal access to housing and in particular home ownership. The Flynn/Schwartz and Hulse papers highlight outputs – _the ways in which inequalities in the housing and labor markets generate and reproduce class divisions. Combined, all four papers highlight the role of housing in creating and storing wealth, with a particular focus on the ways that differentials in housing wealth shape political and social dynamics. In doing so, they identify several previously underexplored trends. One major trend emerging from the papers indicates that people have responded to increased market risks by re-pooling risk inside the family unit. A second, conflicting trend is that uneven access to the housing market has pitted younger and asset-poor cohorts attempting to enter the housing market against older cohorts who must rely on private (i.e. asset-based) forms of social provision. These trends are rooted in contemporary structures of housing markets, and countries with historically distinct welfare state trajectories (e.g. Sweden, Germany, the United States, and Australia) have in some cases adopted overlapping strategies. For instance, Anderson and Kurzer show that even in social democratic welfare states, some housing policies look more like the American form of a hidden welfare state. Helbrecht and Weber-Newth posit that the post-political discourse around housing policy leads politicians and experts to focus on more technocratic questions of implementation rather than grappling with questions about the broader purposes of housing that have implications in class formation and identity. Here too, the effects may seem hidden. Flynn and Schwartz identify how high levels of housing and wealth inequality generate conflicts across and within age cohorts in the rich OECD societies. Hulse identifies these inequalities as well, while adding a spatial dimension to the analysis. Taken together, the papers trace the links between growing income and wealth disparities, housing policy, and the development of new and possibly enduring cleavages across cohorts and classes. In this way they highlight how identities within societies and families are shaped by contemporary political and economic forces. go to top Panel Session: Reconstructing the real estate-finance link: Housing financialization after the crisis Panel organiser: Desiree J Fields, University of Sheffield (d.fields@sheffield.ac.uk) The treatment of housing as a financial asset helped create the conditions for the 2007-2008 global financial crisis. Yet everywhere the crisis was felt most strongly, restoring the link between finance and the built environment has been integral to recovery strategies. While the process of financialization is ongoing, it has also changed: today rental housing is an important new financial asset class, with some of the world's largest private equity firms buying up and renting out repossessed properties and rolling out novel rent-backed financial instruments. This shift is rooted in broader social, economic, and political conditions taking shape since 2008, including: pressure for state and financial institutions to dispose of large amounts of distressed assets; increased rental demand as former homeowners become tenants and young people contend with greater indebtedness and diminished economic opportunities; and tighter lending standards. But we must recall that financialization is neither given nor monolithic; rather this process is always incomplete, a work in progress that can fail, break apart, and be contested. This session invites papers that shed light on the dynamics of post-crisis housing financialization, welcoming a range of topics including but not limited to: How the link between housing and finance is being reconstructed in specific urban and/or national contexts since 2008 (including comparative perspectives) The socio-spatial impacts of post-crisis housing financialization Rental housing as a new financial asset class and tenants as 'financial subjects' How social movements seek to contest or interrupt financialization, including through alternative relationships to land and housing and movements for expanded renters rights Historical or contemporary counter-examples highlighting progressive possibilities toward de-financialization go to top Panel Session: High Density Living Panel Organisers: Bill Randolph, University of New South Wales (b.randolph@unsw.edu.au) and Yip Ngai Ming, City University of Hong Kong (sayip@cityu.edu.hk) Cities around the globe are growing at unprecedented rates. The bulk of this growth in many cities has been in the form of higher density apartment accommodation. This has led to a revolution in the way we live in our cities, with a major shift into higher density that has transformed urban living in little more than a generation. Millions of new apartment dwellers now characterise an increasing share of urban populations. In many new cities, such higher density communities form the majority of the population. The move into 3-dimensional living has resulted in major changes in the way we live and conduct our lives, prompting many questions about the outcomes achieved and the conceptual basis for such development. We invite abstracts on research relating to higher density living. There are no proscribed issues, but the range of topics could include the following: Do these new higher density housing forms deliver environmentally sustainable outcomes – how do they really perform in terms of energy and water use, urban heat island effects and transport efficiencies? New forms of local urban governance and management have emerged to support these new forms of housing and the life styles they generate. Owners corporations, often led by unelected amateurs drawn from the ranks of unit owners, comprise a substantial and growing body of new urban managers, presenting ever smaller fragments of the city. What new political demands and associations are emerging from the unit owner community? A new urban professional cohort of strata and unit managers has emerged to support this new market – who are they and what are their backgrounds, motivations and expectations? Households have been brought together to live in increasing propinquity, yet it remains unclear as to how far these new communities form close bonds or simply remain as increasingly larger concentrations of unconnected individual households. How have individuals and households adapted the conditions and are there any indication that longer term social connectivity is emerging for the increased togetherness of high density living? In what way does high density living create compact cities and what impact does it produce on the urban and social landscape of the city? How, and by whom, are these new apartment complexes planned, designed, built and then sold on to end users? What proportion is built for sale or rental? How are they financed? What are the economics of the process and how does the political economy of higher density compare to more traditional urban forms? What outcomes are there for urban housing needs in terms of affordability, availability and appropriateness? Is appropriate infrastructure integrated with the new developments? How is the renewal and redevelopment of existing higher density housing being undertaken? Who wins and who loses? How do the redevelopment economics stack up and what replaces older higher density stock? How far do governments get involved? These and many more questions remain to be fully explored by the growing body of research in higher density housing markets. This panel session offers an opportunity to focus on the emergence of the high density city as a specific field of urban research. The panel will provide an opportunity for a range of perspectives to be brought to bear on this issue with the only proviso being that participants focus on new research into higher density housing markets as a specific housing form in the 21st century city. go to top Panel Session: Housing and Comparative Urbanism Organiser: Rebecca L.H. Chiu, The University of Hong Kong (rlhchiu@hku.hk) Urbanism is about the interactions of urban inhabitants within and with their living and working environments. The interactions and their outcomes are dynamic and multi-faceted, simultaneously being corollaries of and impetus to the social, economic, political, technological and spatial processes and forces. Their physical manifestations are particularly phenomenal; they do not only determine the functionality of a place, but also shape its appearance, character and identity. Their social impacts and implications are no less significant: they mold the way of life; partially form the culture of a place and define social roles; induce socio-cultural change; institutes social controls; influence social life; and so on. While central to urbanism is people, essential to the built environment is housing, which is a major user of urban land. In particular, residential forms craft the size, density and the socio-spatial configurations of local communities, and their planning and design contribute to the making of social relations. Residential forms are often outcomes of urban and social policies: those of housing, spatial development, land, transport, infrastructure development, social welfare, and urban design. They are also influenced by the natural landscape, land availability, and other related natural resources and conditions. Technology, social and cultural norms and practices also influence residential forms. This panel compares and analyzes the nexus of housing and urbanism in different cities, with the purpose of unveiling and reflecting on the intricate role of housing in shaping urbanism. It seeks to answer: how does housing influence the urbanism of a place, in physical and social terms; does the contribution of housing differ significantly among low-rise, medium and high-rise housing environments, between cities in developing and developed economies, and between Western and Asian cultures; and how important are housing-related facilities and spaces, such as shopping facilities and public space, in determining urbanism? go to top Panel Session: The rise of multiple ownership and property wealth concentration across the globe Organisers: Christian Lennartz, University of Amsterdam (C.Lennartz@uva.nl), Cody Hochstenbach, University of Amsterdam, and Justin Kadi, Bauhaus University Weimar In recent years, significant intergenerational gaps in opportunities to access the housing property market have emerged, especially since the Global Financial Crisis. Where middle-aged and older households have benefitted massively from policies and market conditions that facilitated house purchase, younger generations have been facing increasing barriers in stepping onto and moving up the housing property ladder. More recently, public debates in countries like Britain, Australia and the US have framed these intergenerational imbalances as the upcoming of the 'generation rent'. The flip side of this boom in rental housing is a growing class of (multiple) rental property owners in these countries. While much has been said about the struggles of millennials in starting their housing careers and in climbing the housing ladder, less is known about new landlords/multiple property owners and their investment strategies and intentions. This panel gives a platform to new theoretical perspectives and empirical studies on this issue, where we particularly (but not exclusively) invite submissions on the following key themes: The financialization of the family and the growth of 'parent landlords' - Recent studies have highlighted the growing intergnerational financial support in the housing market. This panel wants to highlight alternative support strategies, particularly investing in secondary properties and renting these out to family members (most often adult children). Housing inequality and wealth stratification - The growing class of small scale individual landlords and multiple property owners inevitably means a concentration of asset wealth and welfare resources in these societies. This panel seeks to provide a platform for original perspectives on social, economic and political effects of the increasingly skewed asset wealth distribution. The spatial dimensions of property-based wealth accumulation - Investment in, or speculation on, property typically has notable urban dimensions. Where both wealth elites and middle-class parents channel their wealth into major urban areas, intensified forms of gentrification have occured. We welcome contributions that seek to "spatialize" (intergenerational) property investment strategies and subsequent generational housing divides. go to top Panel session: Green housing and sustainable urbanism: Theories and practices revisited Organizer: Xiaoling ZHANG, City University of Hong Kong, xiaoling.zhang@cityu.edu.hk Sustainable Urbanism theories have been developing over the past two decades or so, with comprehensive indices to measure or rate the sustainability of urban development. Today our issues in relation to urban growth are well known, with the expansion of conurbations that swallow up huge land and resources creating places that may offer desirable individual living environments but impose high sustainability costs at societal level which are externalized on to others and the future (Parham, 2013). Green housing has been promoted worldwide as a means of helping address the seemingly ever-degrading urban environmental and social conditions. The green and sustainable discourse is a response to the widespread failure of the conventional urban development model that fared well throughout the 1980s and 2000s, but quickly drained environmental capacity and posted severe threats to the living environment of human beings, particularly in the cities, where resources, demands and the population are most highly concentrated. This results in the built environment taking a proactive role in improving the overall living quality of the residents and social fabric of cities. As a result, green housing is advocated to transform the built environment as an alternative to the conventional mode, highlighting a more human-oriented and eco-friendly development model with less of a negative influence on the natural environment. Given this context the question is whether the green housing and smart built environment can improve on the nature of contemporary urban development or be situated as part of the problem? Could it perhaps contain elements that are both part of the problem and of the solution? On one hand, given the external benefits it exerts on the environment, green housing is believed to promote the overall social and economic conditions of its residents. Green housing designs may directly or indirectly improve the mental and physical health of residents and, in a broader sense, provide a stronger community culture and establish a more stable and healthier relationship among the members of the same community. Many studies have shown that green housing provides superior energy and water performance, leading to significant savings in energy and water costs. The implementation of green technology and application of sustainable energy naturally promote a more sustainable way of life and reshaping people's behavior in the cities. Although green housing is surely alleviating the overall environmental pressures of cities, it is difficult to calculate the external benefits involved to prove conclusively that this is the case. In general, green housing is an inter-disciplinary topic that involves multiple elements ranging from design techniques to policy instruments. Green housing schemes have a variety of effects, encompassing almost all the social, environmental and economic aspects of the urban condition. Systematic research into green housing is urgently needed, including the technical aspects of design and construction, the development of properly contrived policy instruments, the overall evolution of its performance and influences at the scale of the individual, community and city as a whole. There are no prescribed issues, but the range of topics could include answers to the questions: What are the fundamental features of green housing? How is human-oriented and environmental sustainability achieved through the design and promotion of green housing? What is the overall performance of green housing in terms of indoor conditions, energy and water efficiency and improvements in the health of residents? What are the policy instruments needed to promote green housing schemes worldwide and how are these schemes to be evaluated? How can the market/government best play a role in the adoption of green housing? How can developers, tenants and homebuyers best be encouraged to go green? What policies are needed to improve the performance of green housing? To what extent can green housing help provide the lived experience of place, home, capital or community belongings? To what extent will green housing shape/reshape the overall sustainable city via social, economic, environmental as well as cultural urban fabric and what influence will it have on the individual, communities and cities overall? Is green housing just? Or will it create more injustice in the cities? Will green housing definitely help create a healthier and eco-friendlier lifestyle and what are the likely side effects involved? go to top Panel Session: Formal and informal dynamics of affordable housing development Organizers: Shenjing He, The University of Hong Kong, email: sjhe@hku.hk and Youqin Huang, State University of New York (SUNY), Albany, yhuang@albany.edu As an important redistributive means to improve the well-being of marginal groups, affordable housing has long been the focal point of academic research and policy making worldwide. The 2008 global financial crisis centralized on housing economy once again brought housing affordability into the limelight of social economic research. The importance of affordable housing concerning homelessness, quality of life, social mix has been widely recognized. In developed countries, affordable housing has been used as a governing and planning tool to address the problems of residential segregation and sociospatial inequality. Nonetheless, after the collapse of the welfare state and the rise of neoliberal policies in advanced capitalist economies, affordable housing development has been subordinated to the imperative of economic growth, and has lagged far behind the pressing needs of the low-income groups. In the Chinese context, rocketing housing price in large cities and limited provision of affordable housing have pushed many into despair. Adding to this problem is the urban-rural dichotomy that institutionalizes and perpetualizes the inferiority of rural migrants in the city, who have amounted to more than 270 million in recent years. Central to the housing affordability problem haunting many Chinese cities is the predominant land revenue-driven urban growth model. Against this backdrop, different strategies have been developed both from top-down and bottom-up. On the one hand, the central government has announced an unprecedentedly large-scale affordable housing development plan to construct 36 million units of affordable housing during the12th five year plan (2011 to 2015). On the other, informal housing strategies are thriving on the collective land owned by villagers whose farmland has been encroached by the waves of urban expansion in the past three decades. Urban villages have sheltered millions of rural migrants. Meanwhile, a distinctive mode of semi-illegal housing development, namely small property right housing has quietly taken up a considerably large proportion of existing housing stock. Seemingly, these two mechanisms of affordable housing development led by the state and the village collective respectively are targeting different social groups and evolve along parallel paths independent of each other. Existing studies also rarely link these two dynamics together to examine affordable housing development. However, both mechanisms closely hinge upon the dual land system and land provision issues and can actually complement and learn from each other in many ways. We therefore call for papers looking at both the formal and informal dynamics of affordable housing development. We welcome papers addressing (but not limited to) the following issues: To examine the dynamics of formal and informal affordable housing development from both production side and consumption side, i.e. the mechanism of land and housing supply and the different patterns of formal and informal affordable housing consumption; To assess the advantages and problems associated with formal and informal affordable housing development from the perspectives of property rights and transaction cost; To analyze the inter-relationship between the two modes of affordable housing development; To investigate the financing strategies of formal and informal affordable housing provision; To evaluate different impacts of formal and informal affordable housing on residents and communities. go to top

...


new book out: Cities and the Super-Rich
The book
Cities and the Super-Rich:Real Estate, Elite Practices and Urban Political Economies
, edited by Ray Forrest, Sin Yee Koh and Bart Wissink, has just been published by Palgrave Macmillan.
With the rise of wealth inequalities, our cities are changing dramatically. This collection critically engages with and advances existing debates on the super-rich and their roles in these transformations. An interdisciplinary range of contributions from international experts including sociologists, geographers, historians, discourse analysts, and urban studies specialists reveal crucial aspects of the real estate investment practices of the super-rich, their social spaces in the city as well as the distinct influence of the super-rich on the transformation of four key cities: London, Tokyo, Singapore and Hong Kong. By drawing together diverse disciplines, perspectives, and experiences across different geographical contexts, this book offers a fresh, comparative, and nuanced take on the super-rich and the 1% city, as well as a solid, empirically and theoretically
grounded basis to think about future research questions and policy implications.
...

A Digital Right to the city pamphlet
"Our Digital Rights to the City' is a small collection of articles about digital technology, data and the city. It covers a range of topics relating to the political and economic power of technologies that are now almost inescapable within the urban environment. This includes discussions surrounding security, mapping, real estate, smartphone applications and the broader idea of a 'right to the city' in a post-digital world."
It includes a contribution by Urban Research Group members Valentina Carraro and Bart Wissink, discussing the politics of web-mapping in Jerusalem. It was edited by Joe Shaw and Mark Graham from the Oxford Internet Institute. You can download a free e-version, or order a paperbak copy, here.
...

Hong Kong needs property developers that put social mission ahead of profit
The South China Morning Post featured an article by Urban Research Group's Yanto Chandra on social enterprises, and their potential role in alleviating Hong Kong's housing crisis. Read the full article
here
. Photo by Mk2010 (Own work) [CC BY-SA 3.0 (http://creativecommons.org/licenses/by-sa/3.0)], via Wikimedia Commons
...

URG study calls for tougher punishments for subdividing flats
URG researchers have called on the Hong Kong government to increase fines and set up a separate law specifically on building conversion. Between December last year and March, the team surveyed 150 construction and property management professionals, district councillors, social workers and neighbours of tenants in subdivided flats. Respondents were asked to rate a list of 16 proposals to address the problem of subdivided flats in the city, which house over 200,000, according figures from to the Census and Statistics Department. Based on the study, authors also recommended the creation of a cross-departmental task force, and clear guidelines for officials on the use of statutory power to inspect housing units. The study was featured on the South China Morning Post, and you can read more about it on their
website
. Photo by
The first session focused on Park's work, exploring its relevance and limitations for research on urban China. How can we engage with his essay? Should we? Can his ideas be translated over space and time? Presenters included Xuefei Ren from Michigan State University, Fulong Wu and Zheng Wang from University College London, Bettina Gransow from Free University Berlin, and Bart Wissink from City University of Hong Kong. The second half of the day was dedicated to the research frontiers and methodological challenges of current research on urban China. Topics ranged from art to activism, from migration and socio-spatial segregation to urban infrastructure. Speakers included Shenzhen-based artist and anthropologist Mary Ann O'Donnell, Zhigang Li from Wuhan University, Lui Tai-lok from Hong Kong University of Science and Technology, Jeroen de Kloet from University of Amsterdam, and Chen Juan from Hong Kong Poly U. On the final day, the discussion centred on future research directions, and how to position China in today's comparative research. Hyun Bang Shin from London School of Economics, Julie Ren from City University of Hong Kong, and Jan Nijman from University of Amsterdam were the speakers for this session.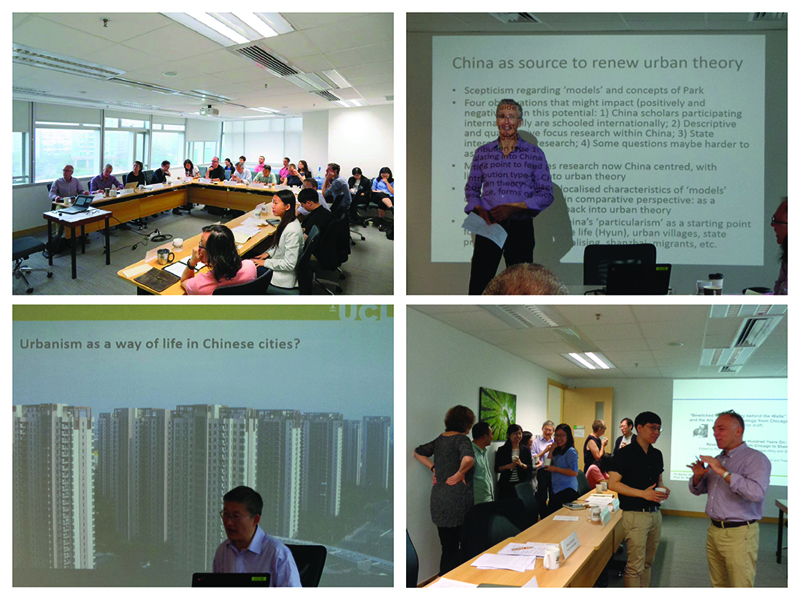 Some video excerpts from the event available
here
. The first scoping report "Segregation Research on Urban China" produced as part of this project is now available as a working paper
here
. The papers presented in the workshop will be published in an edited book. Inquiries, please contact Julie Ren: ren.julie@gmail.com.
...

International Workshop: From Chicago to Shenzhen, 'The City' at One Hundred
From 6-7 June 2016 international experts are convening at CityU with the Urban Research Group for the workshop "From Chicago to Shenzhen: 'The City' at One Hundred." The group will discuss research on urban China today, the contemporary relevance of Robert Park's essay on "The City" and future directions for theorizing the city. The outcome of the workshop will be an edited book. Find the full program
here
. Confirmed participants:
CHEN Juan, Hong Kong Polytechnic University
Ray FORREST, City University of Hong Kong
Bettina GRANSOW, Freie Universität Berlin
Jeroen DE KLOET, University of Amsterdam
LI Zhigang, Wuhan University
LUI Tai-Lok, Hong Kong Institute of Education
Jan NIJMAN, University of Amsterdam
Mary Ann O'DONNELL, Shenzhen
Julie REN, City University of Hong Kong
Xuefei REN, Michigan State University
Hyun Bang SHIN, London School of Economics
Zheng WANG, University College of London
Bart WISSINK, City University of Hong Kong
Fulong WU, University College of London
YIP Ngai-Ming, City University of Hong Kong
PIs: Ray Forrest, Yip Ngai-Ming, Bart Wissink Contact: Julie Ren (ren.julie@gmail.com) Photo Credits:
Cory Doctorow
via Flickr,
ShareAlike 2.0
.
...

Squatters and migrants in Madrid: Interactions, contexts and cycles
The
Urban Studies
journal recently published an article by Miguel Martinez Lopez. The research looks at the complex intersections between squatting an migration, focusing in particular on the case of Madrid. You can read more about the project on the
Urban Studies blog
. The full article is available
here
.
Photo: Casa de Okupas (Squat house), Parc Guell, overlooking Barcelona, 2007. By MickStephenson (Own work) [GFDL (http://www.gnu.org/copyleft/fdl.html) or CC-BY-SA-3.0 (http://creativecommons.org/licenses/by-sa/3.0/)], via Wikimedia Commons
...

ISA RC43's Conference on Housing and the Built Environment at City U in 2017
The Urban Research Group will host the 2017 Annual Conference of the International Sociological Association's
Research Committee on Housing and the Built Environment
. The event will take place between the 19th to the 22nd of June, 2017. We will post more details about the event in due course.
...

Urban Resurgency and Suburban Decline in the US
Back in December,
Prof John Rennie Short
, from
UMBC
gave a presentation on
Urban Resurgency and Suburban Decline in the US
. You can now watch the whole event on
YouTube
. We hope to upload more lectures and videos in the near future. So, if you miss one of our events, you might get a second chance!
Photo: NY Central Park by
Zero One
via
Flickr
.
...

Tenant Purchase, Assisted Home Ownership and Social and Residential Mobility
Hong Kong is one of the most expensive cities in the world in which to purchase property. Space standards are very low. Income differentials are very high. Median Price-Median Income ratios are such that a significant section of the population will be unlikely to gain access to home ownership unless they are helped to do so via some kind of direct or indirect subsidy. In the past, the government has experimented with a limited sitting tenant purchase scheme (TPS) and with a more prolonged and extensive form of low cost home ownership (HOS). The latter has recently been reintroduced in a new form but not on a scale which is likely to make any major impact on the substantial number of households wishing to enter home ownership but currently unable to do so.
This is a challenge facing many governments but the situation in Hong Kong is particularly problematic because of the very high land and property prices, the nature of the dwelling stock and built form and the income structure. For example, whilst the high density, high rise form has enabled effective and efficient mass housing solutions it is a more difficult to implement privatization policies in such contexts. Low rise social housing found in European countries can be relatively easily sold off with the right discount incentives and provided tenants have sufficient income. With high rise, however, there are more collective action problems, issues of maintenance and repair, and scattered sales create mixed tenure blocks with attendant housing management and policy difficulties. Moreover, some properties may not be as marketable as others.
One way to boost the level of home ownership in Hong Kong, and to give access to lower income households, would be to embark on a new and more extensive privatization policy. This has been suggested by some analysts. There has, however, been little systematic research on the longer term consequences of the previous TPS scheme. With the passing of time we are now in a position to undertake this research. Who buys these properties? Where did the buyers live previously? Where do they fit in the market? How saleable are they? Similarly, whilst the HKHA has some information on the buyers of HOS properties, we know relatively little about where they fit into the market and how that may have changed over time. This project engages directly with these key issues of how assisted home ownership and tenant purchase schemes impact on housing and social mobility and will inform very pressing current debates on housing policy.
Photo: Mei Ho House of Shek Kip Mei Estate before its renovation. By
HenriLI
via Wikimedia Commons
...

Urban Renewal and human centred approach in HK and Taipei
The Urban Research Group of the Department of Public Policy, City University of Hong Kong would like to invite you to the seminar "Urban Renewal and human centred approach- the experience of Taipei and Hong Kong". Date: 5 March (Saturday) 10-12 am Venue: Room B4302 Academic Building 1, City University of Hong Kong. Language:
Cantonese
Speakers:
Chang Chih-O (張金鶚) - Professor, Department of Land Economics, National Chengchi University, Taiwan; former Deputy Mayor, Taipei City.
Isaac Ng (吳家鎚)- Lecturer, SCOPE, City University; former non-executive director, Urban Renewal Authority
Lai Kin Kowk (賴建國 ) - Programme Leader of Higher Diploma in Social Work, Caritas Institute of Higher Education; Convener, Platform of Concerning Subdivided Flats in Hong Kong


Enquiry- Ms Rebecca Lam (sarl@cityu.edu.hk)


...

Roundtable Workshop: From Chicago to Shenzhen
The Urban Research Group will host a roundtable workshop around its new project,
From Chicago to Shenzhen: The City One Hundred Years On
. The workshop will be held on the
6-7th June 2016
.
In March 2015, exactly 100 years passed since Robert Park penned his seminal paper The City in the American Journal of Sociology. A hundred years onward, much has changed in urban research and in the urban world itself. We now live in a world of global cities, where the Chinese city occupies the centre stage that the American city once had. While many themes picked up by Park still seem very relevant today, the Chinese city has a radically different urban structure. Cities in China have undergone a transition marked by unprecedented scales and speeds, across economic, political and social systems. Everything from housing to social norms, as put in question by Park, demands a significant reconsideration when considering the experience of urban China.
In revisiting Park's agenda, this workshop invites urban scholars from different fields to address his relevance across time and space. It brings together experts on urban China from a diversity of specializations to discuss how his questions can be transplanted, whether they should be, how the breadth of urban research being generated connects to his essay and what the future of urban research in China holds. It further considers the possibility of a new epistemological rupture in urban studies – after Chicago and LA, Shenzhen?
Confirmed participants
CHEN Juan, Hong Kong Polytechnic University
Ray FORREST, City University of Hong Kong
Bettina GRANSOW, Freie Universität Berlin
Jeroen DE KLOET, University of Amsterdam
Patrick LE GALES, Sciences Po
LI Zhigang, Wuhan University
LUI Tai-Lok, Hong Kong Institute of Education
Jan NIJMAN, University of Amsterdam
Mary Ann O'DONNELL, Shenzhen
Julie REN, City University of Hong Kong
Xuefei REN, Michigan State University
Hyun Bang SHIN, London School of Economics
Zheng WANG, University College of London
Bart WISSINK, City University of Hong Kong
Fulong WU, University College of London
YIP Ngai-Ming, City University of Hong Kong


Inquiries: julieren@cityu.edu.hk

Photo: Smoggy observation deck, Meridian Tower, Shenzhen, by Cory Doctorow via Flickr
...