Introduction of CityU Choir

 The CityU Choir was founded in 1990. It aims to develop students' interest in choral music, connecting members of different cultures through music and enjoying the joy of singing in a group. The Choir offers opportunities for its members to perform on stage, improve their singing techniques, and ultimately enrich the cultural and artistic life of the CityU community as well as the general public.
 Members of the Choir comprises students, alumni, and staff of CityU. As an energetic singing group, the Choir performs secular songs, pop songs, musical and movie songs as well as sacred and classical works. The current conductor is Mr. CHENG Chi-san, Christopher.
 Despite the everchanging pandemic and lockdowns that it brings, the CityU Choir continues to strive for excellence. Challenges were met when operating the "new normal", such as practicing singing rehearsals via online meeting platforms. Though said, the choir has been doing their utmost to manage all limitations to bring this annual music performance to life.
 CityU Choir will continue to deliver wonderful performance opportunities for its members, such as CityU Arts Festivals, Christmas Concerts, and Annual Performances, to enhance members' individual and cooperative singing skills, and to create a friendly and harmonious atmosphere for learning and having fun internally.
Our Conductor
Mr. CHENG Chi San, Christopher (2018-Present)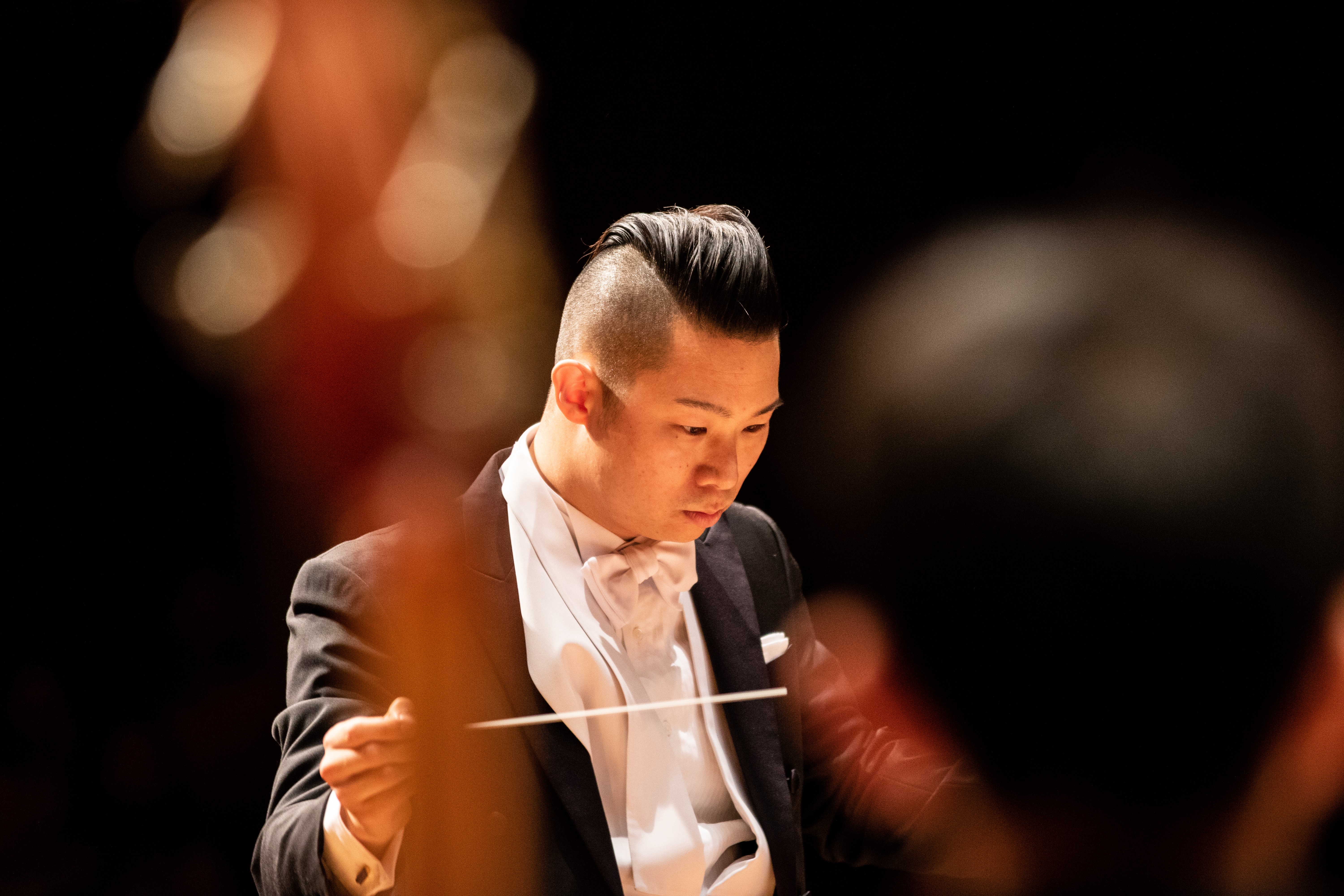 MM (Choral Conducting) Messiah University; CAGS (Orchestral Conducting); MA (Music) CUHK; PgDE (Music) HKBU; BA (Music) HKBU; DipABRSM; LRSM
 CHENG currently directs Hong Kong Youth Choir and City University of Hong Kong Choir, he is also a clinician and conducting teacher of Hong Kong Inter-school Choral Festival. Before his current engagements, he was a part-time lecturer at The Education University of Hong Kong.
 CHENG's conducting teachers include: Jon Washburn, Brady Allred, James Davey, William Weiner, Nicolas Fink, Chen Yun-hung, Dénes Szabó, Stephen Coker, Rolf Beck and Helmuth Rilling.
 Repertoire of CHENG's includes a concert version of Schönberg's Les Misérables, complete J. S. Bach's Lutheran Masses and six Motets, Brahms's Requiem, Haydn's Nelson Mass, Handel's Messiah, Dixit Dominus and Coronation Anthems, Mozart's Requiem in D minor and Coronation Mass, Faure's Requiem, Poulenc's Gloria, Puccini's Messa a Quattro Voci, Rossini's Petite Messe Solennelle, Rutter's Gloria, Mass of the Children and Visions, and Basler's Missa Kenya. He has also prepared choruses for John Rutter and Bob Chilcott.
 Projects conducted by CHENG have received Hong Kong Arts Development Council Emerging Artist Grant and Project Grant multiple times, and he was a recipient of Pro Arte Orchestra Scholarship for many years.
 CHENG is a finalist and the second runner-up of Asia Pacific Choral Summit Hong Kong Choral Conducting Competition 2019, and he received SCMP Student of the Year 2019 Special Mentorship Award. He captured the category champion (Musica Sacra) with a Gold with Hong Kong Youth Choir in 2016 Singapore International Choral Festival. Conducting the St. Joseph's College Chamber Boys' Choir, he has led the choir to three Golds in Hong Kong Inter-school Choral Festival 2019, 2020, and 2022. Category Champion, Gold, and Creative Choreography Award in 2021 Taiwan International Choral Competition (Children Choir Class), the Outstanding Performance Award in 2022 Takarazuka International Chamber Chorus Contest, and Gold in the Penabur International Choir Festival 2022.
Our Pianist
Mr LI Chun Chung, Victor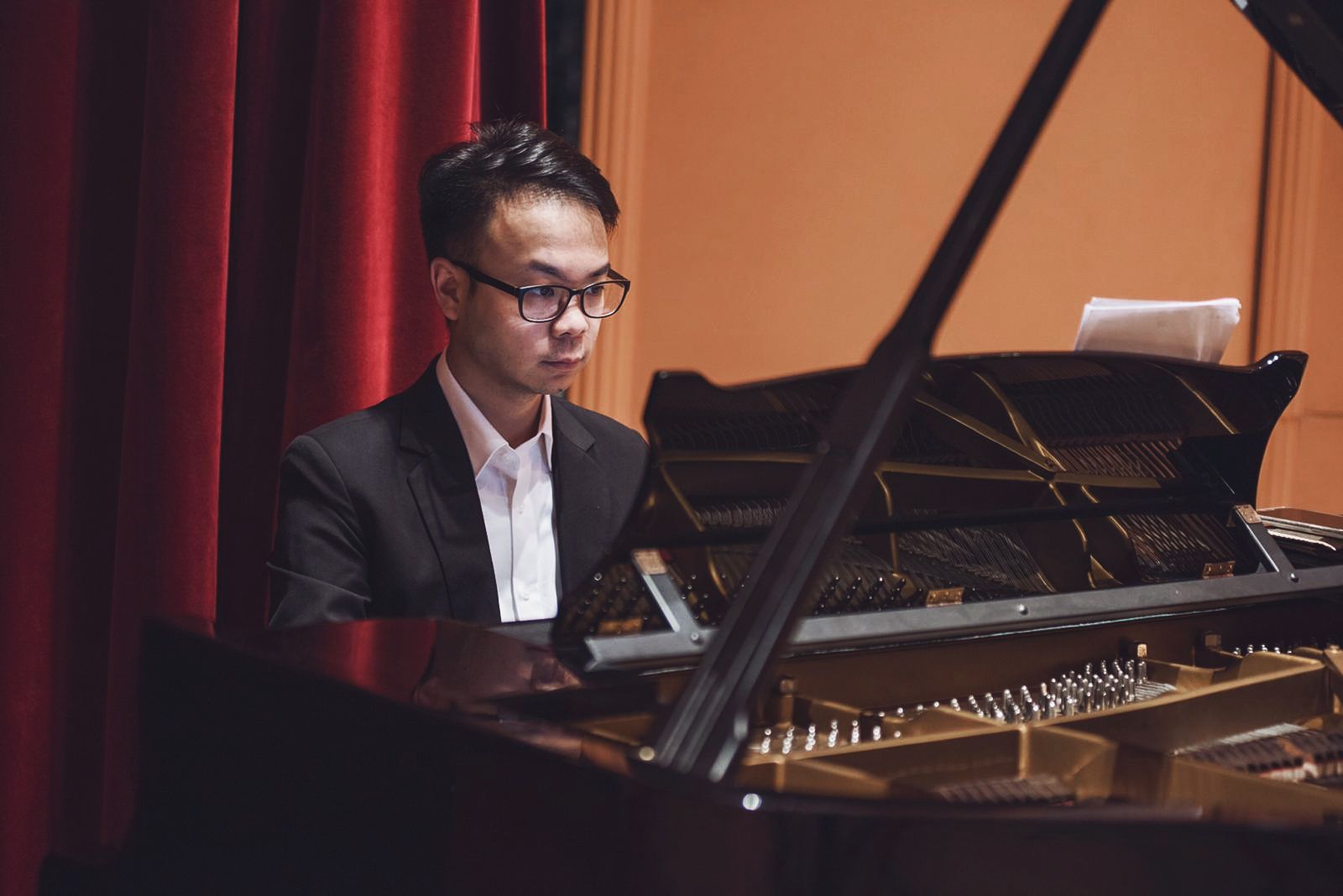 Victor Li received his Bachelor of Arts degree in Music from Hong Kong Baptist University in 2011 under the guidance of Mr. Hung Chong and Dr. David Francis Urrows, majoring in piano and composition. He continued his studies in the UK, completing a three-year master programme in music therapy in 2014. He also holds two professional qualifications from Trinity College London, namely AMusTCL (2009) and LTCL (Piano) with distinction (2015).
 Victor has been expressing and exploring his musical creativity and capabilities over the years by taking part in numerous music-related activities, such as playing keyboards in musicals "Titanic the Musical", "Honk!" and UWE symphonic orchestra during overseas studies, co-writing the first music therapy case-sharing book in Chinese in Hong Kong, Macau and Taiwan in 2015, organising the programme in the concert series "Up-side-down with Kids" hosted by Hong Kong Wind Ensemble (HKWE) in 2015 and 2016, being commissioned by St. Francis Xavier's College (2015), Hong Kong Baptist Convention Primary School (2016) and CCC Chuen Yuen Second Primary School (2018) to compose musicals and theme songs for anniversary celebration, to name a few. In addition to that, he has been actively participating in different choir concerts as a piano accompanist since 2017, such as "Yellow River Cantata"(2017), "Handel: Messiah"(2021), "Vivaldi & Palmeri: Gloria"(2021), "Zelenka: Requiem in D major"(2021), and "Rossini: Petite Messe Solennelle"(2022).
 Victor is currently working with different schools and organisations as a tutor and piano accompanist, including La Salle Primary School, TWGHs KFKC School, Tai Po Baptist Public School, Hong Kong Youth Choir, City University Choir, and, since 2022, music director and conductor of "Men in Jazz".

Our Executive Committee
2023-2024
President: LEE Yuen Bing, Icy
Internal Vice President: SUN Yifan, Cuber
External Vice President: CHU Man Ho, Terry
Financial Secretary: SONG Keyuan, Skye
Resource Management Secretary: Halit Yigit Gunduz, Teo
Music Officer: WONG Sin Kiu, Sabrina

Part Leaders:
Tenor Part Leader: Chan Cheuk Him, Alex
Bass Part Leader: Halit Yigit Gunduz, Teo

Our Members
Soprano
Soprano 1

CHAN Hoi Yu, Joyce
CHAN Tsz Yan, Amanda
CHOW Hay Ting, Angela
MOK Yuk Man, Ivy
TANG Hiu Hin, Hilda
TSUI Mianca, Mianca
Soprano 2

CHAN Chun Yu, Jasmine
CHEN Yuan, Era
CHUA Clarissa Eugenia, Ais
LAI Yu Ying
LAU Sum Yin, Clarissa
LEE Yuen Bing, Icy
LI Kiwi
WANG jingru, Rio
WONG Wing Yi, Kitty
YAU Tak Ka, Jessica
YU Sze Ming, Jasmine
Alto
Alto 1

HE Cheok Hang, Connie
Sinai Manno
SONG Keyuan, Skye
SUN Yifan, Cuber
TO Yi Ting, Serenity
TSANG Wing Lam, Nicole
YEUNG Wei Ying, Jessie
Alto 2

BUDIANTO Audrey Gandyna
CHEN Qianning, Catherine
Gaby Graciela, Gaby
Izabella Davidson, Izabella
KUANG Yu
LU Yu
呂雁翱海, Larissa
SIU Wing Ka, Elyse
TSAI Wan Yu, Fifi
WANG Siyue, Siyue
WANG Yan Yan, Kitty
WONG Jade, Jade
WONG Sin Kiu, Sabrina
YEUNG Man Wai, Kloe
YING Julia, Julia
ZHANG Xinting, Alyssa
Tenor
Tenor 1

CHAN Chi Hang
LI Zhehao, Howard
ZHANG XIAO, Alan
Tenor 2

Chan Cheuk Him, Alex*
LAU Shun Hang, Peter
LEUNG Chi Tat, John
WANG Defei, Phil
Bass
Bass 1

CHEN Jiajun, Nathan
CHU Man Ho, Terry
FOO Ming Hei, Hazz
LI Mingyuan, Lester
TONG Ho Yiu, Lucas
YU Sze Heng Jason, Jason
Bass 2

Halit Yigit Gunduz, Teo*
LAM Nok, Norman
NG Wai Tsung
POON Yan Ho, Rex
WANG Shichao, Shichao
* Part Leaders