Article by Professor Wang Jiangyu and Professor Tan Cheng Han Featured on the Oxford Business Law Blog (OBLB)
11.02.2020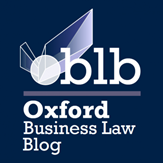 An article co-authored by two RCCL members, Professor Wang Jiangyu, Director of the Centre for Chinese and Comparative Law, and Professor Tan Cheng Han, Dean and Chair Professor of Commercial Law at the School of Law, was featured on the Oxford Business Law Blog (OBLB) on 8 January 2020. The article, titled "Mixed Ownership Reform and Corporate Governance in China's State-owned Enterprises", will be published in Vol. 50 of the Vanderbilt Journal of Transnational Law (May 2020).
The article provides an early assessment of the impact on corporate governance of the mixed ownership reform (MOR) in China, the latest attempt by the People's Republic of China (PRC) to strengthen governance within her State-Owned Enterprises (SOEs). The rationale for this reform lies in the premise that by enabling capital with different kinds of ownership, including private and foreign investors, to co-exist, they will be able to draw on the different owners' inherent strengths. The paper surveys the legal and regulatory framework and policy directions for the MOR, as well as how the reform has led to change in ownership and governance practices in SOEs. We observe that MOR's impact on SOE corporate governance has been embodied in three developments, namely, the "retreat of the state", the "advance of the (Chinese Communist) Party", and a limited yet emerging separation of power between the Party and the board in SOEs. To explain this observation, we argue that the MOR programme is driven by three current beliefs of the Chinese Party-state on the future of SOEs in China. First, ownership and ownership reform matter. Second, sharing control, rather than dominance by a single state shareholder, improves both the efficiency and governance of SOEs. Third, the MOR was designed to develop partnerships or alliances between the state shareholders and strategic investors in order to help the post-MOR state enterprises improve their efficiency and enhance market opportunities. The link to the blog post can be found at: https://www.law.ox.ac.uk/business-law-blog/blog/2020/01/mixed-ownership-reform-and-corporate-governance-chinas-state-owned.
The Oxford Business Law Blog was established by Oxford University Faculty of Law in 2016 and is one of the world's leading online forums "for the exchange of ideas and the reporting of new developments in all aspects of business law, broadly defined".