Bachelor of Engineering in
Total Quality Engineering (BENG TQE)
工學士 (全質量安全監控工程學) *
* This programme will only admit Advanced Standing students through the non-JUPAS (direct application) route from 2016-17 onwards. Please refer to the Admissions Office's website for the entrance requirements for Advanced Standing entry.
Programme code: 1781 BEng – Total Quality Engineering
Why created BEng Total Quality Engineering?
Ensuring product quality and safety is the most relevant issue today, especially for Asia Pacific and China which have become the manufacturing centers for the world. Product safety, toxic substance contamination, design mistakes, quality lapse, etc. have caused dramatic recalls and import bans on toys, tires, packaged food, pet foods, drugs produced in Asia Pacific. This has tremendous impact on Hong Kong economic growth since Hong Kong is the gateway for import and export.
Recalls examples:
Melamine in milk products and pet foods
Toys recalled due to lead poisoning hazards
Tires failed prematurely due to lack of an adhesive tape between the steel belt and the rubber
Aqua dots and Bindeez contain glue turning into toxin
Total Quality Engineering (TQE) graduates will be the first of its kind to safe-guard product quality and ensure smooth export to various markets. They will meet the needs for highly trained specialist to assure total assurance and control of quality, reliable, healthy, safe, and environmentally (HSE) friendly products.
Unique features of TQE
TQE combines chemical analysis, quality and reliability engineering, product testing, quality management and international standards into one single package.
TQE will provide you with the unique skill sets to make product safe: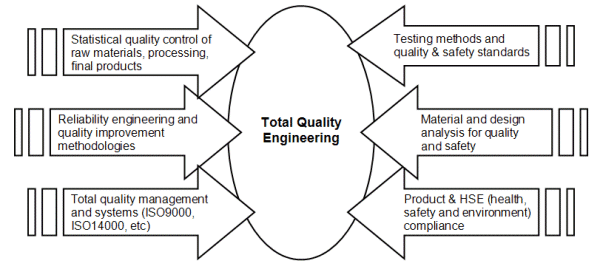 Major Objective & Outcomes
Total Quality Engineering (TQE) is to address the issue of quality assurance and control in international trade, focusing on reliability, health, safety and environment consequences of products. TQE combines total quality management concept and HSE compliance requirement. In essence, TQE aims to ensure that all products are of certain quality and reliability performance with no health, safety and environment risks.
View Intended Learning Outcomes
Courses and Curriculum
TQE graduates will be the highly trained specialists to safe-guard product quality and ensure smooth export to global markets.
They have know-how in:
Process control to monitor and improve quality
Product testing to ensure safety
Tracing chemical analysis for toxicity
System of procedures and controls to guarantee quality
Quality strategies and management concepts and practices
Understanding the latest standards and specification of various countries
Compliance of products for Health, Safety, and Environment (HSE)
International leadership and communication skills
Major Structure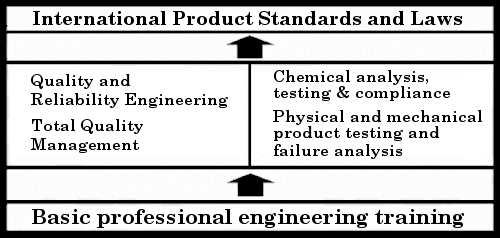 Laboratory Training
Chemical Analysis Lab
Quality and Product Testing Lab
Quality and Reliability Engineering Lab
Career Opportunities
There is a strong demand for the quality engineering related posts in the industry. For instances, searching the Hong Kong JobsDB.com database, the monthly figure (total no. of jobs appeared in last one month) of "quality" positions is always 200+ in 2008, which is far more than other engineering disciplines.
TQE Graduates will find career opportunities in a broad range of manufacturing and service industries. In non-manufacturing sectors, such as construction, hotel, tourism and other service industries, TQE graduates can play a key role in ensuring service quality, reliability, and conformity for health, safety and environmental regulations to meet the needs of customer requirements and performance standards, such as ISO9000, ISO14000, etc.
Typical starting positions:
Quality Engineer/ Quality Assurance Engineer
Quality Controller
Procurement/ Supplier Quality Engineer
Quality System Officer
HSE or ISO9000 Officer
Compliance Engineer
Inquiry: 3442-9321 / seemgo@cityu.edu.hk
Programme/Major Leader
---
Overview
Advanced Standing II (ASII)
Model Study Path (PDF)
BENGU2 TQE 2017/18 Entry (ASII)
BENGU4 TQE 2015/2016 Entry
BENGU3 TQE 2016/2017 Entry (ASI)
BENGU2 TQE 2016/2017 Entry (ASII)
BENG4 TQE 2014/2015 Entry
BENGU3 TQE 2015/2016 Entry (ASI)
BENGU2 TQE 2015/2016 Entry (ASII)
BENG4 TQE 2013/2014 Cohort (Revised)
BENG3 TQE 2014/2015 Cohort (ASI) (Revised)
Student Handbook (PDF)
View TQE leaflet (4.5MB)
This major is co-hosted with the Department of Mechanical Engineering.
Last modified on 9 July, 2018