Bachelor of Engineering in
e-Logistics and Technology Management (BENG eLTM)
工學士 (電子物流及科技管理學) *
* This programme will only admit Advanced Standing students through the non-JUPAS (direct application) route from 2016-17 onwards. Please refer to the Admissions Office's website for the entrance requirements for Advanced Standing entry.
Programme code: 1743 BEng – e-Logistics and Technology Management
View Orientation Presentation 2016
Why do we need e-Logistics and Technology Management?
With China joining the World Trade Organisation (WTO) and the signing of the Closer Economic Partnership Arrangement (CEPA) between Hong Kong and the Mainland, we see huge opportunities for Hong Kong to advance herself to become an international logistics hub for the world's major manufacturing base in the Pan-Pearl River Delta Region. It was further agreed that as long as they are qualified as "Hong Kong Service Suppliers", local and multinational firms can set up businesses in Hong Kong and mainland China to provide logistics, international freight forwarding, storage, warehousing and transport services. Therefore, the demand for trained professionals in logistics and other related fields are increasing significantly in this region.
This BEng programme, jointly offered by the Department of Systems Engineering and Engineering Management and the Department of Computer Science, is a timely response to such huge demand and opportunities. Tapping into the strength of the two Departments, our programme is designed to educate and train a new breed of engineers and potential managers to face the new challenges and capitalise on the opportunities in local/international logistics and related services.
Aims of the Major
This major aims to equip students with analytical, technical, managerial, and behavioural skills / knowledge in aspects of e-Logistics Technology and Technology Management in order to prepare them to play key professional and managerial roles in the global logistics industry amidst increasing and evolving challenges. Students will acquire a broad understanding of the concepts, techniques and tools in the subject domain to enable them to identify and tackle diverse problems with effective use of contemporary computing / management systems, technology and solutions in the logistics and related sectors.
Intended Learning Outcomes of Major (MILOs)
Ideal BEeLTM graduates should be:
Qualified competent professionals
Proficient communicators, equipped with knowledge of a range of disciplines and skills, computer literacy and language proficiency
Able to think quantitatively and analyze problems critically
Confident to work in an international and culturally diverse environment and to take up broad responsibilities in the community
Able and willing to continue to learn
Able to appreciate the wider world of scholarship, and their own culture and history
In addition to the above broad attributes, our graduates are expected to attain specific Intended Learning Outcomes of Major (MILOs) of being able to:
Apply knowledge of mathematics, science and engineering in the subject domain
Demonstrate inter-disciplinary knowledge and skills in logistics engineering and computing technology needed to cope with the dynamic nature of the industry
Design systems, components, or processes to meet desired needs within realistic constraints
Function efficiently and effectively in multi-disciplinary teams
Identify, formulate, solve logistics / systems / business problems, and undertake projects of discovery and innovation
Understand the professional and ethical responsbility of their work
Communicate effectively
Understand the impact of systems, logistics and engineering solutions in a global, enconomic, environmental and societal context
Recognise the need for and an ability to engage in life-long learning
Stay abreast of contemporary issues
Apply appropriate systems / logistics concepts, techniques, skills and tools in engineering and professional practice
Careers Outlook of this Major
There is an increasing demand for logistics professionals. Graduates from the major will find career opportunities in a broad range of logistics related industries, such as:
international freight forwarding,
inventory management and warehousing,
transportations, supply chain planning and control,
industrial / manufacturing services,
container port / aviation operations and management.
Their typical starting positions include:
logistics analyst / officer,
logistics engineer,
distribution system analyst / engineer,
production and materials controller,
supply chain planner,
project engineer, etc.
What will you study on this Major?
CORE COURSES
Applied Statistics for Science and Engineering
Introduction to Logistics Industry
Fundamentals of Internet Applications Development
Computer-Aided Engineering Graphics
Java Programming
Fundamentals of Computer Networks and the Internet
Introduction to Database Systems
Software Engineering
E-Commerce Technology
E-Logistics Application System
Enterprise Systems Development
Logistics and Materials Management
Engineering Economic Analysis
Facilities and Distribution Management
Engineering Management Principle and Practice
Materials Handling and Tracking Technologies Workshop
Systems Modelling and Simulation
Professional Engineering Practice
ELECTIVES
Managing Software Projects
Web Usability Design & Engineering
Internet Security and E-Commerce Protocols
Data Warehousing and Data Mining
Advanced Database Systems
Transportation and Container / Air Cargo Management
Global Operations Management
Industrial Marketing for Engineers
Project Management
Engineering Management Principle and Practice
Industrial Attachment Scheme / Co-operative Education Scheme
Further Study Path for Graduates of this Programme/Major
MSc in Engineering Management (EM) and EngD in Engineering Management programmes of the SEEM department is available for further study for graduates of BENGeLTM. Graduates of BENGeLTM may obtain credit transfer for courses in these programmes.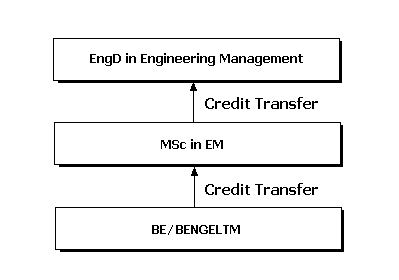 Professional Recognition
This programme has been successfully accredited by the Hong Kong Institution of Engineers (HKIE), and has met the academic requirements for obtaining Registered Professional Engineer status in the disciplines of Logistics and Information Technology. This HKIE professional status is internationally recognised through the Washington Accord by the signatories of engineering organisations in the UK, Ireland, the USA, Canada, Australia, New Zealand and South Africa.
Industrial Attachment
Students will be provided ample opportunities of experiential learning through our Industrial Attachment Scheme and Co-operative Education Scheme, which can:
provide students with solid experience in a real-world environment
develop students' problem solving ability and interpersonal skills
instill the right kind of work attitude and professionalism in students
broaden the experience of students and enhance their employability
Please visit Co-operative Education Centre website for further details: http://www.cityu.edu.hk/cse/cec/
Tuition Fees
Government Funded Programmes
Latest information on tuition fees is available at the website of the Academic Regulations and Records Office at http://www6.cityu.edu.hk/FO/htm/Degree_Fees.htm.
Inquiry: 3442-9321 / seemgo@cityu.edu.hk
Programme/Major Leader
---
Overview
Advanced Standing II (ASII)
Model Study Path (PDF)
BENGU2 eLTM 2017/18 Entry (ASII)
BENGU4 eLTM 2015/16 Entry (Normative 4-year Degree)
BENGU3 eLTM 2016/17 Entry (ASI)
BENGU2 eLTM 2016/17 Entry (ASII)
BENG4 eLTM 2014/2015 Entry (Normative 4-year Degree)
BENGU3 eLTM 2015/2016 Entry (ASI)
BENGU2 eLTM 2015/2016 Entry (ASII)
BENG4 eLTM 2013/2014 Entry (Normative 4-year Degree)
BENG3 eLTM 2014/2015 Entry (ASI)
Student Handbook (PDF)
BENG eLTM 2017/18
BENG eLTM 2016/17
2015/16 (2014/15 HKDSE Entry & 2015/16 ASI & ASII)
2014/15 (2013/14 HKDSE Entry & 2014/15 ASI & ASII)
(Note: The handbooks are updated as at the beginning of the corresponding academic years.)
Last modified on 12 December, 2019