Notable mathematician of our time awarded CityU's William Benter Prize
by Emily Law
Source: CityU NewsCenter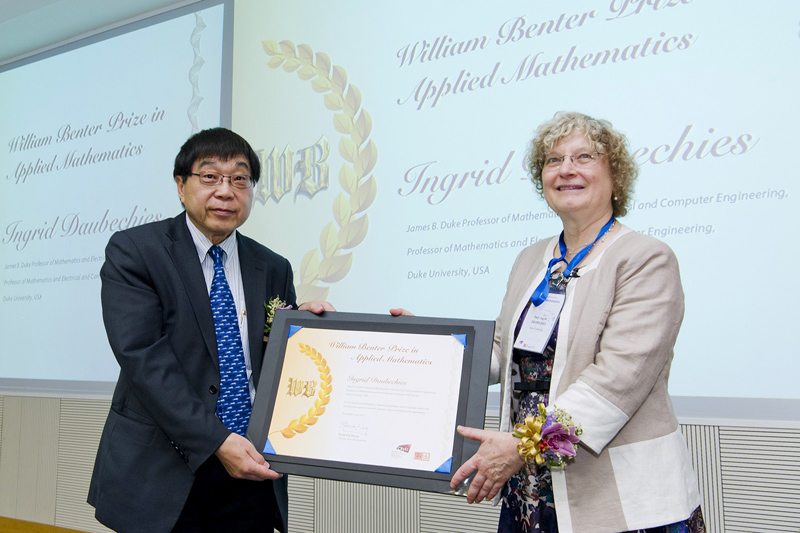 An internationally acclaimed scholar of wavelet theory, who has significantly advanced digital data processing, has been awarded the William Benter Prize in Applied Mathematics 2018 by City University of Hong Kong (CityU).
Professor Ingrid Daubechies, James B. Duke Professor of Mathematics and Electrical and Computer Engineering at Duke University, is the first female recipient of this prize.
Professor Daubechies has made exceptional contributions to a wide spectrum of scientific and mathematical subjects, and her work in enabling the mobile smartphone revolution is truly symbolic of the era. A pioneer in mathematical applications for the detection of art forgery, Professor Daubechies is a prominent supporter of encouraging greater interest in mathematics in developing countries and among women.
She is a Member of the US National Academy of Sciences and the US National Academy of Engineering.
The prize was presented by Professor Roderick Wong Sue-cheun, Director of CityU's Liu Bie Ju Centre for Mathematical Sciences (LBJ), during the opening ceremony of the International Conference on Applied Mathematics 2018 on 4 June co-organised by LBJ and the Department of Mathematics.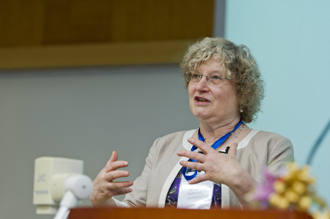 "I was very moved that the prize recognised many aspects of my work," Professor Daubechies said. She would continue to work on several projects on wavelets and some on biological topics, adding that she was looking forward to working closely with CityU in the future.
Wavelets are mathematical functions used in processing digital signals and shrinking digital photos and movies. Professor Daubechies' contributions from her work in wavelets range from the highly theoretical to the very practical. The Federal Bureau of Investigation in the US, for example, has used her digital compression techniques for managing its huge amount of data pertaining to fingerprints.
In addition, she has created and applied mathematical algorithms for spotting art forgeries and analysing damaged paintings. She used wavelets and machine learning to distinguish forgeries of the work of artists such as Vincent van Gogh. Her algorithms are used to compare the different styles of artists, pinpoint when a work was painted, and to restore artwork that has cracked, faded or been damaged during conflict, without actually touching the artwork.
Professor Daubechies has received many prestigious prizes. In 2000, she was the first woman to receive the National Academy of Sciences Award in Mathematics for her excellence in mathematical research. She received the Frederic Esser Nemmers Prize in Mathematics from Northwestern University and the BBVA Foundation Frontiers of Knowledge Award in Basic Sciences.
In addition, Professor Daubechies was awarded the Benjamin Franklin Medal in Electrical Engineering by the Franklin Institute, the IEEE Information Theory Society Golden Jubilee Award for Technological Innovation, and the Jack S. Kilby Signal Processing Medal by IEEE. That these awards are rarely given to non-engineers highlights the impact of her work in the field of signal and image processing.
From 2011 to 2014, she was the first female president of the International Mathematical Union. During her term, she worked to build global mathematics networks and promote mathematics in developing countries under the belief that a more prominent culture of mathematics can boost economic development and provide better training for scientists and engineers. Professor Daubechies also raises awareness about the lack of female mathematicians globally.
Professor Daubechies delivered a talk titled "Biologically relevant distances between morphological surfaces representing teeth and bones" after the prize presentation ceremony, marking the beginning of the five-day conference on applied mathematics.
The William Benter Prize in Applied Mathematics was set up in 2010 by LBJ in honour of Mr William Benter, the donor of the prize, for his dedication and generous support to the enhancement of the University's strengths in mathematics. The prize recognises outstanding mathematical contributions that have had a direct and fundamental impact on scientific, business, finance and engineering applications. The award entails a cash prize of US$100,000 and is given once every two years.