Appointments and re-appointments to the University Council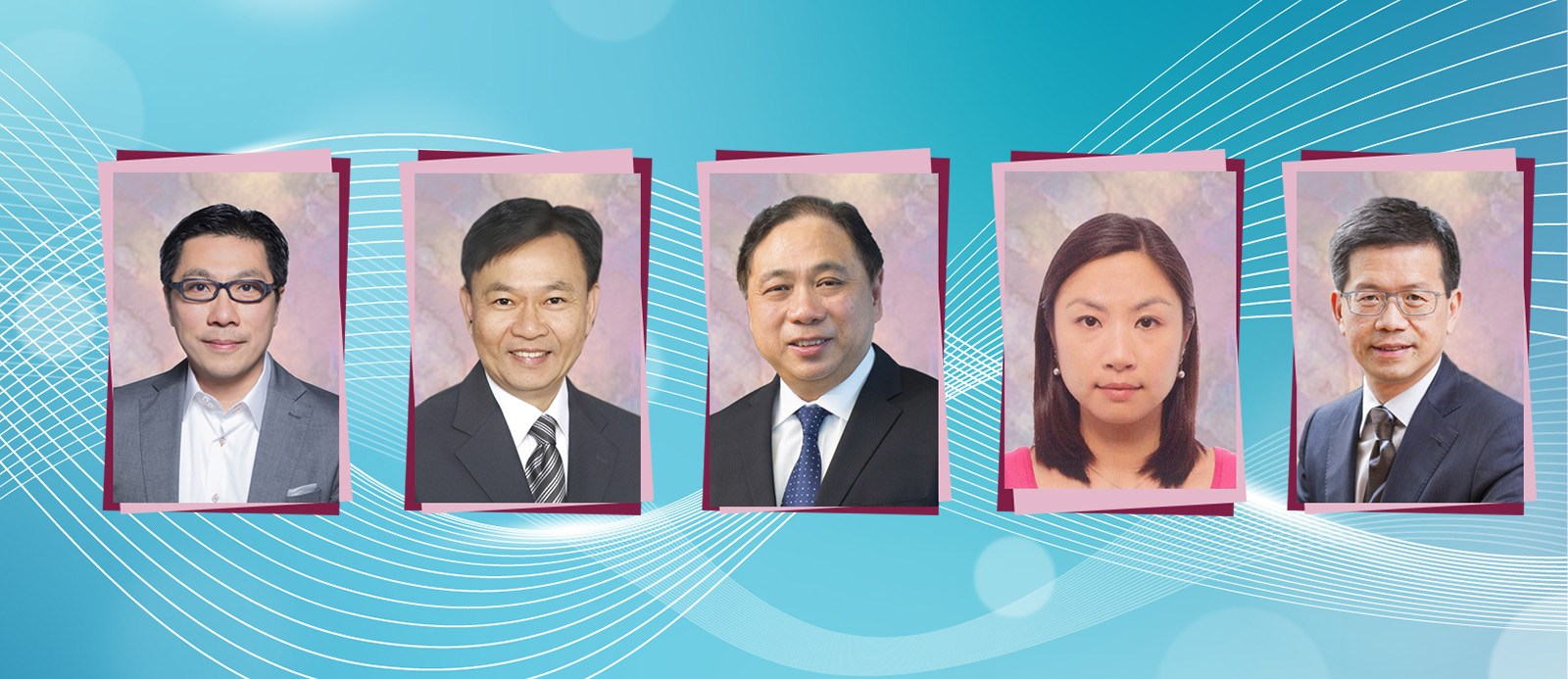 Five outstanding members of the business and professional sectors have been appointed by the Chief Executive of the HKSAR to the Council of City University of Hong Kong (CityU). In addition, incumbent member Ms Lilian Chiang Sui-fook has been appointed Deputy Chairman of the Council.
Ms Chiang, Senior Partner and Head of the Property Department of Deacons, has served on the CityU Council since 1 January 2014. Her appointment as Deputy Chairman of the Council is for a period of three years, with effect from 1 January 2020.
The five new Council Members are: Mr David Ho Chi-hoo, BBS, JP, Dr Leung Pak-yin, JP, Dr Raymond Leung Siu-hong, Miss Elaine Leung Wai-yin and Mr Joseph Tse Lap-bun. They have been appointed for a period of three years, with effect from 1 January 2020.
Mr David Ho Chi-hoo, Chief Executive of Macy's Candies Group, has served the community in various roles. He is the Founder and Chairman of National History Education Centre (Hong Kong), Concentratic Education Foundation (Hong Kong) Limited and David Ho Charitable Foundation Limited, the General Director of Hong Kong Youth Volunteers Corporations and the Vice President of Hong Kong Volunteers Association. He was also the former Chairman of Po Leung Kuk and is a current Member of the Po Leung Kuk Advisory Board. In addition, Mr Ho is a Counselor of Hong Kong United Youth Association, an Executive Director of The Hong Kong Chinese Importers and Exporters Association, a Member of the Housing Authority Commercial Properties Committee and an Honorary Court Member of Hong Kong Baptist University.
Mr Ho was awarded the Bronze Bauhinia Star in 2010 for his valuable contribution to charity work and community service, particularly his role as the Chairman of Po Leung Kuk.
Dr Leung Pak-yin is a former Chief Executive of the Hospital Authority (HA). An expert in public health, Dr Leung joined HA in 2007 and became Chief Executive in November 2010. He retired on 1 August 2019.
Among his many appointments to public boards and committees, Dr Leung was the Chairman of the Expert Working Group on Avian Influenza at the peak of the avian influenza outbreak in Hong Kong. He was also the Chairman of the Board of Scientific Advisers of the Centre for Health Protection and a Council Member of the Hong Kong College of Community Medicine and the Medical Council of Hong Kong. He was the Deputy Commissioner of the Auxiliary Medical Service from 2007 to 2019. He was appointed as a Member of the Special Needs Groups Task Force under the Commission on Poverty from 2013 to 2019.
Dr Raymond Leung Siu-hong, Founder, Chairman and Chief Executive Officer of Altai Technologies Limited, has been very active in community service. He was a Council Member of The Hong Kong Polytechnic University and is now a Member of its Court. He is a Member of the advisory committees of numerous universities and government agencies. He was an economic advisor of a number of cities in China and in North Dakota, in the US, and was a Member of the 12th Dongguan Chinese People's Political Consultative Conference (CPPCC). In the charitable arena, he is the co-founder and Chairman of the charity One Laptop per Child Asia Pacific, and is a Member of Give2Asia, which provides a wide platform for improving the quality of life of children in deprived areas in Asia.
Dr Leung graduated with an Engineering Doctorate (EngD) degree from CityU and is a CityU Honorary Fellow and a distinguished alumnus.
Miss Elaine Leung Wai-yin is Business Director of HSBC Broking Services (Asia) Limited. She is an adjudicator of the Registration of Persons Tribunal, a Member of the Investigation Panel of The Hong Kong Institute of Certified Public Accountants, a Member of the CPPCC of Shenzhen Longgong District and a Committee Member of The Chinese General Chamber of Commerce.
Mr Joseph Tse Lap-bun is an established banking and finance lawyer in Hong Kong and China. He was formerly the Senior Partner, Greater China of Allen & Overy and is currently a Partner in Tiang & Partners. Mr Tse is dedicated to charity work and is the Governor of the Bei Shan Tang Foundation, a charitable foundation focusing on education and Chinese art.
Mr Robert Lui Chi-wang, Chairman of the CityU Convocation, will serve on the Council for another term of two years from 1 January 2020.
Mr He Kangqiang, the elected postgraduate student member, will serve on the Council from 15 November 2019 to 14 November 2020.
CityU would like to thank the outgoing members, Mr Vincent Chow Wing-shing, SBS, JP, Mr Christopher Hui Ching-yu, Mr Lau Ming-wai, GBS, JP, Mr Kennedy Liu Tat-yin and Miss Lo Po-man, for their valued contributions to the Council.
In addition, the following new appointments and re-appointments for the Court were made by the Chief Executive and the Council for a term of three years from 1 January 2020:
New appointments
Dr Gary Cheng Faat-ting
Mr Lau Tat-chuen (from 1 February 2020 to 31 December 2022)
Dr Allen Shi Lop-tak, BBS, MH, JP (from 1 February 2020 to 31 December 2022)
Re-appointments
Mr Brave Chan Yung, BBS, JP
Ms Jenny Chan Pik-ha
The Hon Christopher Cheung Wah-fung, SBS, JP
Miss Lily Chow
Mr Simon Hui Hing-tak
Ms Catherine Kwai Yuk-nin
Dr Bankee Kwan Pak-hoo, JP
Mr Paul Pong Po-lam
Professor Cliff Sun Kai-lit, BBS, JP
Mr Vincent Wong Yin-shun