Lynda.com
What is Lynda.com?
Lynda.com is widely known as one of the best online training libraries. It offers tens of thousands of expert-taught top-quality instructional videos on more than 4,000 courses for all skill levels that play on PCs, Macs and a variety of mobile devices 24/7. Starting Semester B 2016/17, the university has entered a license agreement with Lynda.com that allows CityU staff and students to have access to a resource of updated and innovative online training content across academic disciplines to support their professional development and as curriculum resources. Its catalogue of courses covers a variety of topics, including those on computing, animation, accounting, architecture, business, engineering, etc. which are curricula offered in CityU. For the full course listing, please check out the Lynda.com website at http://www.lynda.com/subject/all.
As these online courses are broken into bite-size tutorials (each 5-15 minutes long), users can select whichever topic they wish to learn instead of taking the entire course. Lynda.com also provides closed captioning (subtitles) and searchable, time-coded transcripts which make it easy for learners to follow through the content of the entire movie.
Eligibility
Current CityU students, faculty and staff
How can Lynda.com support me?
Keeps you current on technology
Tracks your individual training progress
Inspires you to be more effective and productive
Lets you learn at your own pace—anytime, anywhere
Provides certificates of completion
Offers personal and professional development
How can I get the most out of Lynda.com?
Set aside time every week for online training
Visit Lynda.com regularly for a listing of new and updated courses
Watch the welcome video of a course to check out its training content
Use bookmarks to indicate favourite videos or courses
Create and share course playlists
Download exercise files and practice applying knowledge as you go
How can I access Lynda.com?
To access your CityU Lynda.com account, click the above link and log in using your CityU EID and Active Directory (AD) password, just like you are logging into the staff or student LAN.
After you click "Login", you will be directed to the following screen: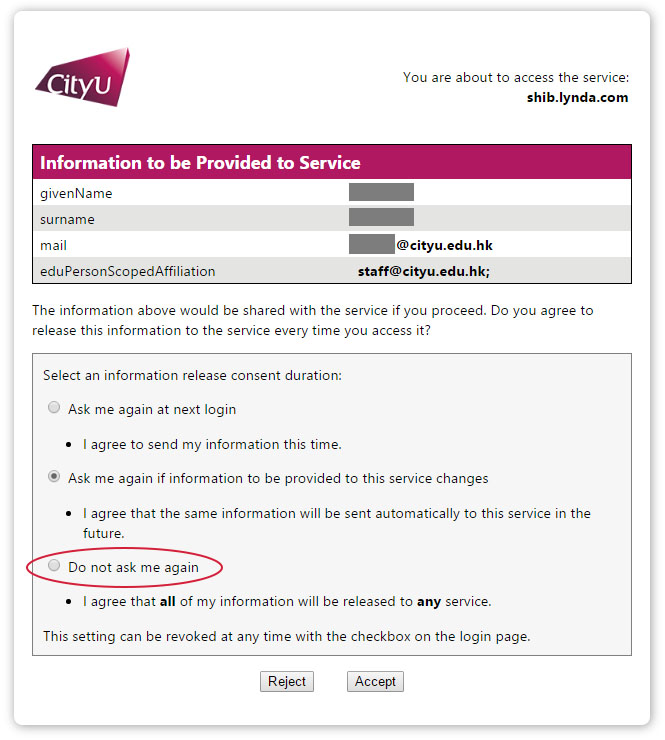 If you do not wish the above information to be prompted every time you log into Lynda.com, you may select Do not ask me again (as circled above) instead. After making your selection, click "Accept" to login.
Where to get help?
If you experience any access issues or have any questions about the service, please contact the Law & Reference Help Desk or email to lbinf@cityu.edu.hk. To learn more, watch this introductory video about the service and there is a comprehensive tutorial "How to use Lynda.com", which includes chapters on
Browsing the library by subject, software, or author
Using your training history
Downloading and using the exercise files
Searching the video transcripts for a specific word or phrase
Overview of the basic video player controls
Use of bookmarks to indicate favorite videos or courses
Viewing content on mobile devices
Printing and sharing certificates of completion
Using the Site Map
Comments & Suggestions
Do let us know whether this learning resource is helpful to you. We welcome all feedback and comments that help us to improve and assess the value of this service. Please send them to lbinf@cityu.edu.hk.