Dr. Albert CHAN
Dr. Albert CHAN, Partner of the Law Offices of Albert Wai-Kit Chan, PLLC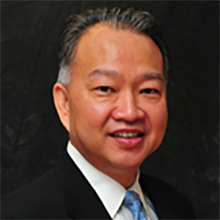 Dr. Albert Wai-Kit Chan is the Partner of the Law Offices of Albert Wai-Kit Chan, PLLC, practicing in all areas of intellectual property law (including patents, trademarks, copyrights, business transactions, litigation, licensing, technology transfer, evaluation, and trade secrets) and specializing in biotechnology. He works extensively with clients ranging from individual inventors to well-established prestigious research institutes in the U.S., China, and abroad. Dr. Chan is founder and director of the United States-China Intellectual Property Institute, Inc., a non-profit organization. Dr. Chan is a registered foreign lawyer in Hong Kong, where he also heads Albert Wai-Kit Chan Intellectual Property Limited.
Dr. Roy CHAN
Dr. Roy CHAN, Intellectual Property Engineer of Albert Wai-Kit Chan Intellectual Property Limited 
Dr. Roy Yee-Loi Chan, Ph.D., Intellectual Property Engineer, has over 7 years of biomedical engineering research experience in fields spanning from implant development, drug development, medical adhesive improvement and metastatic cancer cell identification. He has a Bachelor's degree in Medical Engineering (2005) from the University of Hong Kong and was awarded his Ph.D. in Mechanical Engineering (2010) and M.Phil.in Orthopedics & Traumatology (2007) from the same school. He passed the Chinese National Qualification Examination for Patent Agents in 2015 and completed the Renmin University of China's LL.M. programme in 2019.  He has extensive experience in devising IP strategy for startups and prosecuting patent applications extending across a wide range of technologies including pharmaceutical and life science.
Mr. Sze Lok CHAN
Mr. Sze Lok CHAN, Senior Startup Business Development Manager of AWS 
Sze Lok has been working with Amazon Web Services (AWS) for over 4 years in the Startup Business Development team. He assists startup founders in Hong Kong and Taiwan to leverage AWS to realize their business goals. His passion in digital transformation and innovation has helped more than 100 startups successfully build the products. This makes him one of the recognized startup ecosystem builders in Hong Kong. He is also one of the first few employees at AWS Greater China Region that certified to share the Amazon Culture of Innovation to external parties. Prior to AWS, Sze Lok has worked in various business development roles at tech companies and his own family business. He is a CityU alumni and obtained his Master of Science in Marketing in 2012.
Mr. Steven FUNG
Mr. Steven FUNG, Registered Patent Attorney (AU, NZ), Partner of Marks & Clerk Hong Kong 
Steven is a Patent Attorney and Partner of Marks & Clerk Hong Kong. He has over 15 years of experience in Intellectual Property, including Patent commercialization and litigation matters for world famous tech companies. Steven also understands the unique challenges faced by startups in protecting their most important asset (their innovations) and has extensive experience in working with startups and seeing them grow their IP into a profitable and rewarding endeavor. 
Prior to entering the Patent Attorney profession, Steven worked as an engineer before embarking on a career in legal services. He is particularly knowledgeable in computing technologies, including hardware design, Artificial Intelligence and datamining. From his engineering background, he has also retained an appreciation for advanced mathematics, which is helpful to understand the latest technologies in these areas.
Steven's practice is predominately based in Hong Kong although he has clients from all over the world. His main clients include many Universities and Government research centers in Hong Kong and Macau, as well as many private companies of varying sizes. He is familiar with R&D between private enterprise and Universities/Government bodies and can advise on how to best make use of your IP with respect to the various research programs available.
 
Mr Kiran Kumar Vijaya Kumar
Mr. Kiran Kumar Vijaya Kumar, Program Manager for TechVision
Kiran Kumar is a Research Director, associated with TechVision, the technology arm of Frost & Sullivan. Kiran's area of expertise consist of tracking technology and product development trends in the Information and Communication Technologies, Automation and Electronics space, and he is well-positioned to analyze, predict technology/ market trends as well as identify strategic opportunities and critical success factors required to achieve growth. Kiran has a career spanning over 14 years of experience in primary research, strategic consulting and program management. He has experience in working as a Subject Matter Expert (SME) with ability to retain and grow revenues within ICT industry across consumer devices including PC, Mobile Phones, Wearables and Computing Peripherals and as well on emerging IC technologies including Machine Learning/AI, Blockchain, Data Analytics, Security and Extended Reality. 
Mr. Perry LAM
Mr. Perry LAM,  Vice Chairman of Orion Astropreneur Space Academy (Hong Kong) Ltd
Mr. Perry LAM is the founder and Chief Excellence Officer of the LAM (Leadership and Advanced Management) Institute based in Hong Kong focusing on the Leadership Development of Business Executives and Teams throughout Asia, Europe and the Americas.   He specializes in Executive Coaching, Business Storytelling and Executive Presence to enable business leaders to maximize their career aspirations and business results.  Prior to that, he has the Regional Director of Sales in Asia for DHL and the Xerox Corporation.  Perry Lam is also Vice Chair of the Orion Astroprenure Space Academy focusing on the talent development of today's Youths to be prepared to become tomorrow's leaders in the Space Economy. He is to share the impact of "Storytelling For Start-up".
Dr. Rocky LAM
Dr. Rocky LAM, Business Director of Vantis Solutions Ltd
Dr. Rocky Lam obtained his Engineering Doctorate Degree from City University of Hong Kong, He has over 30 years' IT experience working in different business sectors including government, utilities, retails, manufacturing, banking and finance. He has set up the Vantis Consulting Group delivering IT business solutions such as ERP, Human Resources Planning, Talent Management, Artificial Internet of Things (IOT) and Big Data Analysis. Besides, he has served thousands of customers in the Greater China, Asia Pacific and European regions managing projects under cloud computing technology. Furthermore, Dr. Lam is a Visiting Lecturer of CityU, PolyU and Warwick University. 
Dr. Jonathan LEE
Dr. Jonathan LEE, Executive Director of IOE Technologies Ltd.
Dr. LEE is a serial entrepreneur who co-founded his first technology startup in 1994 when he was a M.Phil. student whereas the company was nominated as the "Authorized Design House of Samsung Electronics" afterward. In 2000, Dr. Lee co-founded the renowned Bluetooth company AvantWave Ltd with two CityU alumni. In this venture, he created business successfully with many international tier one customers such as Sony Ericsson, General Motors, Volkswagen Auto Group, Fiat Auto SpA, JVC Kenwood, Denon & Marantz Group, etc. In 2015, he founded the IoT solutions provider IOE Technologies Ltd. IOE means "Imagination of Everything". The company received the 2019 Deloitte Hong Kong Technology Fast 10 award. Dr. Lee is also a CityU alumnus, he received a Bachelor degree and a PhD degree in Electronic Engineering from CityU.
Mr. Max LEUNG
Mr. Max LEUNG, Assistant Manager of Corporate Communications Department, Convoy Global Holdings Limited
Max specializes in applying his extensive knowledge in design thinking to help companies and communities to understand users' needs, and create better workplaces and a better society. His formal training in industrial design and fine art in photography empowers Max to bring concepts to life through storytelling, data synthesis, creative problem solving and visual design.
Max achieved this through his work at the Good Lab, Hong Kong's first social innovation consultancy and co-working space. He focused on creating the unique workshops and programs at the Good Lab and PolyU, leveraging on his studies in Design Strategy at PolyU. He took up a challenge to being a part-time university lecturer in Design Thinking to forest new solutions for Hong Kong. Being Assistant Manager of Corporate Social Responsibility (CSR) in Convoy Global Holdings Limited, Max also facilitates workshops to understand the needs of customers and stakeholders and translate them into tangible business solutions to tackle the challenges of COVID-19.
Dr. Gregg LI
Dr. Gregg LI, Chairman and Acting CEO of Orion Astropreneur Space Academy (Hong Kong) Ltd
Dr. Gregg LI (Dr. G) is a market technologist, a visiting professor in innovation and governance, an executive coach, a serial entrepreneur, a business angel, and a connector of smart cities and smart technologies. In the recent past, Gregg has been a board advisor to Aon (insurance and risk), Fresco (venture capital), CUHK Centre of Entrepreneurship, the Lab for Space Research at HKU, and recently, with Protiviti, a global management consulting firm in Cybersecurity and Enterprise Risk Management (ERM).
His areas of action research and teaching cover start-up governance, ERM, innovation, management consulting, and space entrepreneurship. Gregg has held adjunct and visiting professorial appointments at HKU, CUHK, Polytechnics University of Hong Kong, HKUST, Tsinghua and Washington University where he has served on their Asia Advisory Board. He is the
founding Chair of the Orion Astropreneur Space Academy (OASA) headquartered in Hong Kong since 2020; and the founding Chair of Invotech from 2013 to 2018. He holds relevant degrees and certification in EIS, MIS, and Cybersecurity from Warwick University (Information Governance Engineering), NYU (Cybersecurity), Penn (Regulatory Compliance), UCLA (MIS), and ISACA (CISA). He has been a professional management consultant, FCMC, and is a member of the Global Academic Committee of ICMCI, which oversees the management consulting institutes throughout the world; and for Hong Kong in which he was their founding Chairman in 2000.
In his talk, he is going to talk about astropreneur and how to build a new company in the NewSpace Economy of Hong Kong. The world of business has completely changed due to COVID, the NewSpace Economy, and the Digital Revolution.  Do you still want to build a business model that will likely be obsolete in a few years' time, or create a new digital business that can scale across borders and be a first mover in the NewSpace Economy?  This new economy is now over US$350 Billion globally, and rising exponentially due to SpaceX, smaller satellites, and the opening up of the Space sector from government to civilians.  In fact, the NewSpace Economy has already arrived in Hong Kong and Greater Bay.  Do you see it? Get ready.  
Mr. Mark SIU
Mr. Mark SIU, Chief Strategist of Transmedia Communications Limited 
Mr. Mark Siu, general partner of investment fund in this region and veteran venture capitalist in technology, media and telecom domain and used to be VP of Pacific Century Group, once mother company of PCCW; Strategic officer of different Merge & Acquisition deals covering Africa, North America and Asian countries and senior executive of TVB covering production and as creative director. Mark holds a Master of Science of HK PolyU and is also an alumnus of Programme of Management Development (PMD) for senior executives of Harvard Business School. An adjunct Professor of CityU and Guest Lecturer of BU previously. Privately and recently, Mark invested and became interested in ESG (Environmental, Social and Governance). Recently he invested, produced and directed a film on Autism aiming to better the quality of life of those who have Autism. 
Dr. Rui YE
Dr. Rui YE, Partner and Head of Science Division of UNISKIN
Dr.Rui YE pursued his PhD degree of Molecular biology in Department of Biology and Chemistry (BCH) from 2010-2015. He won two times of "Excellence of Research Award" during his PhD study. After graduation, he jointed a start-up company focusing on tumor genetic test as Product Director helping patients to choose the right anti-tumor drugs. During his service, the company became a first-tier company in the field and obtained Softbank's investment. Later in mid-2017, he left the company and co-founded UNISKIN, a high-tech skincare brand with tailor-made products for Chinese women. With expected annual sales of over RMB$400M in 2021 in just 4 years, the company has got investment from Sequoia Investment. He would love to share how the scientific training has helped him in the business world and what pitfalls need to be avoided for starting a new business.
Mr. Sam YIP
Mr. Sam YIP, Founding member of Idea Intellectual, Registered US Patent Attorney
Sam is a U.S. Patent Attorney, U.S. Attorney-at-law and Certified Patent Valuation Analyst. He has worked closely with many Hong Kong research institutes, including NAMI and ASTRI, the universities, including HKUST, HKBU, CityU, and HKU; U.S. based technology companies such as Oracle, other commercial entities and individual inventors. His patent prosecution experience and opinion work cover a wide range of technologies including AI, software, electronics, semiconductors, optics, and biomedical devices. He is also active in advising intellectual property strategies, patent portfolio developments, IP valuations, IP licensing, product design reviews, patent landscaping, freedom-to-operate and infringement opinions, and IP enforcement cases. Sam has more than 25 years of experience as an engineer and a patent practitioner.  He worked as a Patent Agent at a San Francisco IP law firm, Fliesler Meyer LLP before moving back to Hong Kong in 2010.  As an engineer, he has worked for a number of Silicon Valley companies including Hewlett-Packard, Genentech, Computer Associates, and REMEC Inc. on projects spanning across software, electronics, communications, and system control technologies.
Speakers are listed in alphabetical order.