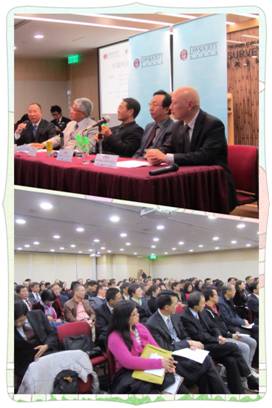 On 16 January 2014, the Chinese Law Reform seminar was held by the Law Society of Hong Kong and City University of Hong Kong. It was chaired by Prof. Wang Guiguo, Chair Professor of Chinese and Comparative Law, CityU Law School, and Director of Centre for Judicial Education and Research, CityU, as well as Mr. James Wong, Vice Chairman of Greater China Legal Affairs Committee of the Law Society of Hong Kong.
Prof. Wang Guiguo first introduced the guest speakers who were three participants in the 8th Chinese Senior Judges Programme. They were Lu Yanfeng, Vice-President of the Supreme People's Court of Jilin Province, Luo Pengxian, Political Officer of the Supreme People's Court of Qinghai Province, and Luo Dengliang, Research Officer of the Supreme People's Court of Sichuan Province. Prof. Wang said that they not only possess ample experience in legal practice, but also extensive knowledge in Chinese legal problems. It is a rare opportunity to have these three senior Chinese judges discussing legal problems with Hong Kong lawyers together.
The first speaker Lu Yanfeng's topic is "Some Thoughts on Enhancing Legal Credibility". He pointed out that the crux of legal trial is the judges: it is important for the judges to have the ability to judge fairly. The second speaker Luo Pengxian shared his experience at the Supreme People's Court of Qinghai Province, and explained the significance of protecting independence of law in national development. The third speaker Luo Dengliang delineated the historical development of the people's jury system since the beginning of the last century in China, and urged that the country's judicial reform should enhance the practical function of public jury, and at the same time strengthen the professionalism of the judges in their legal practice.