Newly Renovated Teaching Studios to Enhance Students' Learning
This summer, six teaching studios comprising Rooms LI-G600, LI-4109, LI-4208, LI-4307, LI4400 and LI-4412 in the Li Dak Sum Yip Yio Chin Academic Building (LI) have undergone a makeover to provide staff and students with a new modern teaching and learning environment. The renovation is the result of a collaborative effort between the Computing Services Centre (CSC) and Campus Development Office (CDO) and these teaching studios have benefited from new furniture, carpet replacement, the upgrade of the Audio-visual (AV) system and more.  
The renovated teaching studios are designed to focus on enhancing the teaching and learning experience of the teacher and the learner and to facilitate collaboration and interactivity amongst them. The replacement of all old projectors with new and brighter LED projectors and small screens (100 inches) with larger screens (120 inches) allow enhanced visual clarity. More screens have been added to cover the whole width of the wall to increase the students' viewing angle even if they are sitting on the far side of the room. The AV control panel on the teacher's desk also received a significant update in all rooms, thus providing teachers with easy-to-control and easy-to-use AV facilities. 
The new digital visualizers are of better quality and functionality; they are more compact, thus leaving more table space for teachers.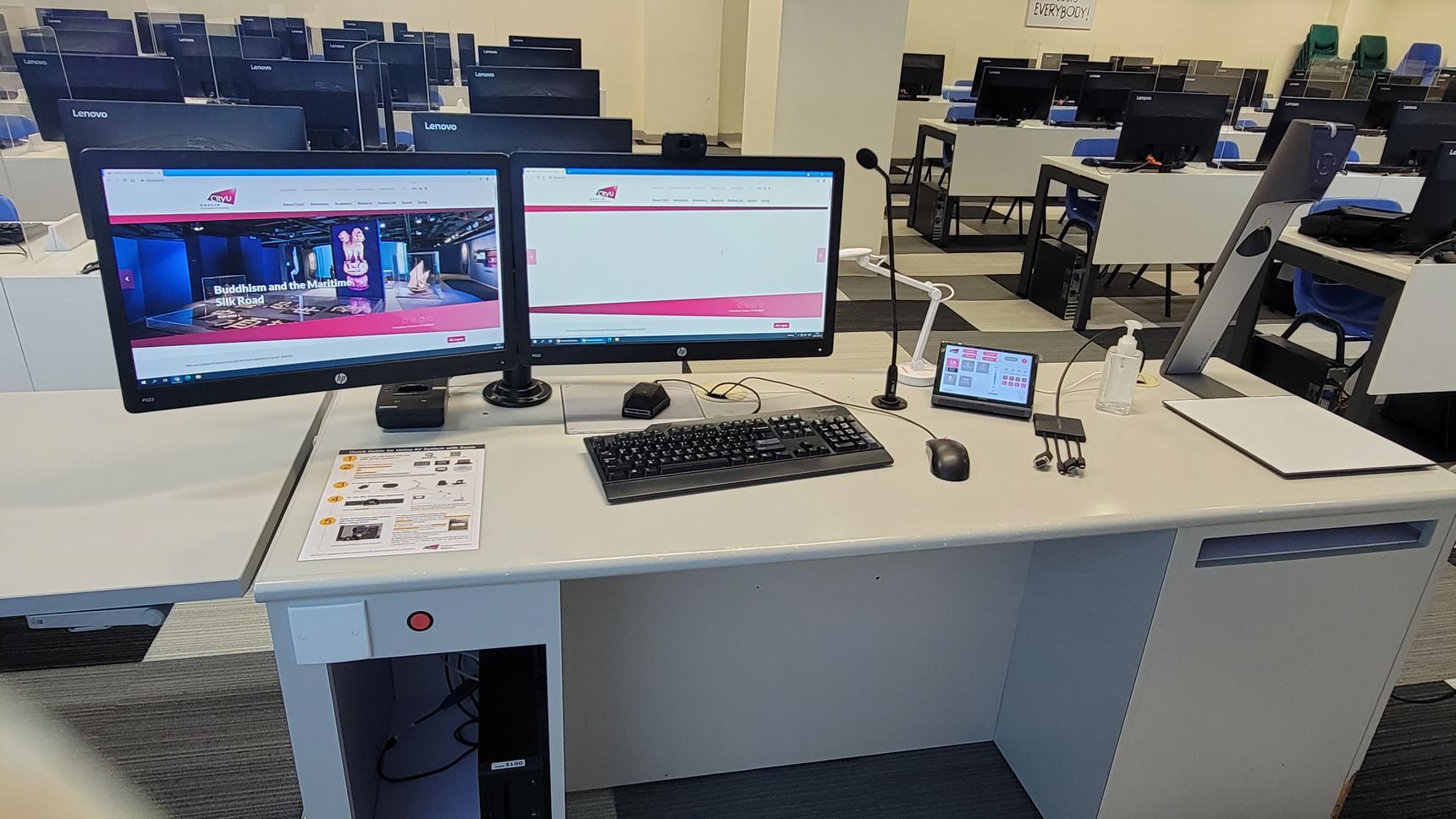 Screen mirroring is also a newly added functionality in the teaching studios. Teachers can display the screen of their mobile devices to the projector using the mirroring facilities. The supported mobile devices are Andriod phones and tablets, iPhones, iPads, iMacs as well as laptops running Windows.
Besides, the rooms are also refreshed with new student desks and new carpets which significantly improve the studying environment. The new replacement of student desks has a modern design with fewer table legs. As a result, students can sit more comfortably.  Also, because of the table design, cables can be integrated into the new furniture neatly and tidily.  The old carpets have been used for many years and one can already feel their wear and tear. The replacement of carpets creates a fresher look of the rooms.  
All of the above improvements were completed just in time for students to return to campus at the start of Semester A 2021/22.  The renovated teaching studios will surely help enrich our students' learning experience for years to come.