Network Connection Guide for Student Residents
This guide is exclusive for student residents in Student Residence and Jockey Club House. Staff resident please contact management office of the residence for network connection application
The installation guide of network connection in Student Residence (please click the corresponding button of the operating system)

Student resident can use the Network Connection Management System (NCMS) to register computer to be connected to the campus network. After registration, you can connect PC in your room of Student Residence to the CityU network. Through this service, you can access various kinds of resource on internet and use CityU email. The following figure depicts the registration process.
Applying network connection in Student Residence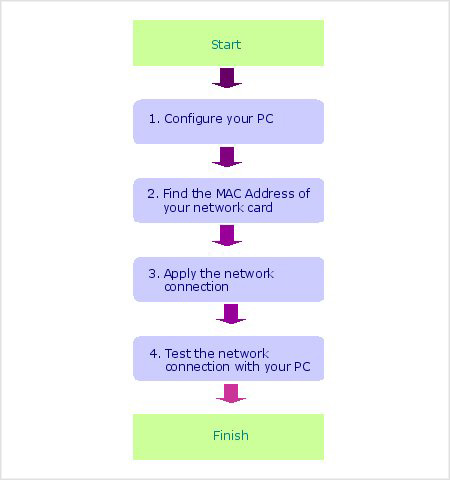 STEP 1: Configure your PC
If your PC does not equipped with a built-in ethernet network card, you may install a network card accordingly to instructions from the manufacturer
Configure the TCP/IP network components in Windows 7 or above.
Prepare a network cable and connect your PC through the network port on the wall plate in your room or to the access port at the back of your IP Phone. Click here for details on the cable connection on IP Phone and your PC.
STEP 2: Find the MAC address of your ethernet network card
If you do not know how to find the MAC address (It can also be called the physical address or hardware address) under Windows 7 or above, you can open a "Command Prompt", enter the "ipconfig /all" command to list all the network adapters installed and look for the physical address of the "Ethernet adapter Local Area Connection".
STEP 3: Apply the network connection via the NCMS
Find a PC that is connecting to the campus network and click here to apply the network connection in student residence.
If you are using a PC outside the campus network, you should connect to the CityU VPN before using the online registration web pages. Please click here to know details about CityU VPN.
STEP 4: Test the network connection with your PC
After receiving a confirmation of your network connection from CSC via email, you may test the network connection with your PC. If there is any problem, you can refer to help for troubleshooting tips. Click here for quick reference of Cisco IP phone 7910 & 7912G and cable connection.
Updating your own registration network connection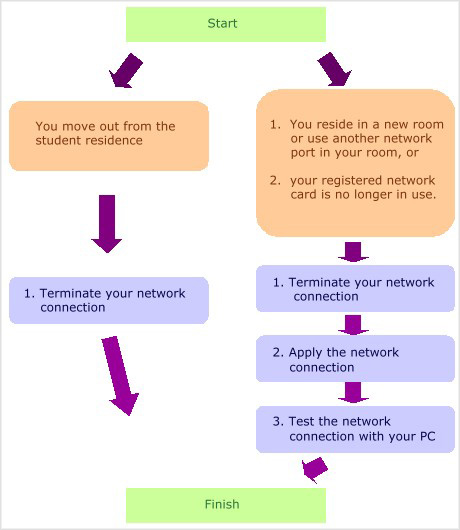 You should update your network connection registration when
you move out.
your registered network card is no longer in use.
you reside in a new room or use another network port in your room.
When moving out from Student Residence, you need to terminate the network communication via the NCMS. Click here to terminate your network connection.
When moving to a new room or relocating the network port for your PC connection or changing your network card, you have to terminate the network communication and apply the network communication again and test your network communication as step 3 and 4 in "Applying network communication in Student Residence".
Click help for troubleshooting tips or report network connection errors to Student Residence Office (not to CSC please) if you find any problem.
What you will need
To login the system, you will need your Electronic ID and password. Your browser must also have Java Script and Cookies enabled.
Important
By using this system, you agree to abide by the policies and guidelines concerning the use of computer, network and computing resources. Please read the policies and guidelines.
IT.ServiceDesk@cityu.edu.hk