LinkedIn Learning
Attention
Lynda.com has moved to LinkedIn Learning on 30 October. See notes for former Lynda.com users.
If you have never used Lynda.com, please follow the instructions below on "How can I access LinkedIn Learning?".
LinkedIn Learning (formerly Lynda.com) provide just-in-time training for keeping up with technologies as needed to all current staff, faculty and students. As long as you have an account in LinkedIn Learning, you will be able to log in anytime, anywhere and learn any topic you like through their many videos. For more information, please visit the Library web page.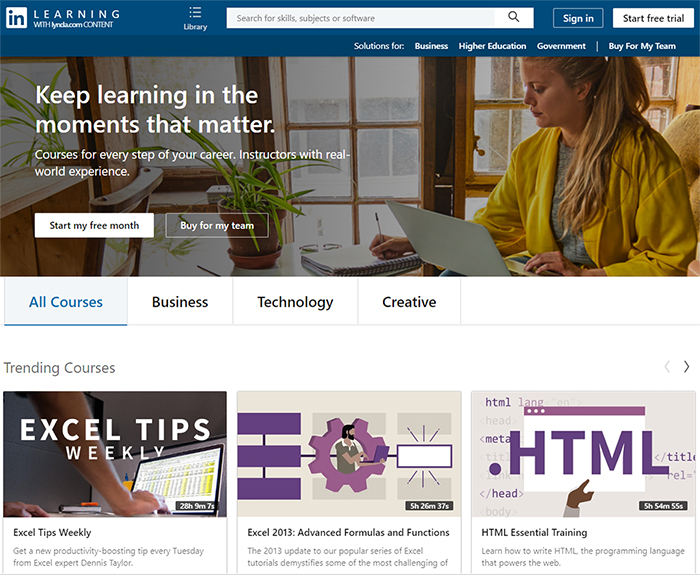 As these online courses are broken into bite-size tutorials (each 5-15 minutes long), users can select whichever topic they wish to learn instead of taking the entire course. LinkedIn Learning also provides closed captioning (subtitles) and searchable, time-coded transcripts which make it easy for learners to follow through the content of the entire video.
Eligibilty
Current CityU students, faculty and staff
Who will benefit from using LinkedIn Learning?
LinkedIn Learning allows the Computing Services Centre (CSC) to offer a training alternative to instructor-led classroom training for staff and students:
Who need to quickly look up a specific topic
Who need to learn a new software skill right away instead of waiting for the next run which could be in a few months' time i.e. "just-in-time" training
Who desire training on topics that the CSC does not offer
Who do not have time to fit in six-hour courses in their busy schedules
Who want broader and deeper training that they could learn at their own pace
Who cannot come to the campus
How can I access LinkedIn Learning?
To access your CityU LinkedIn Learning account, click the above link and log in using your CityU EID (e.g. chanwg10) and Active Directory (AD) password, just like you are logging into the staff or student LAN. If you are accessing the account for the first time, the following screen will appear: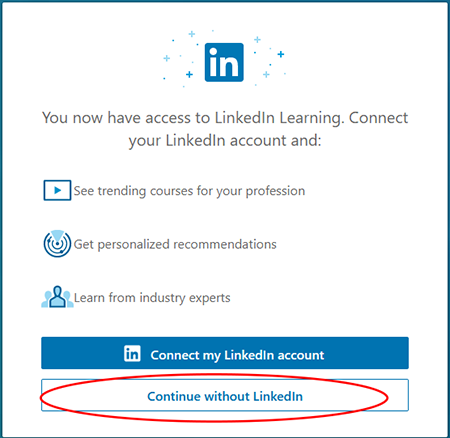 You will be asked to "Connect my LinkedIn account" or "Continue without LinkedIn". Select "Continue without LinkedIn" and you will be directed to the your LinkedIn Learning account home page. However, if you opt to connect your personal LinkedIn profile to LinkedIn Learning, you will be prompted to enter your LinkedIn account credentials. Sign in, and you will be taken to the home page of your LinkedIn Learning account. Note that subsequent logins using the "Continue without LinkedIn" login process will bring you directly to this page.
If you experience any access issues, please contact the Service Desk or email to adminlynda@cityu.edu.hk.
Recommended Courses

As a supplement to our existing Staff Computer Courses, below are some suggested computer course titles for your viewing. Clicking on the course link will take you to the course page where you will find that only a few movie links in the table of contents are active. If you're logged in as a member, all links will be active. Simply click a movie name in the table of contents and the video will begin playing.
Microsoft Applications
Adobe Software
Security
Cloud Solutions
Digital Marketing
iOS & Android Device
csc.servicedesk@cityu.edu.hk