Dr Martin Zhu
PhD, School of Energy and Environment
Co-founder, i2Cool Limited
"HK Tech 300 supercharged my dream to go green and stay cool!"
Dr Martin Zhu, a PhD graduate from the School of Energy and Environment and a member of the Green Technology and Finance Development Committee of the HKSAR Government, researches the fundamentals of heat transfer, energy conversion and engineered materials, striving to integrate theory and experimentation to create innovative solutions for thermal management, thermal rectification and energy-efficient building technologies.
Dr Zhu is one of the co-founders of i2Cool Limited, incubated under CityU's HK Tech 300 programme. i2Cool is developing and promoting zero-energy, low-cost, highly efficient passive radiative cooling paint that can save energy and reduce carbon emissions by cooling buildings.
The innovative radiative paint was inspired by the Sahara Desert ant. The structure of the surface hair found on these insects can resist the heat of the blazing North African sun. When applied to the exterior wall of a building, this paint simultaneously reflects most of the sunlight and dissipates the building's heat in the form of mid-infrared radiation, resulting in a significant drop in the building's surface temperatures and thus leading to decreased indoor temperatures.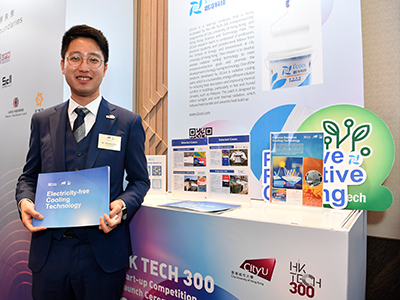 i2Cool's accomplishments so far include the following:
Gold Medal with Congratulations of the Jury at the Inventions Geneva Evaluation Days (2021)
$100,000 seed fund from CityU's HK Tech 300 programme
Recipient, HK Tech 300 Angel Fund
Winner, "Maker in China" SME Innovation and Entrepreneurship Global Contest - Hong Kong Chapter (2021)
Listed, Forbes Asia 100 To Watch (2022)
Winner, Emaar Innovation Challenge (2022)
Best Rising Star of the Year at the HKMA/HKT Global Innovation Award (2022/23)
Gold Award, TERA-Award Smart Energy Innovation Competition with US$1 million in prize money (2023)
Winner, New World Innovation Challenge Impact Kommons Cohort 4 Pitching Competition (2023)
DBS Business for Impact Prize (2023)
i2Cool's significant contributions to reaching carbon neutrality have also received attention from the HKSAR Government and private developers.
For more stories about our Heroes, please click here.