Grace Lau Mo-sheung
Graduate, School of Creative Media
Gold medal, Asian Karate Federation Senior Championships 2023
Bronze medal, Tokyo Olympics 2020

"I won a Gold because CityU had my back."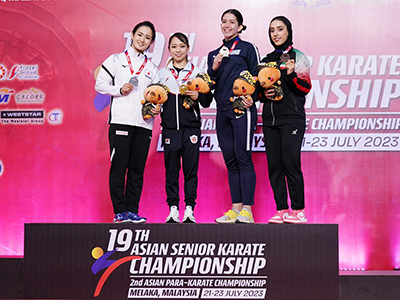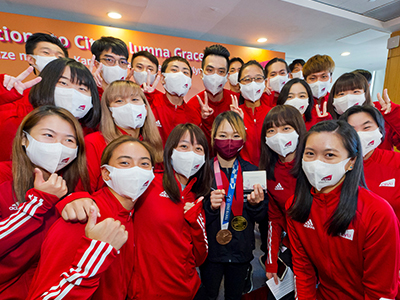 The remarkable CityU alumna Grace Lau Mo-Sheung is the first-ever Hong Kong Karate athlete to win a Bronze medal in the Karate Women's Kata at the Olympic Games. She made history by winning Hong Kong's first Gold medal in the Women's Kata event in the Asian Karate Federation Senior Championships 2023. Her success infuses the CityU community with positive energy and fosters a sense of pride among Hong Kong people.
Grace embarked on her journey at CityU School of Creative Media in 2012 through the University's Student Athletes Admission Scheme and was awarded the Dr Herman Hu Outstanding Sports Talents Scholarship. While at CityU, she led the women's karate team to gold medal victories in intervarsity competitions and was named the USFHK Sportswoman of the Year in 2014 and 2015.
Back in 2021, when Grace was competing in the Tokyo Olympics, CityU students, faculty and alumni gathered on campus to watch a live broadcast of the competition, cheering her on with enthusiasm. After winning the Olympic Bronze medal, she returned to her alma mater for a celebration, sharing with CityU student-athletes her learning and competition experience, and encouraging them to persevere in their beliefs and strive for excellence. She also thanked CityU for fully supporting her to undertake vigorous training and frequent competitions during her studies.
She once said that as a full-time athlete, there must be highs and lows, but as long as you believe in yourself and are dedicated, you will succeed. "Act like a slingshot: the harder you pull, the faster you fly," she said.
Grace's dedication to sustaining the highest level of excellence in her chosen field is an inspiration to us all. Her resolute determination serves as a reminder that achieving greatness requires commitment and an undeterred belief in oneself.
For more stories about our Heroes, please click here.