Cover Story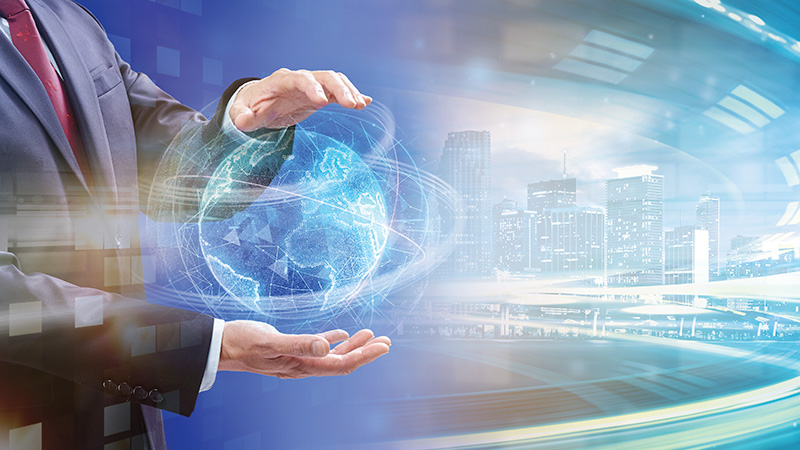 Advanced thinking for real-world issues
By : Michael Gibb
Now into its fourth year of operation, the Hong Kong Institute for Advanced Study (HKIAS) has seen the number of Senior Fellows shoot up, enhanced output, a recalibrated strategic direction and new premises for galvanising intellectual thought leadership across campus and further afield.
A model institute
Professor Jacob C. Huang Inspired by Princeton University's Institute for Advanced Study, CityU's HKIAS aspires to be an international centre for the advancement of the fundamental sciences by bringing together an interdisciplinary team of world-renowned scholars and researchers, including Nobel laureates and academicians, to contribute to devising solutions for pressing real-world problems, said Professor Jacob C. Huang, Executive Director of HKIAS and Chair Professor of Materials Science.
Princeton's Institute famously included 33 Nobel Laureates, 42 Fields Medalists and 17 Abel Prize Laureates, as well as many MacArthur Fellows and Wolf Prize winners. Former faculty included Albert Einstein, who remained at the Institute until his death in 1955, and many other distinguished scientists and scholars.
"CityU's HKIAS was initiated by Professor Way Kuo, CityU President, only in November 2015, and of course we would be delighted if one of our Senior Fellows won a Nobel Prize or another world-class award. It would certainly put HKIAS and CityU on the map!" Professor Huang said.
Leadership and Senior Fellows
"New ideas in research get talked about on campus and CityU faculty and students have the opportunity to meet with the top people in a particular field of study."One of the great strengths of HKIAS is the leadership team. In addition to Professor Huang, former Senior Vice-President at National Sun Yat-Sen University and National Chair Professor, Taiwan, the chairman of the directorate is Professor Serge Haroche, one of the most accomplished scientists working today. Professor Haroche has received many prizes and awards, including the Nobel Prize in Physics in 2012. He is a member of the French Academy of Sciences and a Foreign Member of the National Academy of Sciences of the United States and the American Academy of Art and Sciences.
The bulk of the intellectual drive behind HKIAS, though, stems from the contributions of the Senior Fellows. There were 10 such Senior Fellows at the start of HKIAS in 2015 but that number has grown to 27 today. These distinguished persons are extremely active.
"The Senior Fellows are very driven and passionate. Even those who are over 70 years old are keen to come to CityU to meet colleagues, lecture and discuss new ideas," Professor Huang said. "Selection is competitive, and it is not easy to win approval from the selection committee. Our standards are very high."
A recent highlight was when one of the Senior Fellows, Professor David J Srolovitz, a Member of the National Academy of Engineering and the winner of the 2013 MRS Materials Theory Award, decided to move from the University of Pennsylvania to CityU for a permanent position as Chair Professor in the Department of Materials Science and Engineering.
(From left) Professor Serge Haroche and Professor David J. Wineland, 2012 Nobel Laureates in Physics and Professor Jean-Marie Lehn, 1987 Nobel Laureate in Chemistry, shared their insights in the Nobel Science Week held in 2017. The presence of the Senior Fellows on campus benefits CityU in several ways. For example, areas not always covered by the regular syllabus in the various departments at CityU can be incorporated. "The HKIAS Fellows are given the opportunity to pursue curiosity-driven research and to present the results of their studies to students, postdocs and researchers from CityU and other universities in Hong Kong and Greater China," Professor Haroche said.

This means that new ideas in research get talked about on campus and CityU faculty and students have the opportunity to meet with the top people in a particular field of study.
"CityU is a dynamic university but to make a name for ourselves and establish our credentials at the highest possible level, we need to do things differently and we need to distinguish ourselves. HKIAS provides the platform for this to happen," Professor Huang said.
Increased output
A measure of the success of HKIAS can be seen in the rise in the number of HKIAS activities taking place. Starting with the "Symposium on Nanomaterials in Honour of Professor Herbert Gleiter" in November 2015, HKIAS has now held 55 lectures and 16 symposia and workshops.
The HKIAS conference in November brought together six eminent speakers, including (from left) Professor Serge Haroche, Professor Jean-Marie Lehn, Professor Pierre-Louis Lions, Professor Sir John Ball, Professor Li Tatsien and Professor Jean Salençon.
These events are highly prestigious. One of the most significant recent events was the conference held in honour of Professor Philippe G. Ciarlet, Senior Fellow and University Distinguished Professor, who was celebrating his 80th birthday. Among the speakers at the event were another Senior Fellow, Professor Jean-Marie Lehn, Nobel Prize laureate in Chemistry in 1987 and professor at the University of Strasbourg's Institute for Advanced Study; Professor Sir John Ball of Heriot-Watt University in Edinburgh; Professor Haroche; Fields medalist Professor Pierre-Louis Lions of the Collège de France; Professor Li Tatsien of Fudan University in Shanghai; and the recognised leader worldwide in the field of continuum mechanics, Professor Jean Salençon.
In addition, HKIAS held its first annual general meeting in November 2018 where strategic planning for the future development of HKIAS was discussed. One recent development has been to focus HKIAS attention specifically on maths, natural sciences (physics and chemistry), materials science and biomedical science.

"We have targeted these areas because of their profound importance to human society," Professor Huang said. "CityU has expertise in these areas, and the Senior Fellows can impact the learning, research and knowledge of CityU students, faculty and researchers."

Efforts are paying off with significantly enhanced visibility. "If we don't publish the video of the speaker at one of our HKIAS lectures soon enough, we get emails from students all over the world asking when we are going to do it!" Professor Huang said.

New premises, fresh plans
HKIAS will be moving to new premises this year, a welcome development because the extra space will enable Senior Fellows to visit CityU with their teams in tow. There will also be a courtyard garden and a dedicated lecture theatre.
As for later in 2019, there will be two major events for neuroscience: a symposium in March and an international conference later in the year.
"Going forward, the intellectual and scholarly activities at HKIAS will contribute fundamental knowledge and innovative ideas to the frontiers of science, engineering and technology," Professor Huang said.
"We've come a long way in three years and the best is yet to come!"
In honour of the 80th birthday of renowned mathematician Professor Philippe G. Ciarlet (sixth from left), CityU organised a conference in November 2018 to showcase the University's major role in fostering scientific cooperation between France and Hong Kong.