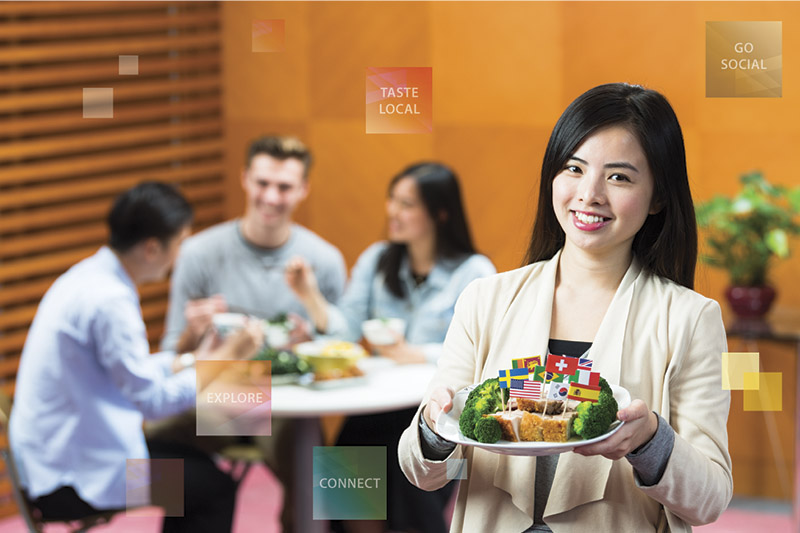 My Startup Journey
By : Emma Yu Ka-lai, Department of English
I major in English Studies (Creative Stream) in the Department of English and I am now in my final year. Starting from last year, I embarked on my startup journey. My goal has been to solve existing problems and positively impact society. Why do I say this is a journey? Because you never know the destination or when you will get there. However, that is the most intriguing part, and I really enjoy it.
The 31st World Genius Convention
In May 2017, my first startup project, HomeTaste, an online platform for travelers to go to a local's home and eat a meal, won the top prize at the Young Genius Convention in Hong Kong. My win gave me and my teammates the chance to attend the 31st World Genius Convention in Tokyo. It was a precious opportunity. We could showcase our invention to people from around the world and learn a lot about the latest technology by interacting with locals, judges and other participants.
This trip was made possible not just by our team's efforts but also thanks to CityU's support. Sophie Law Man-sze, one of my teammates who also majored in English, and I received a great deal of support from CityU's Office of Education Development and Gateway Education (EDGE) and our department on aspects of finance and ideas. What's more, we notched up another morale booster when we beat 72 teams from more than 10 countries to take home a special gold award and a special award at the Taiwan International Invention Award Winner's Association.
How I joined the team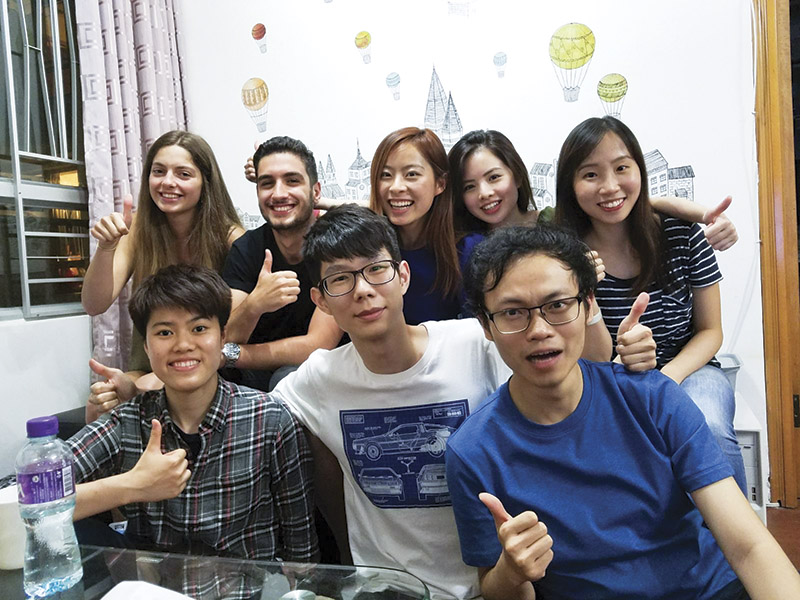 Alizé Vilbert (first from left, back row), a French expat, is invited to dine with one of the local hosts. Honestly, owing to my academic background and age, I had never imagined I would have my own company and have a team to work with. However, my life changed in October 2016 when I attended an event about startups. I bumped into my secondary school friend Kong Chak-ming at the Hong Kong Convention and Exhibition Centre where the Google EYE Program was showcasing products created by the programme's top six teams. One of CityU's associate professors, Dr Ray Cheung Chak-chung of the Department of Electronic Engineering, had offered me a ticket to attend.

At first, I had not expected much and had just wanted to have a look around because I was interested in startups and technology. But meeting Chak-ming there was fortunate. She is the co-founder of HomeTaste and an undergraduate at Hong Kong Baptist University (HKBU), and she chatted for a long time about her startup. I was fascinated by how she had come up with the idea to connect everyone in the world through food. Then, she invited me to join with her team for a pitching competition for university students. I did so without a second thought.
Walking further if we walk together
Emma's team wins a special gold award and a special award at the 31st World Genius Convention. Our team comprised seven students from three universities, including CityU, Hong Kong University of Science and Technology and HKBU. Our advantage was that our teammates had complementary abilities, such as technology, public relations and marketing skills, among others. My role was growth marketing and business development. I invited non-locals from business events I attended and from CityU to join our platform, and I handled the partnership with the community kitchens.

I still remember the time I met a French expat, Mathilde, at an exhibition and invited her to dine with one of our hosts. The process was challenging because we needed to deal with the cultural differences between the Chinese and French. We checked with her about what she could and could not eat and picked a suitable date. The process was lengthy but it was where we showed our team work best and maximised each other's abilities. Luckily, the meal worked out well, validating our idea that we could bring people from around the world together through food. What's more, Mathilde is still a friend. Even though we are a few thousand miles apart, we keep in touch, which is the most powerful aspect of HomeTaste.
New page of my startup journey
The HomeTaste team and Dr Yoshiro Nakamatsu, the Chairman of the World Genius Convention. Startups are like plants. Not only do they need to be strong, the environment is also important. CityU provides such a nurturing environment, enabling us to shine.

My startup journey does not stop there. Recently, I set up another project, Beon Ads, an analytics-backed service for advertisements for the sides of vans, targeting especially SMEs (small and medium-sized enterprises), startups and NGOs. The reason behind the project is that smaller companies often face difficulties putting up physical advertisements. I hope that the Beon team can create great value for those companies as well as the van drivers, who can earn extra income, thus bringing more positive energy to society.
The goal may look difficult at first, but with team effort, CityU's support and perseverance, anything is possible.