Cover Story
Sustaining CityU's success
By : Michael Gibb
Plans formulated and sponsored by CityU's new Provost will address urgent space issues on campus, enhance our brand image among the local Hong Kong population and promote new streams of interdisciplinary collaboration across campus.
"CityU has done really well in the past few years, especially by breaking into the world's top 50 universities for the first time," explained Professor Alex Jen Kwan-yue. "Now, to take us to the next level, and sustain our trajectory, we need to work on amplifying three areas: space, branding and the cross-fertilisation of ideas."
The race for space
Historically, as with much of Hong Kong, space has been a major issue at CityU. While the campus is cozy and compact, it is no secret that we need more space for learning and research.

"As we grow, hire more staff and develop new programmes and research areas, the lack of physical space needed to meet needs becomes more problematic," said Professor Jen, who took over as Provost in late 2016 after a distinguished career in the US at the University of Washington, Seattle where he was Boeing-Johnson Chair Professor and Chair of the Department of Materials Science and Engineering.
Several solutions are currently underway to form a coherent plan that addresses this pressing issue. CityU has purchased, and is renting, commercial buildings for administrative and teaching units, renovating lab area on campus, seeking to lease more space from Hong Kong Science Park and identifying potential new research facilities in China.
AC 4, which will be a new 10- to 12-floor building on campus, will add around 13,300 square metres of space, 6,000 square metres of which will be allocated to sports and ancillary facilities, 1,900 square metres for a 1,500-seater auditorium and 5,400 square metres for labs and offices.
"We've also bought four floors at Montery Plaza near Ngau Tau Kok MTR. This purchase will provide us with over 47,130 square feet of extra space. At the same time, we are looking over the road to the InnoCentre in Kowloon Tong," Professor Jen said.

Key strategic areas for CityU's ongoing development such as the new College of Veterinary Medicine and Life Sciences, College of Sciences and Engineering, a new apps lab, intelligent robotics design, and national precious metals material engineering will benefit greatly from the enhanced allocations, Professor Jen said.
Soft side to CityU
Children participated in various science activities at "Bring Kids to Work Day". One of the most exciting events held over the summer at CityU was the "Bring Kids to Work Day" that saw around 60 children aged from 3 to 16 come to campus for a day of discovery and fun. The aim of the new initiative was to give the children an opportunity to see what their parents do at the University, build closer relations between CityU staff, and let the children know more about life at CityU.

CityU is a great place to work, study, make friends and play sports, and by starting with families, we are showing Hong Kong that CityU represents fun as well as hard work, Professor Jen said.
"By starting with families, we are showing Hong Kong that CityU represents fun as well as hard work." Another means of reaching out to children and promoting the fun side of CityU comes through summer camps with gifted secondary school students. Working through the Hong Kong Academy for Gifted Education, CityU ran two summer courses in 2017 for teens. The camps were run by the Department of Mathematics and the School of Creative Media.
"The short-term aim was to give gifted secondary school students a greater sense of CityU's identity, expertise and facilities, and the longer-term goals are to cultivate long-term relations in the hope that these top local students will aim to study with us when they choose their university education," Professor Jen said.
Synergy across fields
CityU's continued success will also depend on, in addition to increasing physical space and promoting its brand image, recognising that the world's most pressing problems won't be solved by regarding traditional fields of academic enquiry as sacrosanct and failing to break out of a silo mentality. Instead, greater synergy across campus will enable deeper, broader and richer areas for exploration.
The development of veterinary medicine and life sciences at CityU exemplifies this commitment to linking up scholars from an array of fields to work on urgent issues impacting society and the planet.
"The One Health concept that underpins the philosophy behind our College of Veterinary Medicine and Life Sciences recognises the interrelationship between animals, humans and environmental health," said Professor Jen. The links between animal and human diseases, and the environment, need to be thoroughly understood if we are to combat emerging zoonotic diseases, he added.
That's why CityU has adopted a comprehensive and coherent approach to conceptualising how a world-class interdisciplinary team of outstanding scholars can bring their skills to the study of One Health, embracing areas such as disease epidemiology, animal and health welfare, nano medicine and microbiology, to name just a few (see graphic 1) .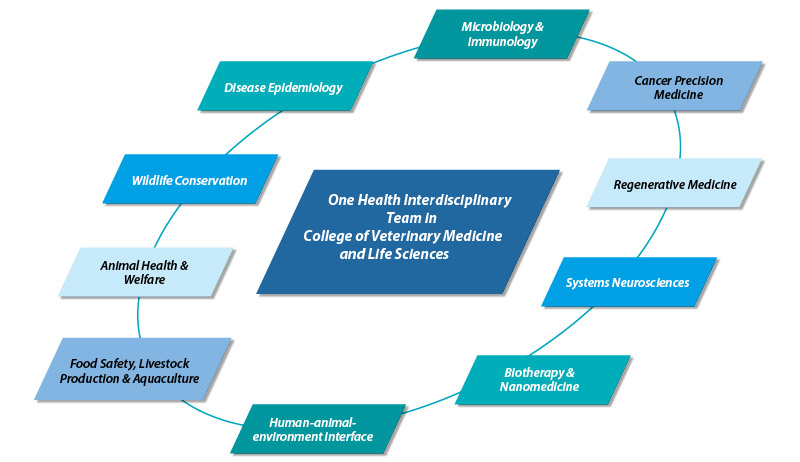 graphic 1
In addition, the restructuring of academic units in 2017/18 will fine-tune research and teaching, giving each unit clearer focus and a sense of uniqueness, leveraging expertise and resources, providing greater inclusivity and flexibility, and enabling new interdisciplinary hires to create a bigger impact (see graphic 2). For example, the new interdisciplinary Department of Materials Science and Engineering (MSE) will extend linkages to other colleges and schools.
graphic 2"Suppose MSE scholars develop new materials for harvesting solar energy. Of course, the College of Science and Engineering will be involved, but also business and law, if start-up companies are involved; so will social sciences, because policy will be needed; energy and environment, because solar energy is relevant; and veterinary medicine and life sciences, because of the interface with issues related to human health," said Professor Jen.

By expanding how we approach the development of key strategic themes, CityU can draw on its strengths across campus, and thus maintain its current course, attracting top talent and producing graduates and research that will benefit society.