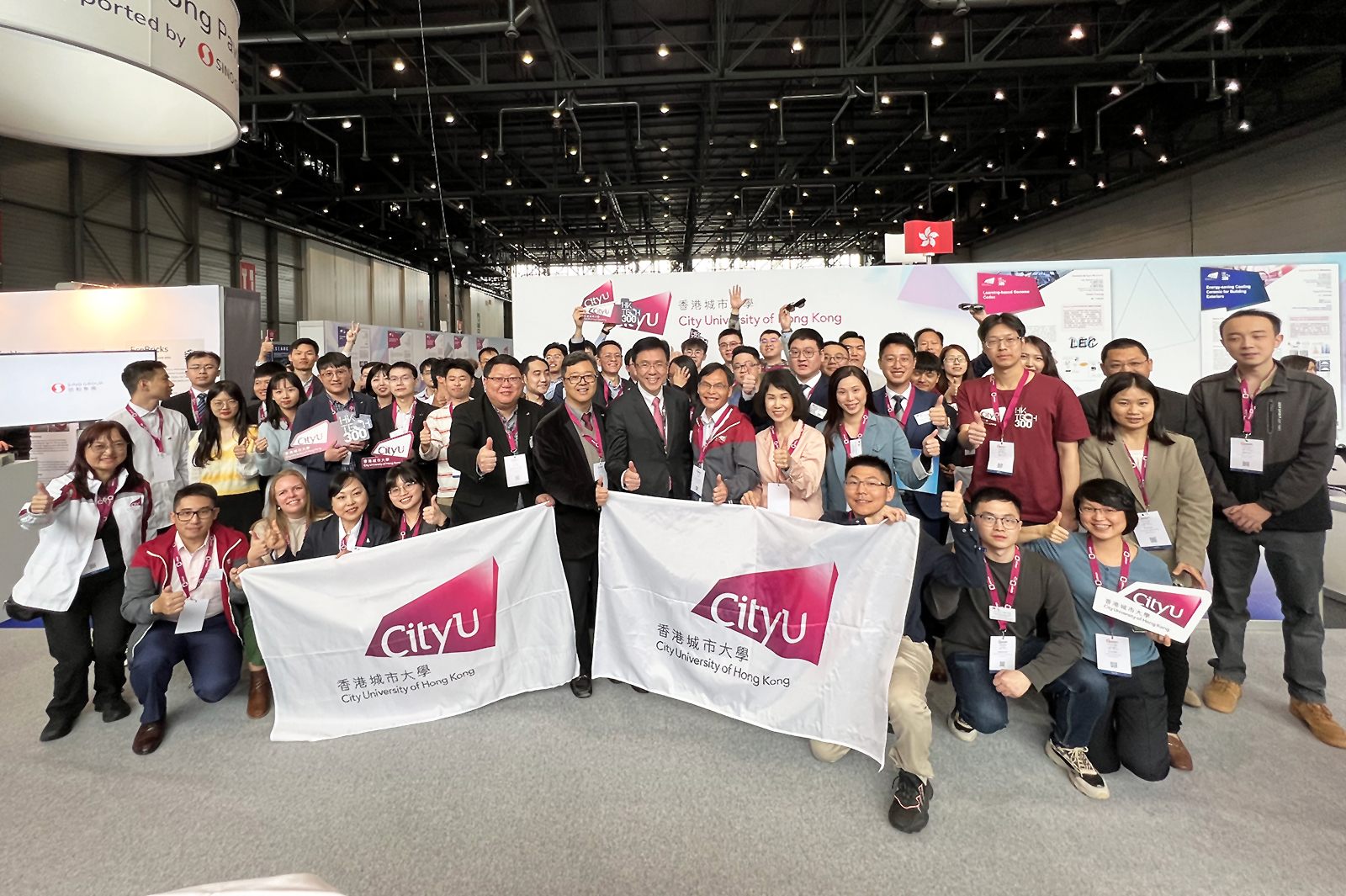 Researchers from City University of Hong Kong (CityU) received 36 awards, including one Special Prize, three Gold Medals with Congratulations of the Jury, 17 Gold Medals, nine Silver Medals and six Bronze Medals at the 48th International Exhibition of Inventions Geneva (IEIG) held from 26 to 30 April. This is the third year running that CityU has received the highest number of awards among local institutions.
Our excellent research capability was demonstrated by the success of our faculty members:   
Gold Medal
Research team
Project
Professor Chan Chi-hou
Prof Stella Pang
Dr Zhu Shuyan
Dr Wu Gengbo
Terahertz Metasurface Antenna for 6G Communications

With its novel 2D design and integration of terahertz waveguides, this high-gain metasurface antenna has broad applications in next- generation (6G) wireless communications, imaging and non-contact sensing.

Professor Luk Kwai-man
Prof Stella Pang
Dr Zhu Shuyan
Dr Li Yuanlong
Low-profile High-gain Terahertz Antenna for Future Wireless Applications

Small and compact open- resonance antenna that can emit a steerable wideband terahertz beam with high gain and low sidelobes: critical features for next- generation (6G) high-speed wireless communication.

Dr Li Haoliang
Dr Wang Shiqi
Kong Chenqi
Miss Zheng Kexin
Echo-FAS: Acoustic- based Face Anti- Spoofing

Robust spoof-proof security system for face ID verification on mobile devices, based on live global/local 3D acoustic profiling using the existing speaker and mic, and with no need to add any expensive hardware.

Professor Paul Chu
Dr Huang Chao
Mr Ruan Qingdong
Low Cost and Large- Scale Production of Carbon Nanotubes

Innovative and economical process for manufacturing carbon nanotubes, costing merely 10%–20% of existing methods, with comparable excellent electrical conductivity, high strength and light weight.

Dr Yu Xinge
Dr Li Jiyu
Dr Lei Dangyuan
Mr Zhou Jingkun
Mr Fu Yang
Cooling Technology for Epidermal Electronics

Ultrathin, soft, flexible surface-conforming material that integrates with and passively cools (by >56°C) skin-interfaced bioelectronics, allowing comfortable long-term wireless healthcare monitoring.

Professor Stella Pang
Dr Xu Yuanhao
Neural Implant with Dynamic Electrode Position Control

Neural implant device containing flexible electrodes and proximity sensors in pneumatically inflatable cavities, allowing real-time electrode repositioning without the need for additional surgery.

Professor Lu Jian
Dr Li Yangyang
Dr Zhou Binbin
Mr Shen Junda
Multifunctional Detection System Based on Nano-engraved Sensor

Portable Raman spectrometer system for rapid on-site contaminant detection, based on a 10× reusable Nano-engraved silver-needle sensor that is up to 6× faster and 100× more sensitive than commercially available sensors.

Dr Raymond Lam Hiu-wai
Dr Huang Wei
Mr Jiang Zhongning
Label-free High- throughput Multi- physical Cell Cytometer

Microfluidic cell cytometer using AI to measure size, elastic modulus and dielectric constant of single cells at a throughput matching that of commercial flow cytometry but without the need for cell labeling.

Professsor Johnny Ho
Miss Quan Quan
Mr Zhang Yuxuan
Mr Wang Wei
Solar-Electrocatalytic System for Hydrogen Generation

Novel solar-powered water-splitting platform to produce green hydrogen, combining photovoltaics with a highly efficient and stable dual anode–cathode made of a new 3D porous micro-nano-structured material.

Professor Zhi Chunyi
Mr Chen Ze
Miss Li Pei
Miss Cui Huilin
Aqueous Batteries with Ultimate Safety

Using water as the electrolyte, these non- flammable aqueous batteries are completely safe and free from any risk of fire or explosion, even after physical damage, penetration or compression or fire exposure.

Dr Walid Daoud
Mr ALMARDI Jasim Mohamed Jasim Mohamed
Omni-direction Omni- frequency Wave Energy Converter

This wave energy converter is designed to harvest ocean waves kinetic energy from all directions using an oscillating weight inspired by the way an automatic watch harvests the kinetic energy of arm movements.

Professor Lu Jian
Dr Mao Zhengyi
Dr Cao Zhaowenbo
Miss Chen Yingxian
EcoSponge–Utilising Solar Energy for Sustainable Freshwater Production

Eco-friendly, low-cost solar-powered device that produces enough water to meet an individual's daily intake needs. Scalable and can be rapidly deployed in developing regions lacking clean potable water.

Dr Zhu Zonglong
Miss Li Bo
Mr Zhang Chunlei
Mr Gong Jianqiu
Mr Gao Danpeng
Mr Qian Liangchen
HarvSolar: Eco-friendly Perovskite Photovoltaics

Eco-friendly, non-toxic, lead-free, tin-based perovskite solar cells showing enhanced power conversion efficiency (nearly 30%) and maintaining stable performance (>95%) after continuous working for 1000 hours.
Silver Medal
Research Team
Project
Dr Khoo Bee-luan
Dr Chua Song-lin (PolyU)
Miss Deng Yanlin
Miss Liao Junchen
Mr Li Wei
Mr Zhou Xiang
Personalised care: PIEB Biochip

Low-cost microfluidic- based tumour biochip for growing clinically relevant mini-tumours from 1 mL of patient blood biopsy, allowing fast diagnosis within 1 treatment cycle, high-throughput drug screening and patient- specific cancer therapy.

Professor Sam Kwong
Dr Wang Shiqi
Dr Wang Meng
Dr Sun Zhenhao
Learning-based Genome Codec

Harnessing the power of neural network techniques, this computational codec (encoder–decoder) compresses genome sequence data files with much higher compression ratio than traditional tools, and is now the core technique in a new standard for genome compression.

Dr Zhao Shijun
Mr Zhang Jun
Superior AI Modeling of Large Atomic Systems

A deep-learning scheme based on atomic graph attention networks for fast, highly accurate modeling of long-term molecular dynamics in large multi- atomic systems, to aid in drug, material and battery design.

Professor Zhang Wenjun
Dr Liu Bin
Dr Kong Xin
Mr Bu Shuyu
Advanced Bifunctional Electrodes for Green Hydrogen Generation

Low-cost, high- performance, durable electrodes for water electrolysis to produce green hydrogen, using non- precious metal electrocatalysts that function as both anode and cathode.

Dr Khoo Bee-luan
Mr Zou Shangjie
Mr Chen Chun-kwan
Miss Huang Ke
Microplastic Concentrator (MPC)

Low-cost, portable, scalable inertial-based focusing unit that rapidly extracts small microplastics (< 50 µm) from water at high recovery (> 90%). Suitable for both environmental monitoring and water purification.

Professor Tu King-ning
Dr Liu Yingxia
Dr Chen Chang
High-performance Copper-based Filter for Fast Virus Elimination

Made with the latest surface-coating technology, this novel copper-based antiviral mesh has porous microstructures that rapidly filter out and inactivate viruses on contact, potentially within minutes.

CityU, Electrical and Mechanical Services Department (EMSD) and MTR joint- submission

Professor Thomas Ng
Professor Eric Lee
Dr Lam Heung-fai
Dr Luo Xiaowei
Dr Zhang Zijun
Dr Zhao Xiangyu

Train-borne Railway Infrastructure Inspection System
Bronze Medal
Research team
Project
Professor Yan Hong
Professor Xie Min
Dr Wang Zhe
Holistic AI-based Battery Health Tracker

Using powerful graph neural networks for data aggregation and feature fusion, this AI tool unifies diverse real-time data to estimate lithium-ion battery capacity more accurately than any existing method.

Professor Jing Xingjian
New-Gen Anti- Vibration X-Seating Technology

Innovative vehicle seat with bio-inspired X-shaped passive-damping system that suppresses ~80% of whole-body vibrations with <1 Hz resonant frequency—better than all available systems for long- haul drivers.

Professor Hu Jinlian
Dr Si Yifan
Dr Guo Chunxia
Mr Zhang    
JanusLean Electrospun Energy Eye Mask

World's first nanofiber energy eye mask. When wet, nanofiber layer releases refreshing nutrients, traditional Chinese medicine and negative ions. Non-toxic; preservative-free; easy and cheap to produce, store and ship.

CityU and EMSD joint-submission

Dr Norman Tse
Dr John Chan

Electrical Doctor-Real- time Health Diagnosis for Electricity Supply System