By WONG Chuu Voon, Lilian (Alumni Civility Hall)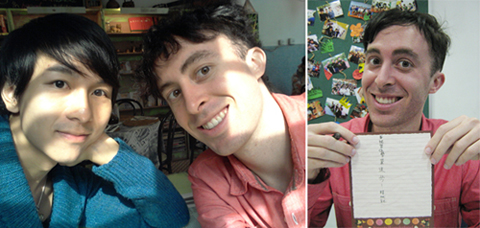 Bryce Hartley spent two years in China before coming to Hong Kong. He is now a year 2 student majoring in BA Linguistics and Language Technology, living in Hall 3. Having grown up at Laguna Beach, California, he has always been fascinated by Asian cultures, especially Japanese Manga, because his hometown has many Japanese and Chinese immigrants. Initially, he got a scholarship in Switzerland to study his degree in Finance and Economics with a focus on China. He always preferred to go far away from Europe and America because he thought that China will be the future of the economy and he wants to learn about Chinese culture. He believes that Japanese and Korean culture all originated from China.
He was very excited when he got the chance to study at Fudan University , Shanghai on an exchange and was later offered an internship at Hai Tong Securities (海通证卷), where he was the only foreigner being hired. Working in a Chinese firm was very challenging but he loves challenges and randomness. He took almost one year to fully master spoken and written Chinese. He noticed that the Chinese are mostly "indirect and illusive" when compared to the Americans.
 He found that life is a little too boring in the finance industries because none of them actually has life, and money cannot buy happiness. So he decided to give up his Swiss business degree and study Linguistics in Hong Kong. He chose Hong Kong because he prefers Hong Kong education when compared to China. Thus, he deferred a year of his studies and took up many different jobs across Xiamen, Fujian and Zhangzhou in China, and also worked in Taiwan, because the admission period to Hong Kong universities had closed. He was once a pub tour guide and also a language teacher teaching English and Chinese. When asked how he can manage such a different variety of jobs in such a different culture, Bryce said, "I just do things that I love to do. I love languages and I love to communicate. I love to live the way I want to and nothing should stop me."
Being independent, he is self-financing his living expenses and got a full-scholarship from CityU for his study.    "I miss home a lot". He always loves the diversity and freedom of life in the US. He loves what Hong Kong has been offering him, but he still loves his home and family. While in Hong Kong, he said that he had tried to speak to the locals but most of them seemed to be afraid to talk to him. In his opinion, locals are "possibly frightened" or just "ignore speaking to foreigners". "I think I am part of Asia. To get closer to the community, you just need to act like the Asians and to be open".    He believes that the old adage is always true, "When in Rome, do like the Romans".