WONG Ming Ki, Yuki (Hall 10)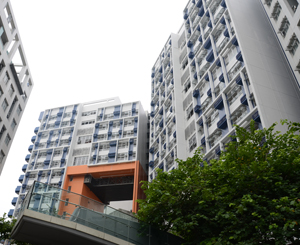 Phase 4 of our residence has been in use since January 2012, accommodating students from all walks of life in around 700 bedplaces in the two connected hostel blocks, Hall 10 and Hall 11.
At first sight, numerous residents may be wondering why there is a hollow space in the building of Hall 11? Is it due to Feng Shui? It is actually related to environmental concerns. "The hollow structure helps prevent the residences from being walled buildings that may block the airflow from the nearby Chak Yan Centre. The hole also allows students to appreciate the award-winning architectural design of the Run Run Shaw Creative Media Centre", explained Mr. Derek KWAN, Student Residence Life Coordinator.
Apart from the unique design, Halls 10 and 11 are equipped with ample facilities. We have a brand-new Skygarden and gym room, as well as high quality laundry facilities and furniture. A cozy environment is provided for both academic and recreational purposes.
Hall life in the new halls will undoubtedly be fruitful and dynamic. In addition to the welcoming party held last month for the new residents, there are more activities coming up, such as inter-hall competitions of the Professor Edmond Ko Cup, a floor-decoration competition and a hall logo design competition. Every single contribution made will pay off and talented residents are therefore encouraged to seize these opportunities to contribute to their own halls by participating actively in hall activities. In the short run, involvement in hall activities is one of the vital criteria that may help students return next year under the hall returning scheme. In the long run, through joining different hall activities, students can learn about respect, responsibility and various life skills, while gaining more confidence that can be applied to their future career.
Our Student Residence is always international and multicultural. Currently, the residents of Halls 10 and 11 are mostly locals. However, the distribution of exchange, local and mainland residents will be redistributed next semester. They will be the ones to develop their own unique cultures in the new halls.
"We should have a positive attitude and make the most of the opportunity provided to live in hall, as there is always keen competition. Let's get involved in hall life and be active in joining different activities, because the more effort you make, the more experience you will gain!" encouraged Dr Thomas JOHNSON, the hall master of Hall 11.