A new semester has come along with 2008. You may still not have fully switched yourself into serious academic work. Or maybe you・re thinking about getting to know some new friends to make a good start for your exchange life? We know what you need, so we・ve reopened the Multi-Leisure Time at Multi-Function Hall B right at the beginning of this semester, every Tuesday-Thursday, from 10:30pm to 2:00am. Just come and enjoy!
In the past semesters, we・ve organized a lot of desirable activities such as Film Shows (including The Day After Tomorrow and so on), a Monopoly Competition and a Warcraft Competition. They・ve all received a warm welcome. And we・re always making improvements in response to your feedback.
During this time, you・ll be able to meet people globally. They come from Hong Kong, mainland China, and all over the world. By joining in the Multi-Leisure Time, half of the participants said they・d found friendship and half said they・d found relaxation. Moreover, some even found girlfriends or boyfriends!
And you can plan your own activities: play table tennis, discuss your project, or bring food and drink for your refreshment.
All the best hits and more are in our Fun Thursday Nights @ Multi-Purpose Room B @ all odd-number Academic Weeks. Come on, we・re here waiting for you to come, to relax, to enjoy, and to throw away your stress!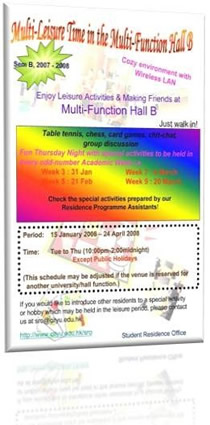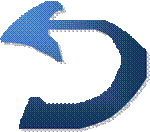 Come and Enjoy Stress-free Leisure Nights
@ Multi-function Hall B