The Professor Edmond Ko Cup was set up in 2006-07 with the sponsorship and support of the Office of the Dean of Student Learning. Scores are given to the halls in each event of the seven inter-hall competitions. The scores count towards determining the overall champion of the Cup.
After the semester break, the Professor Edmond Ko Cup continues. In semester A we already held the Inter-hall Aquatic Competition, the Inter-hall Athletic Competition and the Table¡Vtennis Competition. The Photography Competition is on the way. Seize the chance to share your interpretation of the competition theme ¡§Eyes on Res.¡¨ and to win a prize by submitting your photo entries to SRO by 12 Feb 2008 (12:00noon).
In January - April, we will also hold the Inter-hall Basketball League, the Inter-hall Badminton Competition, the Inter-hall Singing Contest and a Prize Presentation for all Inter-hall Competitions . The Professor Edmond Ko Cup will be presented to the Hall with the highest score in the competitions. Do try your best to support your hall, whether as participants or cheering spectators.
One of the highlights in Sem B is the Inter-hall Basketball League. The first round of matches was kicked off last Sunday on 20 Jan 2008 at the outdoor basketball court.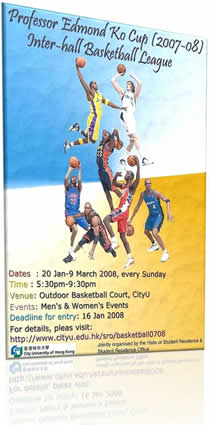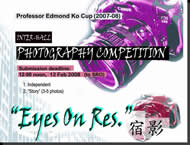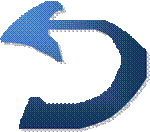 Professor Edmond Ko Cup
Inter-hall Competitions in Sem B