By YANG Jiahui, Kery (Jockey Club Humanity Hall)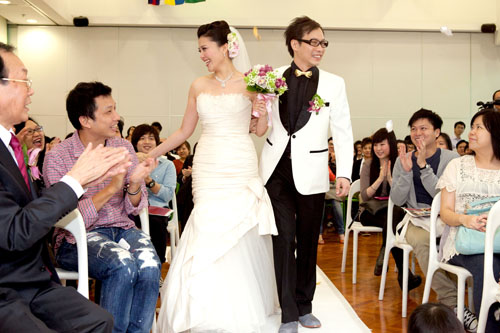 Seven years ago, a beautiful girl from Shanghai came to City University of Hong Kong on an exchange programme. Shy and not able to speak Cantonese, she met a Hong Kong boy who talked to her with the assistance of writing boards. As both were studying in the School of Creative Media, they developed an attachment to each other.  The language barrier was quickly overcome and understanding went straight from simple friendship to a deeper personal level.

One semester later, this Hong Kong boy flew to Shanghai for exchange study. Those who are/were/will be on exchange will understand better how it feels to love and be loved. Then both graduated, with one working in the south and the other in the north, separated by geographic spaces but strongly connected by long-distance phones.

Seven years later, on 1 October 2011, with a few rain drops followed by a clear sky and a cool autumn breeze, the Hong Kong boy and the Shanghai girl got married in Multi-function Hall B of the Student Residence, witnessed by a solicitor and more than 100 friends. Love and passion brightened up the whole sky over the hill in Cornwall Street and cheered up everyone who was at the wedding.

While one wedding banquet was held in Shanghai, they specially chose to hold their wedding ceremony at our Student Residence, the place where they first met and fell in love. It was the first time and such an honour for our Student Residence to hold a wedding! Let's give our best wishes and congratulations to the young couple.

It is hard to say something like" forever" or "for a lifetime"; the power of love, already time-proven, indeed binds two young hearts together forever.

I am left with no words. Please spend some moments appreciating the sweet photos of the charming bride and bridegroom, Sandra and Samson. Surely there are also other promising couples living in this residence community. It is a wonderful scene to see happy and loving faces walking around in doorways, lawn areas and the cafeteria etc.