By Margaret CHUNG (Jockey Club Academy Hall)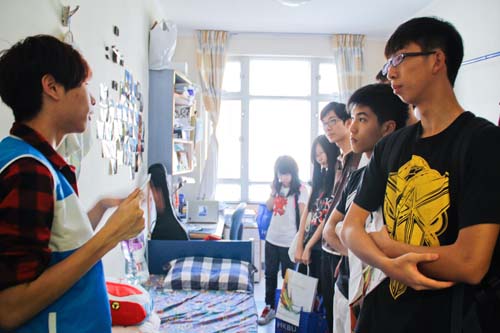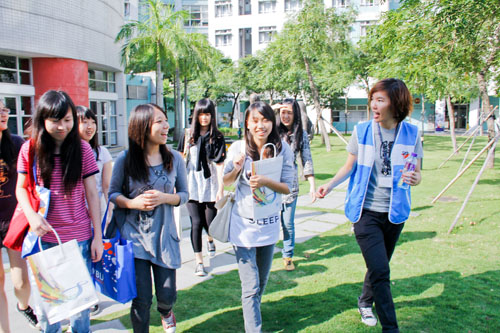 CityU Information Day was held on 15 and 16 October 2011. It attracted more than two thousand secondary school students to visit the Student Residence.
"The visitors were excited that our halls are located next to Beacon Hill', SO Tan Ni, a Student Host on the Information Day said. "They also loved the lawn, where residents gather and chit chat."
There are many more things, tangible and intangible, that the visitors like, such as the gorgeous views. Residents can enjoy the glamorous vista of Victoria Harbour. Some halls even serve as vantage points for watching the fireworks and "A Symphony of Lights", the world's "Largest Permanent Light and Sound Show" according to the Guinness Book of Records.
Plenty of facilities are provided in the Student Residence as well, like multi-function halls, where big events such as annual dinners are held, piano rooms, laundry rooms, computer rooms and a cafeteria (Homey Kitchen). "The food offered by the canteen is reasonable and tasty." said TSUI Cho Tung, a new resident at Jockey Club Academy Hall.
The location of our halls is beneficial to us too. "It is convenient for us to go not only to school but also anywhere else from the halls, due to the well-established transport system in Kowloon Tong." said KONG Ka Yung, a Residence Tutor of Jockey Club Academy Hall.
Having lived in hall for almost two years, Kong has built up good relationships with people in the hall. "I always chat with hallmates, security guards and cleaners, whom I regard as neighbours and family members. I enjoy the hall's harmonious environment."
I believe many visitors will be interested in living in our halls. However, competition for bed places is much more competitive in the coming double-cohort year, even though the new halls, Hall 9 and Hall 10, will provide 700 bed places. Current residents should treasure their times in hall. If you want to return next academic year, you need to contribute more to your hall. Good luck!