By YANG Jiahui, Kery (Jockey Club Humanity Hall)
Improving facilities and reducing carbon emissions has always been a goal of the Student Residence.

Perhaps you've noticed that while you are taking a shower, the temperature of the water in the shower room is generally more stable, offering you more comfort. This is one of results of the heat pump project which was launched last year and completed in Sept 2011.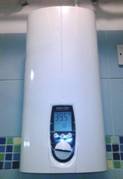 What's new in the heat pump project?
New heat pumps have been installed on the rooftops of Halls 1-6 and Hall 8, including pipelines with insulation on different floors. Hall 7 and 9 have been excluded due to funding limitations.

In Halls 1-3, the water heaters inside the shower rooms had reached a maximum lifespan of 7 years. They were replaced by new electronic water heaters with a controllable output temperature to achieve energy efficiency. In Halls 4-6 and 8, the low output (9kW) was kept to match the pre-heated water supply. In the near future, replacement of conventional heaters in other halls will also take place once the lifespan has been reached.

(Photo: Electronic water heater in Halls 1-3)

How does a heat pump work?
An air-cooled heat pump water heater functions like an air-conditioner. Heat energy is transferred from one side to another. Hong Kong's warm weather is suitable for the installation of heat pumps, because they work best in locations with an outdoor temperature ranging from 4.4 to 32.3 degrees celsius all year round. Water is pre-heated on the rooftop and distributed to each floor.

Before the adoption of the heat pump project, standalone instantaneous electric water heaters consumed 18kW electricity each time. If this is multiplied by the number of heaters in each hall, the total amount of energy consumption is considerable. Now, with the help of two heat pumps (each at 31kW), the water heater in each shower room needs only 9kW on average to reach the desired temperature.

When the heat pump was installed on the rooftop, some open space, such as laundry rooms or clothes hanging areas, were reduced. Proper measures will be taken soon to balance space utilization and reach the maximum benefits for all residents.

Keep an eye on SRO's emails. We will always keep you updated on the latest news.