By Margaret CHUNG (Jockey Club Academy Hall)
Did you have great fun joining your Hall's orientation activities? Most of the activities were prepared by the Executive Committee members of Residents' Associations (RAs). RAs help organise hall activities like the camp and the annual high-table dinner.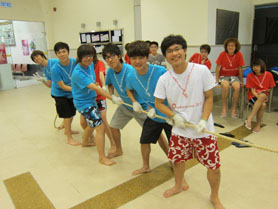 Holding activities seems to be simple and easy. But the truth is far more than that. RAs need to draft programme proposals, prepare promotional materials and liaise with different parties about organising the activity etc. Polly Kwok, an RA ExCo member of Jockey Club Humanity Hall, shared that her committee members had started working on the O-camp in May."Weeks before the camp, we met every day and spent all the time running games, buying materialsand making souvenirs". Polly continued that she was extremely worried that any mistakes might occur during the camp. "Whenever my phone rang, I seemed to have a 'heart attack'."
Apart from the pressure of organising hall activities, there would be arguments among Exco members. "Sometimeswe had different views over the same issue. It was hard to cope with the problem at first."  In spite of the difficulties, Polly never regrets being part of the RA because she learnt practical skills which could not be studied in textbooks, such as how to co-operate, get along, and communicate with others.
Crystal Huang, the President of the 1st RA Exco of Jockey Club Academy Hall, also agrees with Polly."After being part of the RA, I found myself more rational and mature in dealing with problems. I learnt to think from different angles whenorganising hall activities and communicating with others, which helped a lot in my previous job and now in being a Residence Tutor. I also gained a group of 'siblings' who shared laughter and tears with me. I won't forget the great times being with them."
No doubt, you can gain a lot from running an RA. However, before you commit yourself to do so, you need to reflect on a few questions. Are you confident that you are able to deal with multiple demands, including your study demands, RA duties, part-time job and other commitments? Are you able to strike a balance between your RA duties and your study, without sacrificing your academic performance?  
The RA Elections will be held on 20 and 21 October 2011 at Multi-function Hall A. It is both your right and responsibility to cast a vote and support the devoted members of your Hall's RA.