The new semester has started. Have you settled well into the Student Residence? Do you feel a cozy yet vigorous ambience? The catering family at the SR, Homey Kitchen, warmly welcomes you all and hopes you have all enjoyed a welcome coupon by redeeming a drink from Homey Kitchen.  Homey Kitchen is eager to introduce itself.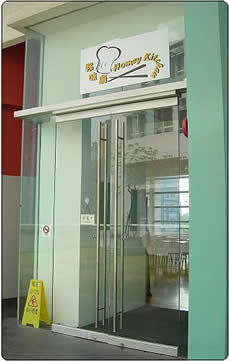 Hi all, I'm Homey Kitchen, the cafeteria in the Student Residence. I live next to Multi-function Hall B, and opposite Hall 8. I think you can find me easily.
I'm hard-working. I get up early and stay up late to serve my dear residents. Please feel free to walk in to visit me during the following hours:
Teaching Period:   8:00 am - 12:00 midnight (Mon-Fri)
11:00 am - 11:00 pm (Sat-Sun)
Revision & Exam Period:    8:00 am - 12:00 midnight (Mon-Sun)
Semester Break:     11:00 am - 10:00 pm (Mon-Sun)
Summer Term:     10:00 am - 10:00 pm (Mon-Fri) 11:00 am - 10:00 pm (Sat-Sun)
I enjoy serving my residents as well as students and staff from our neighbour, Run Run Shaw Creative Media Centre. Since you come from all over the world with different preferences, I offer different daily menus daily with various options, including traditional Chinese food and other snacks and dishes, like Mexican spaghetti, Thai curry chicken and vegetarian food. Our residents have shared with me that they find the Chinese set meal to be the most popular and the best value.
Apart from providing food, I also run a small convenience corner and offer you some daily necessities. When you are in need of an adaptor, a pan, toilet paper, towels, hangers, cleansing items etc., please come to me.
I work very closely with SRO to encourage students to support our environmentally-friendly actions. Join the "Less Rice, One Dollar Less" every Wednesday for two-course meals. Bring your own reusable containers and save $1 per order.  Bring a reusable cup to buy your drink and save $50 cents. SRO is now planning to expand the cafeteria to cater for the increasing demands.