By Gaargi SHARMA (Alumni Civility Hall)
It was that time of the year again when everyone was in a festive mood in Multi-function Hall A to celebrate the Chinese New Year on the day of Yuanxiao, the Chinese Lantern Festival. The evening was full of brilliant performers, excited residents, Residence Masters and SRO members.

Multi-functional Hall A was lit up by booths with different games, activities and snacks stalls organised by the arduous yet enthusiastic Residents' Associations and CSSA (UG). The evening kicked off with magnificent lion dance performances in which the dancers moved from the event venue to the lawn and finally went on to inaugurate the new SRO office as a mark of good luck and prosperity. Ms. Alisa KWAN, the Residence Master of Hall 9, commented,
"This is a beautiful way to bring together all the students to show our diversity and friendship. My personal favourite was the lion dance because it enabled our exchange and international students to witness real Chinese culture with the loud drums."
If you thought this was interesting, the student co-coordinators had more in store. A Hakka folk song singing performance was presented by Tai Po Salvation Army Elderly Centre. I got an opportunity to interact with them and all of them sang because they loved singing. One of the performers said,
"I was 18 when I started singing and now I am 80. I still enjoy it. I met my husband in the fields because of singing. Now he is 86 and we still sing together." They spread their love through singing. When asked about the event one of them promptly replied, "We loved it. It was great to see so many students enjoy our performance."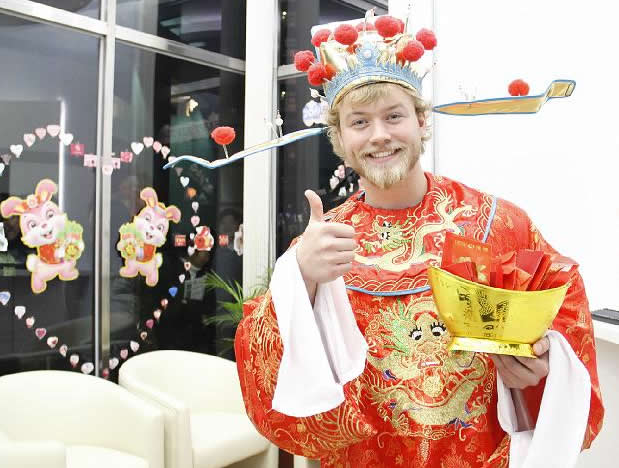 The evening was made even more wondrous by the Chinese musical instrument performance,  the God of Fortune's blessings (an exchange student from the USA - O'Malley, Clinton Edmund) and singing performances by overseas students. It all ended with lucky draws that etched smiles on innumerable faces, including mine. Chan Wing Yi Winky, one of the student coordinators who also organised this event last year, said,
"This year was much bigger compared to last year. It was more fun." While Ashtar Ali, another student coordinator and an international student from Pakistan, remarked smilingly, "I enjoyed myself during the whole process because it helped me understand the unique Chinese culture right from the roots. It was itself a great learning experience in my first year."
Just like Ashtar, this event has for me always been filled with a lot of new learning and beginnings. I started writing for ResLink in my first year right after the Chinese New Year and as I keep on learning, I hope I will continue understanding the intricacies of the intangible cultural heritage.
ResLink Issue No.32
Feb 2011