Time flies by in the twinkling of an eye. Another blink of the eye and some of you may find yourselves sitting on the plane heading for home.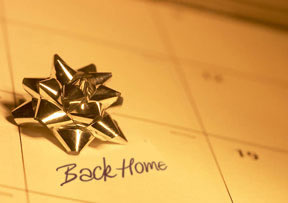 I've been away from home since my middle schools years. Time spent with my parents is short. Some people say that if you want to win something, you must lose something. Every time I go back home, to the vast landscape covered by rice fields, I feel the enormous contrast between a peaceful countryside and a metropolis like Hong Kong. My mother stands in front of the door and our neighbours all watch me stepping down from the car with heavy luggage. People speaking a dialect that I am so familiar with but no outsider can possibly understand. No cars, no street lamps. Night is extremely dark and quiet. There is a kind of silence that I become afraid of.

We are in the best years of our life. However, our parents are getting old. What I notice is that they tend to argue less with me. My mother approaches me quietly and chats randomly without any focus. Suddenly she asks me very softly "Have you got a boyfriend?" or "Can you tell your Dad not to drink so much?" I look at her and want to laugh.

Now that you are struggling for your final exams, one of the beliefs that keep you motivated is the happiness of your family and the idea of returning home. Here are a few tips for your return home:
Book your plane ticket one month ahead. That will save you quite a lot of money.
Prepare some gifts and put something meaningful and special in your luggage.
Plan ahead what you are going to do at home. Will you visit relatives, learn to cook for your Mom, or have parties with old friends? Go out and make good use of the time to have wonderful trips.
Always pay attention to safety. Inform your parents when you will be arriving home and where you will go. Leave a few friends' contact details with your parents. This can be useful if your phone is out of battery and your parents have something urgent to tell you.
It's winter. Most places are colder than Hong Kong. Pack some thick clothes.
Most importantly, bring home a smiling face, not sorrow or frustration, but be ready to share with your parents your life at CityU and in the residence hall.
ResLink wishes you all a safe landing in your lovely homeland and an enjoyableholiday!