Are you aching for a place to watch the firework displays on special days like National Day? Do you envy the residents of Hall 4, 5 and 6, who can enjoy the shows in a wonderful festival mood in their cozy bedrooms and Common Rooms? Yes, the three halls offer good views of Kowloon Peninsula and the closer region of HK Island. Residents also enjoy a short walking distance to the campus, as the footbridge is only one step away.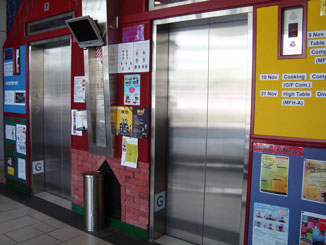 Standing at the lobby of Jockey Club Academy Hall (Hall 4), one will be impressed by the red decorations of the 2 lift doors depicting a warm home. Hall 4, 4 stands for Academy. Hall 4 provides residents with a harmonious and happy living environment where they can help each other in advancing their academic pursuits. Hall 4 residents and the Residents' Association are energetic and committed to making the Hall a place like home. It is a melting pot where students from diverse backgrounds can socialise with and learn from each other. Facilities like a billiard room and a gym room are set up for the additional convenience and entertainment of the Academians. Friendships flourish among the residents with mutual help and concern in many respects, including academic studies.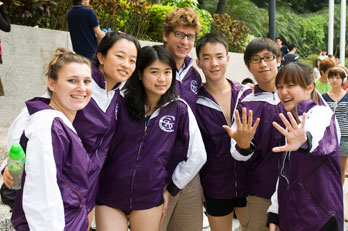 ABC is found in the motto of Chan Sui Kau Hall (Hall 5), standing for "Affection, Bonding and Care". CSK Hall provides residents with a family atmosphere to develop a sense of affection among hallmates. No matter whether local or non-local residents, everyone is bound together by the hall's encouragement to integrate and participate in all Hall activities so as to build up multicultural friendships, mutual respect and acceptance of differences.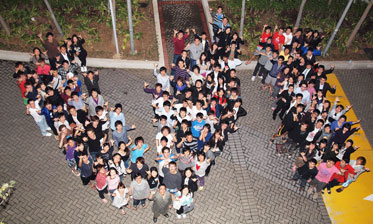 Just like the other two, Lee Shau Kee Hall (Hall 6) provides an ideal homely dwelling place for residents to pursue academic and non-academic learning. Academic, intellectual, cultural, social, physical and spiritual learning are emphasised equally in the unique LSK Hall Learning Series, e.g. photography, sports, career and research talks. LSK Hall also organises a mentoring scheme to connect the residents with close ties within the big family.
Please don't envy the residents in Halls 4, 5 and 6, who enjoy good locations with good views and convenience, who can bear witness to the everyday progress of constructions like the new buildings around them, who can watch cars going up and down the slide-like Cornwall Street, because there is something more "envy-worthy", namely their warm home within their big family!