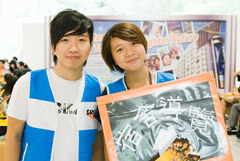 It was my very first time to organise a big event for SRO. I worked as an event coordinator for the guided hall tours during CityU Information Day 2010 on 9 October 2010. Although I had had opportunities to organise hall activities when I was the Financial Secretary of the Residents' Association of HSBC Prosperity Hall, I was a bit nervous when I first received the invitation from SRO, because I was going to represent the whole Student Residence in promoting our beautiful residence community to thousands of secondary school students. Nevertheless, after the first meeting with Chung, my Event Coordinator partner, and SRO officers, I was confident that I could manage the job well.
The experience I acquired in this event benefitted me a lot in terms of co-operation and planning skills. Being one of the two Event Coordinators, I worked very closely with Chung, my working partner. I was responsible mainly for overseeing frontline promotion and monitoring the number of visitors queuing up for the shuttle bus for the hall tour, so that Chung could focus on coordinating the student hosts at the Student Residence base.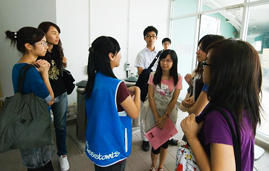 We enjoyed a lot of freedom in working out the hall tour route, developing promotion strategies and compiling a duty roster for a team of 18 student hosts, while SRO officers took care of the provision of shuttle bus and promotion materials. I was glad to see that the specialisation and job rotation arrangements among the student hosts, which were planned by Chung and myself, turned out to be very effective in making a smooth visit route and reducing our student hosts' workload.
Together with the 18 student hosts, we felt thrilled to show our Student Residence to 1,100 visitors (who were mostly F.6 or F.7 students) and running 127 hall tours on Information Day. We all felt so closely tied with CityU and the Student Residence.
I wish to say a big thank you to Chung, who is an experienced event coordinator and helped me a lot in the event preparation. I am also grateful to other student hosts for their hard work and dedication in introducing the Student Residence and hall life to the visitors. I was able to enrich my organisation experience because of the opportunity given by SRO. This valuable experience is a great asset that I cannot acquire from textbooks.